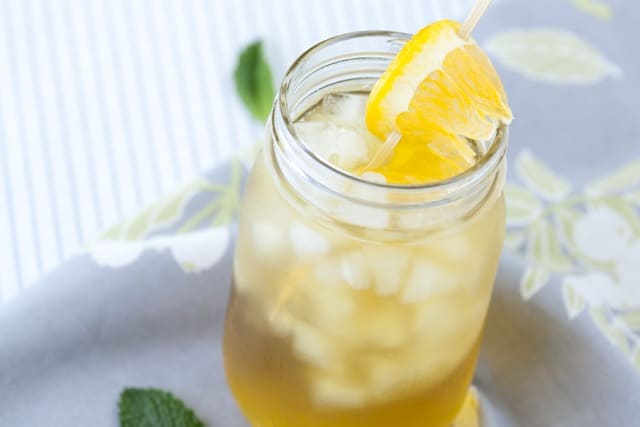 We really aren't soda people (never have been), but iced tea, well that is our drink! We make black or regular iced tea all the time at home, but when we feel like something a bit different, this is what we turn too. It's packed with antioxidants from the green tea and is soothing from the mint. We don't like sweet tea so much, but if you do, just add the sugar to your own taste.
Enjoy!

We buy caffeine-free green tea, but you could use your favorite brand for this. Also, you can replace the green tea with camomile tea and drink this before bedtime.
Created By:
Adam and Joanne Gallagher
You Will Need
4-6 green tea bags
2 cups water
1/4 to 1/2 cup sugar
8 mint leaves + more for garnish
1 orange, thinly sliced
ice
Directions
In a large saucepan, bring 2 cups of water and 1/4 cup of sugar to a boil, turn off heat then stir until sugar dissolves. Add tea bags and 8 mint leaves. Steep for 5-8 minutes. Taste for desired sweetness, add more sugar if needed. Discard tea bags and leaves. Cool. Fill 4 glasses to the brim with ice. Add the tea and garnish with mint leaves and orange slice.