How to make vegetarian tacos with roasted sweet potatoes and black beans. Jump to the Roasted Sweet Potato and Black Bean Tacos Recipe or read on to see our tips for making them.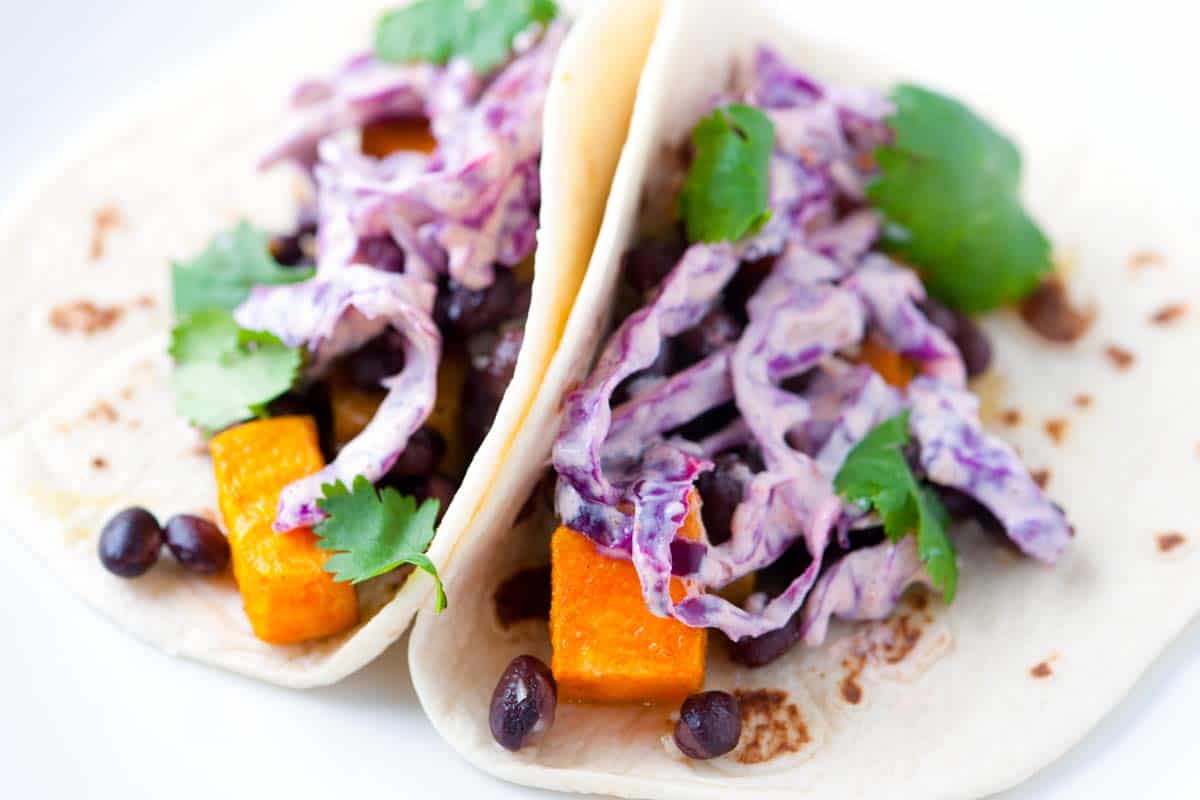 These tacos are little smoky, a little spicy and even a teeny tiny touch of sweet – everything we crave in a recipe!
YOU MAY ALSO LIKE: This easy veggie tacos recipe is packed full of spice-roasted vegetables and black beans for a bit of protein. Jump to the Veggie Tacos Recipe.
How to Make Vegetarian Tacos with Sweet Potatoes and Black Beans
These veggie tacos come together quickly. We love these with sweet potatoes, but you could also make them with roasted butternut squash.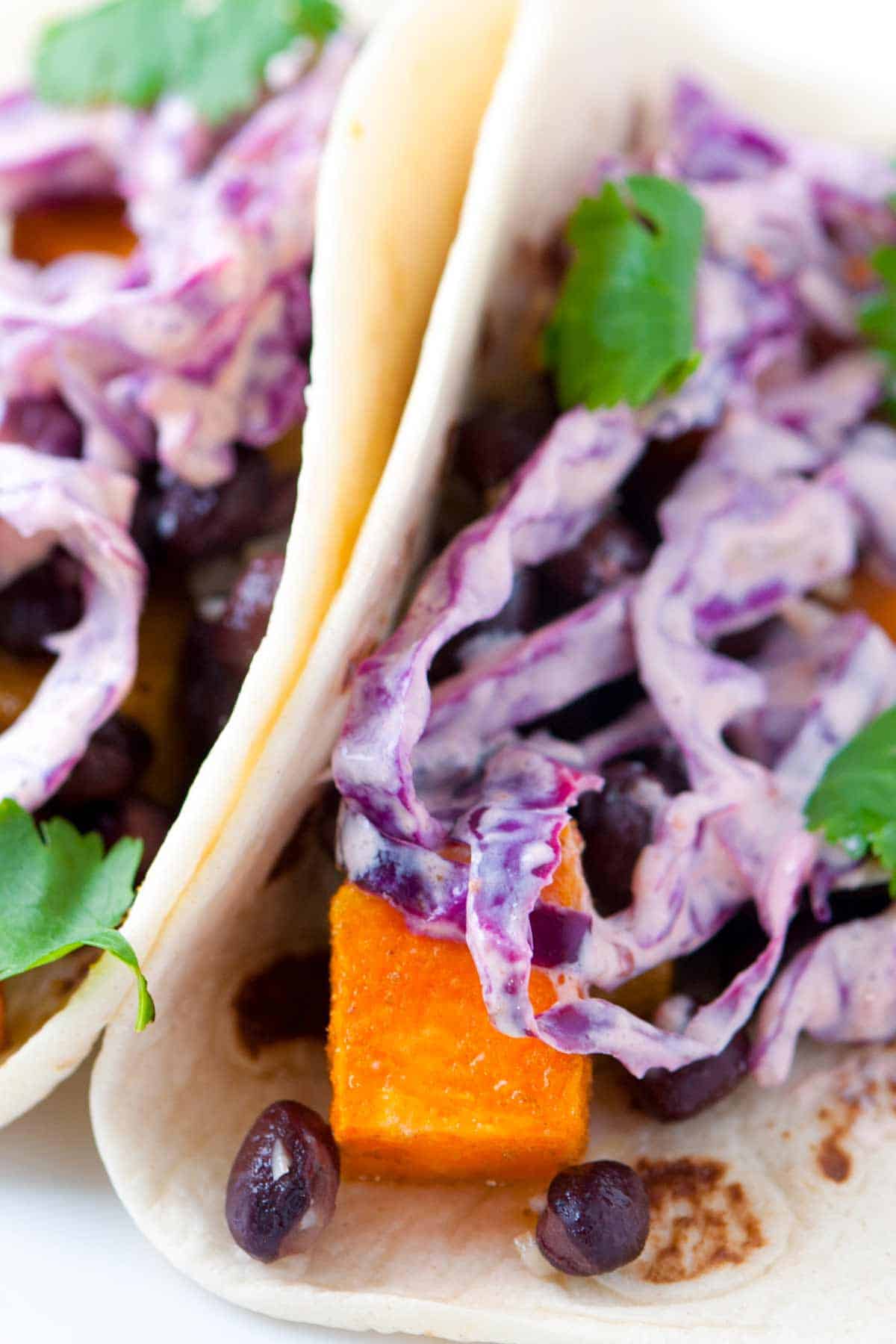 Start by getting your sweet potato in the oven — roast it with olive oil, cumin, salt, and pepper until golden brown and sweet.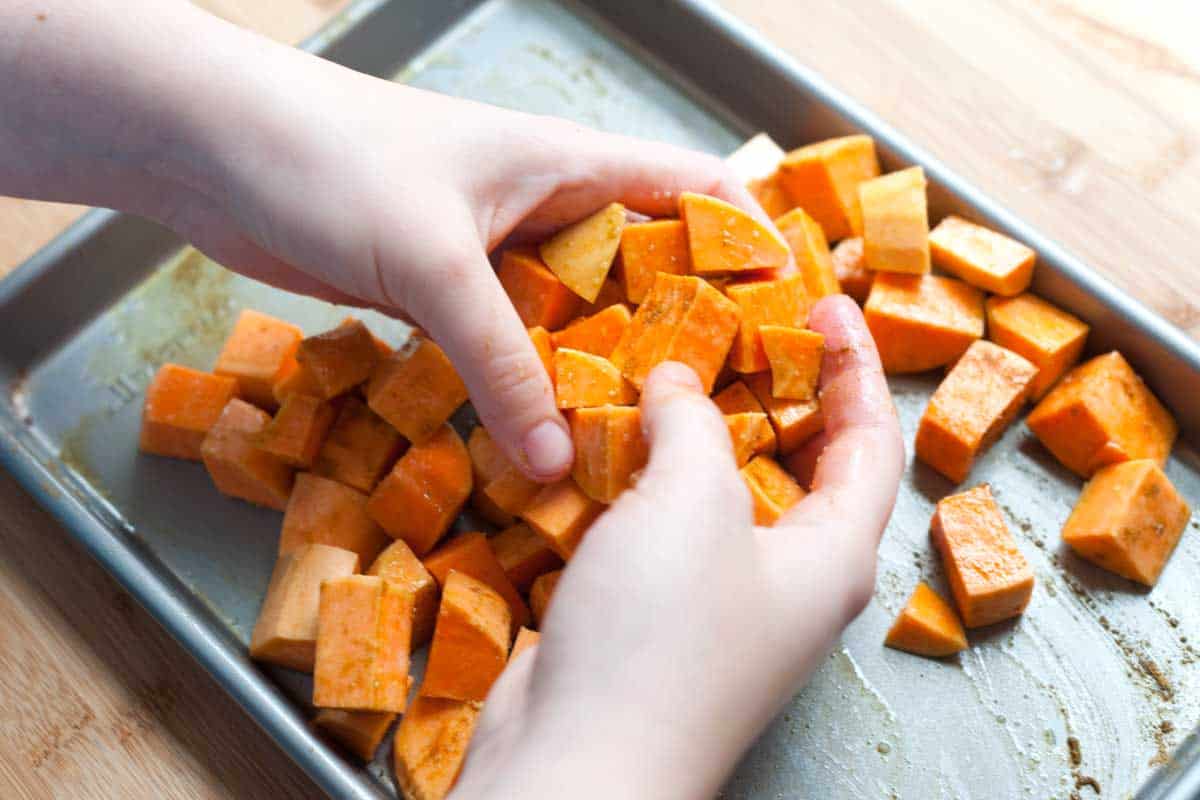 While the potatoes roast, you can make the slaw. It's simple. Mix shredded cabbage with lime juice, sour cream and chipotle in adobo sauce. The chipotle adds a smoky heat.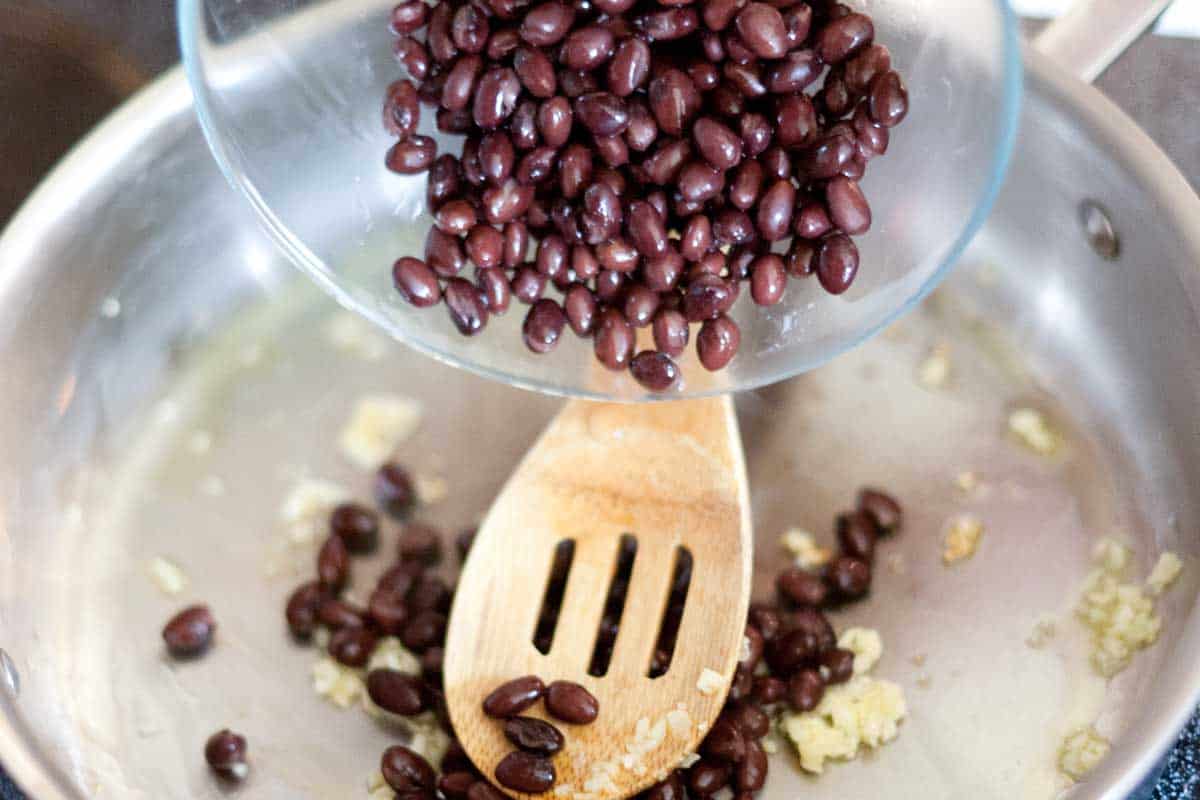 For some protein, we add black beans to the tacos. Just cook them in some olive oil and garlic. When the sweet potatoes are ready, add a bit of everything to warm tortillas and enjoy.
YOU MAY ALSO LIKE: Baked sweet potatoes stuffed with roasted garlic, avocado and tomato salsa. If you love sweet potatoes, this recipe is for you! Jump to the Baked Sweet Potato Recipe.
Recipe updated, originally posted February 2012. Since posting this in 2012, we have tweaked the recipe to be more clear. – Adam and Joanne
Roasted Sweet Potato Tacos with Chipotle Slaw
These vegetarian tacos come together very quickly. The sweet potatoes can be roasted in advance and kept in the fridge for a few days.
You Will Need
2 medium sweet potatoes, peeled and cut into 1/2-inch pieces
1 1/2 tablespoons extra-virgin olive oil
1 teaspoon ground cumin
1/4 teaspoon sea salt
1/3 cup sour cream
1 to 3 tablespoons finely chopped chipotle chiles in adobo sauce
2 tablespoons fresh lime juice
2 cups shredded cabbage
2 garlic cloves, minced
1 (14-ounce) can black beans, drained and rinsed or 1 1/2 cups home cooked black beans
Warmed tortillas
Fresh cilantro, for serving
Lime wedges, for serving
Directions
Heat oven to 400 degrees F. Line a large baking sheet with foil or parchment paper.

Add sweet potatoes to baking sheet along with 1 tablespoon of the oil, cumin, and salt. Toss until well coated. Arrange the sweet potatoes into one layer then bake, turning once, until the the edges are golden brown and they are tender, about 30 minutes.

Meanwhile mix sour cream, 1 tablespoon of the lime juice and 1 tablespoon of the chipotle chiles. Taste and adjust with more chipotle as needed. Add the cabbage and toss to coat. Let the slaw sit until the cabbage wilts slightly, 10 to 15 minutes.

About five minutes before serving, heat the remaining olive oil in a large frying pan over medium heat. Add the garlic then cook, while stirring, until it just begins to toast, about 1 minute. Add the black beans and cook, stirring occasionally, until thoroughly heated. Remove from the heat then add the second tablespoon of lime juice.

Make tacos by adding sweet potatoes, black beans, slaw, and cilantro leaves to warmed tortillas. Serve with lime wedges.
Adam and Joanne's Tips