Not long ago, a recipe for baked fish from Food and Wine caught our eye — it was called Wild Striped Bass with Scallions — it sounded divine. So up it went, pinned onto our "Must Make" cork board in the kitchen. Here's why we fell in love. First, it doesn't call for lots of ingredients. Second, it places scallions or spring onions at the heart of the recipe. We love that. So often we see spring onion used as a finishing touch, but they can be used for so much more — they're mild, not pungent and when cooked they become sweet, gently wilted and tender. Third, it's quick.
How to Make Baked Fish with Spring Onion and Orange
The major players here are spring onion (scallions or green onions), orange juice and for a little heat, red pepper flakes.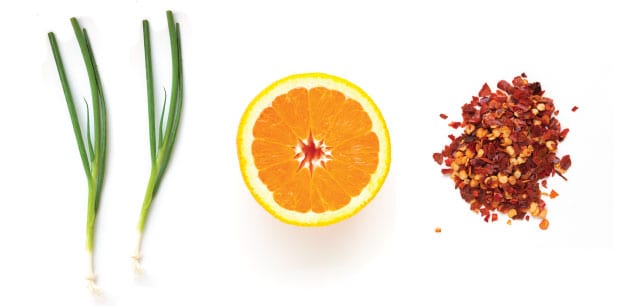 Other ingredients include tangy lemon zest and butter, which melts down into the orange juice to create a silky smooth broth. For the fish, you can use pretty much any firm white fish. We used Rockfish, a striped bass, but we think halibut would work well, too.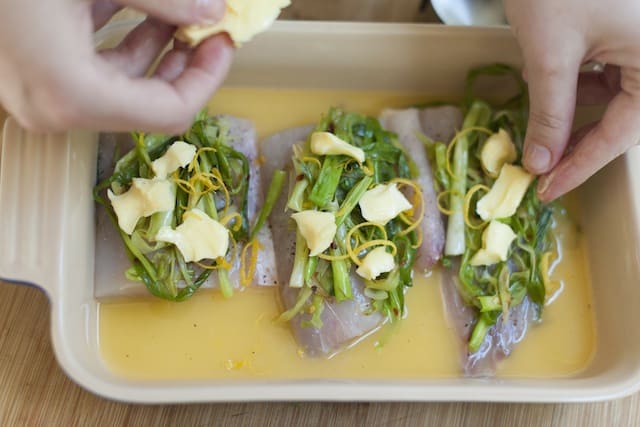 That photo makes us so happy — just look at all those flavors! Yum. (The butter helps, too).
We get so giddy when we find a new favorite recipe, we're weird like that. Just in case you get all giddy, too — we thought we'd throw a few more ideas for baked fish at you.
We're always looking out for tasty fish recipes, do you have any favorites? We'd love to hear about them.

Baked Fish with Spring Onion and Orange
Sweet spring onions and orange juice make this baked fish. When you choose the orange juice, buy something that is actually real orange juice, not concentrate - we've used the Simply brand before and were happy with it. Alternatively, you could freshly squeeze the juice yourself. For the fish, we used Rockfish, a striped bass, but we think halibut would work well, too.
Created By:
Adam and Joanne Gallagher
You Will Need
12 spring onions (scallions or green onion)
1 tablespoon olive oil
1/4 teaspoon red pepper flakes
4 six ounce portions firm white fish (striped bass or halibut)
salt and freshly ground black pepper
1 tablespoon lemon zest
1 tablespoon butter
1/4 cup orange juice
Directions
Heat oven to 500°F.
Discard the first 2 inches of the spring onion tops as well as the ends. Cut spring onions in half crosswise and thinly slice them lengthwise into strips.
Heat olive oil in a large frying pan over medium heat. Add spring onions and red pepper flakes. Cook, stirring occasionally, until wilted and they begin to brown.
Season fish on both sides with salt and pepper.
Arrange fish in a 9-inch by 13-inch baking dish. Top each piece of fish with a few spring onions, lemon zest and dabs of butter.
Pour orange juice around fish then cover pan with aluminum foil. Bake about 15 minutes until fish is opaque throughout.