– Sponsored Post –
This corn casserole recipe with poblano peppers could not be easier. Do you ever cook with poblano peppers? If not, you really should give them a try — think a milder, more flavorful jalapeño. We've used them before to top our Queso Blanco Burger and we've tucked some inside our Roasted Peppers and Cheese Tamales. This time, we cooked them with some corn then added a creamy cheese sauce then layered everything between soft flour tortillas for an easy casserole recipe.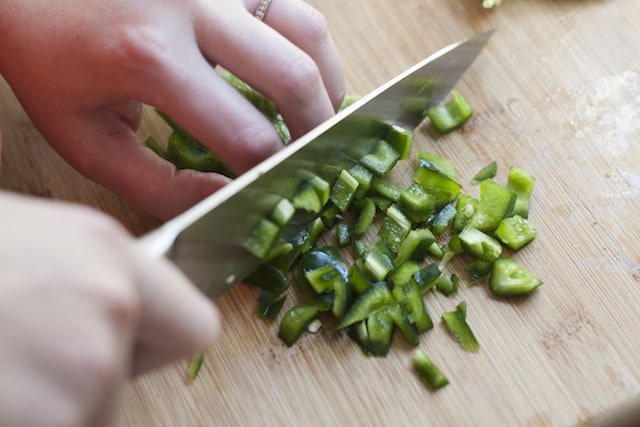 The creamy cheese sauce is actually from Progresso. You may have noticed one of their new products showing up in your grocery store – their new Recipe Starters. Progresso paid us to develop a bunch of recipes for them, sent the products and let us play a bit. This recipe uses the Creamy Three Cheese flavor.
It's very similar to Alfredo sauce – in fact, if you can't find the Recipe Starters, you could make this casserole recipe with your favorite brand of Alfredo Sauce and it would be delicious!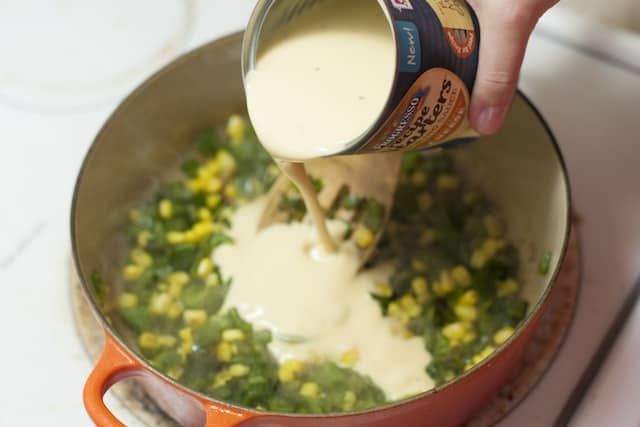 So, after cooking the poblano peppers until soft, adding some sweet corn and of course, the creamy sauce, we layered everything between tortillas. Then, we topped it with cheese and baked in the oven until bubbly.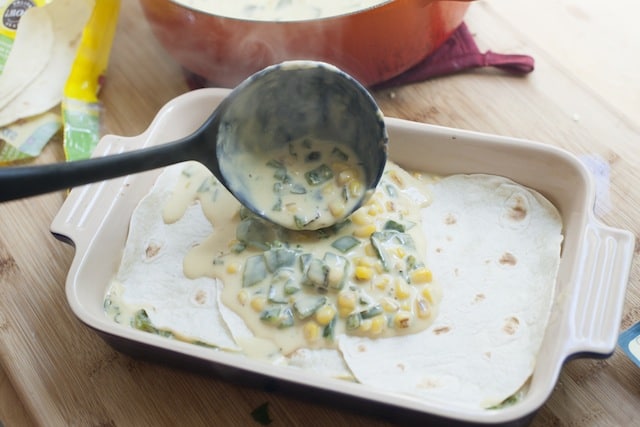 Like this corn and poblano casserole recipe? Might we suggest you take a peek at our collection of Main Dish recipes.

Easy Poblano and Corn Casserole
This casserole recipe is full of flavor and is so easy to make. To add some protein, stir in some cooked shredded rotisserie chicken or deli turkey meat to the poblano corn sauce before layering with tortillas. For a simple side dish, serve the corn and poblano casserole next to a big green salad.

Substitute: If you do not have or wish to use Progresso's Recipe Starters Creamy Three Cheese Cooking Sauce, store-bought Alfredo sauce works very well.
Created By:
Adam and Joanne Gallagher
You Will Need
1 tablespoon olive oil
4 poblano peppers, deseeded and diced
1 cup frozen corn
1 (18 oz) can Progresso™ Recipe Starters™ Creamy Three Cheese Cooking Sauce
9 six-inch flour tortillas
1/2 cup shredded Mexican blend cheese
Directions
Heat oven to 375°F. Spray a 2-quart baking dish with non-stick cooking spray and place onto an aluminum foil-lined baking sheet.
Heat oil in a 10-inch skillet over medium heat. Add poblano peppers and cook, stirring occasionally, 3-4 minutes or until softened. Add corn and cook another minute.
Turn heat to low then stir in Three Cheese Cooking Sauce and cook one minute. Ladle enough poblano and corn sauce into the bottom of baking dish to cover bottom. Arrange three tortillas on top then ladle more sauce to cover tortillas. Repeat until all tortillas have been used. Top casserole with leftover sauce and shredded cheese.
Bake casserole 16-18 minutes or until cheese has melted and sauce is bubbling. Switch oven to broil then broil casserole 30 seconds to 1 minute until cheese on top is golden brown.