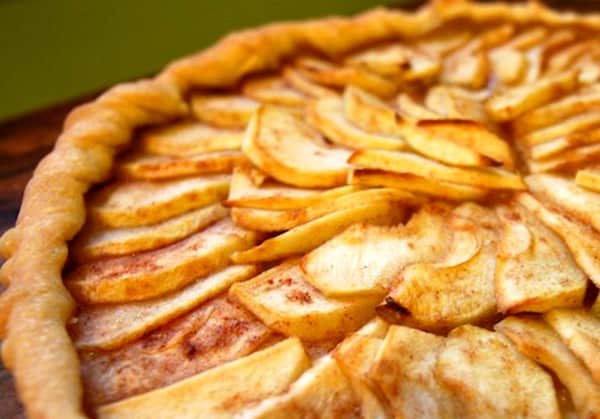 So, I am kind of excited…today is our very first entry into to a food blog contest.  Which one you ask? … It is the Royal Food Joust by The Leftover Queen.  The basic premise is that every month, 3 ingredients are chosen that must be incorporated into one recipe.  The three ingredients for this month were apples, maple syrup and cayenne pepper.  So, after some serious consideration I came up with an apple tart topped with maple whipped cream and apple cayenne reduction.  I know, sounds fancy right…but really it is not difficult.  It is one of those recipes that looks and sounds fancy, but really did not take too much effort to make.  The apple tart starts with a store-bought pastry dough that is then filled with Granny Smith apple slices that have been tossed in a mixture of sugar, lemon zest, lemon juice, maple syrup and cinnamon.  The tart is then baked in a 400 degree oven for only 30 minutes.  While the tart bakes and then cools, heavy cream is whipped with maple syrup. Finally, I drizzled a sweet and spicy syrup made out of apple juice, cayenne pepper and a small amount of maple syrup.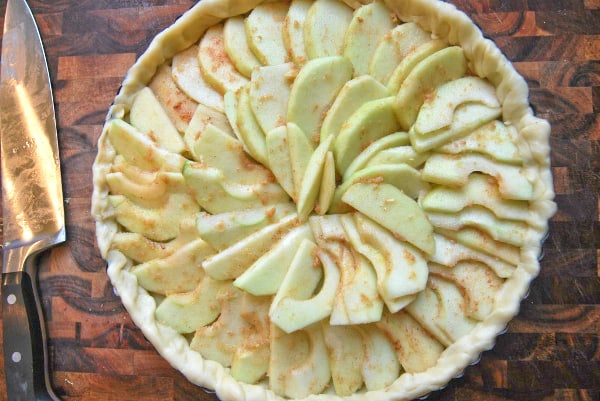 Apple Tart with Maple Whipped Cream and Apple Cayenne Syrup
Created By:
Adam and Joanne Gallagher
You Will Need
Apple Tart
1 unbaked pie crust

3 Granny Smith apples
1/4 cup sugar
3 tablespoons butter, melted
1 tablespoon maple syrup
1/4 teaspoon cinnamon
1/2 teaspoon lemon zest
3 tablespoons lemon juice
pinch of salt
Maple Whipped Cream
1 cup heavy cream
3 tablespoons maple syrup
Apple Cayenne Syrup
2 cups apple juice

dash of cayenne pepper
1 tablespoon maple syrup
Directions
Apple Tart
Preheat the oven to 400 degrees F.
Peel and core the apples, then slice into about 1/4 inch slices. Toss the apples with the sugar, butter, cinnamon, lemon zest, lemon juice, maple syrup and salt, then set aside.
Roll out the unbaked pie crust to about 14 inch circle, then carefully place the dough inside a tart pan without stretching the dough. Overlap the apples in a fan pattern around the tart pan. Fold over any excess pastry, removing some if there is to much excess just so there is a small lip at the edge of the tart. Place the tart in the oven for 30 minutes until the edges are lightly browned.
While the tart is baking, make the maple whipped cream and apple cayenne reduction.
After 30 minutes, remove the tart from the oven and allow to cool on a wire rack.
Maple Whipped Cream
In a large mixing bowl, beat cream and maple syrup with a hand mixer.
Apple Cayenne Syrup
Add all ingredients into a saucepan over medium high heat and simmer until the mixture reduces into a light syrup, about 20 minutes.