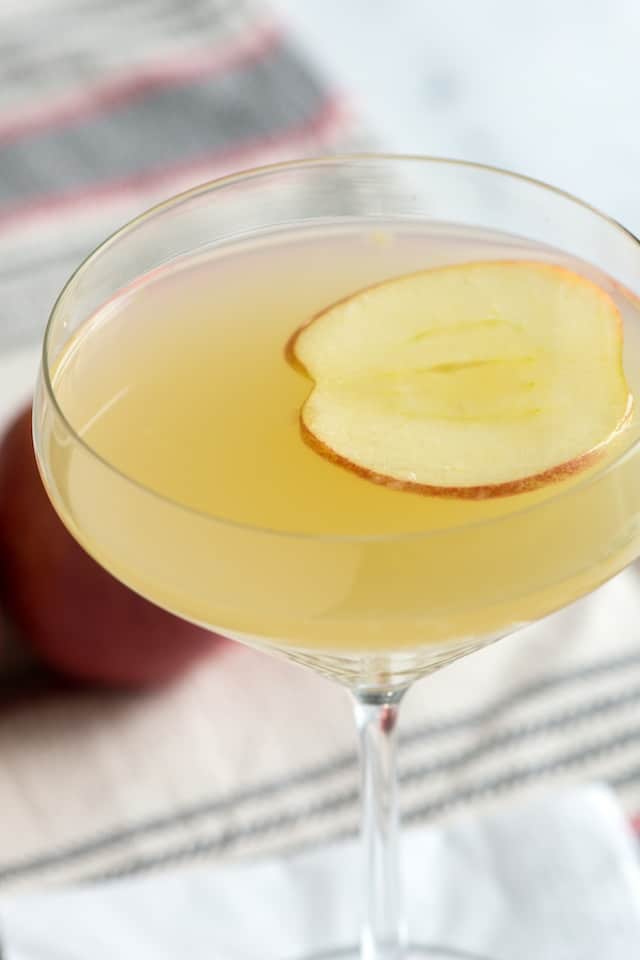 If you've seen our Ginger Cosmopolitan martini recipe, you might notice this Ginger Apple Martini is a riff on it. We love the last cocktail with muddled spicy ginger so much, that we just had to try out adding a little sweetness from apples and turn it into this apple martini recipe. It was a hit!
It's really quite easy to make – all you need to do it muddle, or bash fresh ginger and apples together with some vodka, triple sec and white cranberry (or apple) juice. This is perfect for Fall or cooler weather – the ginger really warms things up.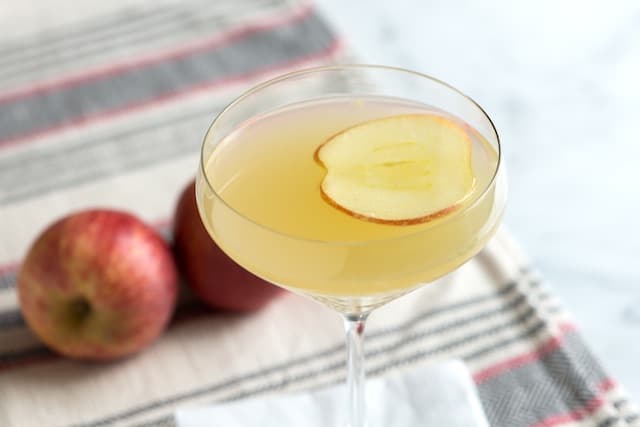 We created this cocktail recipe for Betty Crocker, but couldn't wait to share with you!
Did you enjoy our Ginger Apple Martini Recipe? If so, you might also like a few of these:
Ginger Apple Martini Recipe
Muddled fresh spicy ginger and sweet apples are mixed with vodka, white cranberry juice or apple juice and triple sec for an easy ginger apple martini recipe. To peel ginger before chopping, use a spoon to remove peel. When you add the juice, for a strong taste of vodka, use 2 tablespoons and for a less strong flavor, add a little more juice.
Created By:
Adam and Joanne Gallagher
You Will Need
1/4 cup chopped apple
1 tablespoon chopped fresh ginger
4 tablespoons (2 oz) vodka
2 tablespoons (1 oz) orange flavored liquor (triple sec)
2 to 4 tablespoons (1 to 2 oz) white cranberry juice or apple juice
1 tablespoon (1/2 oz) lime juice
1 lime wedge
Directions
Using a wooden spoon, muddle apple, ginger, vodka and orange liqueur in the bottom of a cocktail shaker. Add white cranberry or apple juice and lime juice then fill shaker with ice. Shake.
Strain cocktail into a martini glass then garnish with lime wedge.