Adding a lattice crust to the top of your pie may seem a little daunting, but it's actually quite easy. Here's how to do it:
How We Add a Lattice Crust to Our Pies
Instructions below match photo above from left to right:
On a lightly floured surface, roll out pie crust into a 13-inch circle . Cut circle into 3/4-inch wide strips. A pizza cutter is great for this, but a sharp knife will also work.
Lay five dough strips over the filled pie parallel to each other and evenly spaced. Use longer strips in the middle and shorter towards the edges of the pie.
Position pie in front of you with dough strips facing away. Carefully fold back the second and fourth strips towards you then lay a shorter strip of dough perpendicular to other dough strips.
Unfold second and fourth dough strips over the new strip.
Fold back the first, third and fifth strips towards you then lay another strip of dough across the pie. Unfold the first, third and fifth strips over the new strip.
Repeat steps 3 through 6 until pie is covered with a lattice crust.
Trim dough strips overhanging the pie by 3/4 inch. Scissors are helpful for this.
Use fingers to fold edges of dough underneath itself so that it creates a thicker, 1/4-inch border that rests on the lip of the dish.
Crimp edges by pressing the pointer finger of one hand against the edge of the dough from the inside of the dish while gently pressing with two knuckles of the other hand from the outside. Then, refrigerate dough at least 20 minutes or freeze for 5 minutes before baking. (For a shiny crust, brush on egg wash before baking).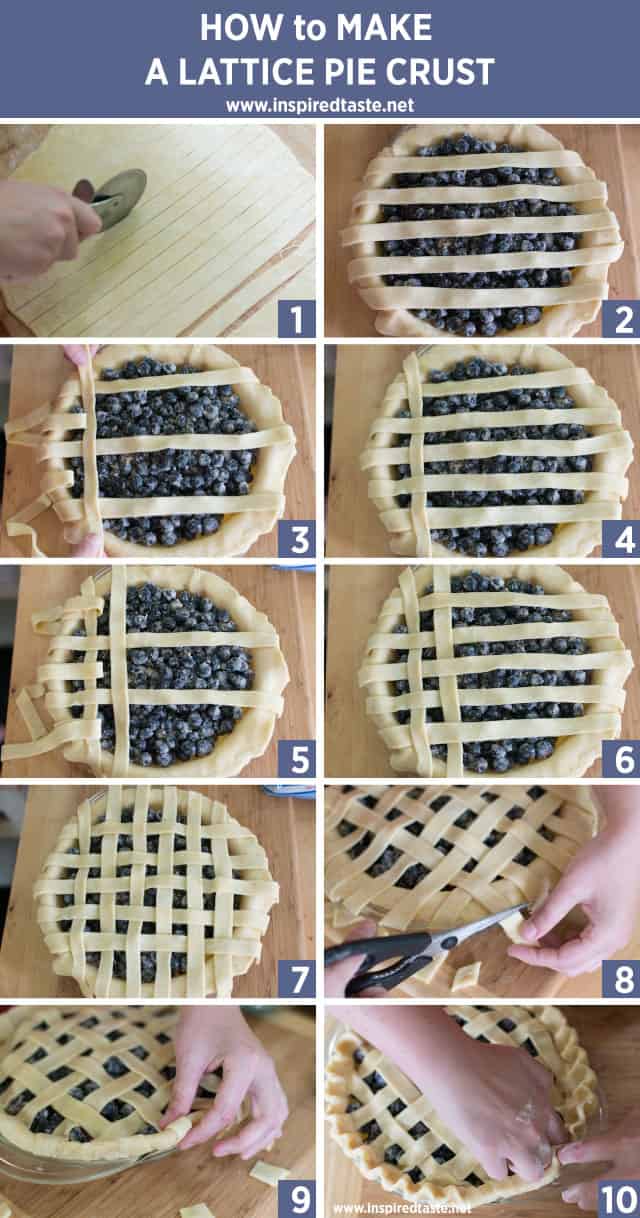 Keep Things Cold
It's important that pie dough stays cold while you work with it — that's what makes it extra flaky once baked. If at any point the dough becomes unruly or warm, take a break and refrigerate for 20 minutes or freeze for 5 minutes then continue to add the lattice top.
You May Also Like
Try adding a lattice top to our Cherry Pie or Blueberry Pie Recipe. Both are perfect for this. Also, you can take a look at our favorite pie crust recipe, here (it's perfect for making a lattice crust). Or, take a look at our recipe video below.
Recipe Video: Our Favorite Pie Crust Recipe – Using a Food Processor or By Hand