We had one mission over the weekend, take a cool photo. That's it. Nothing fancy, nothing with too many steps, nothing that would steal time away from taking advantage of the natural light streaming in through our windows on such a beautiful day, in the middle of winter. So, armed with that mission, we walked to our local grocery store and scoured the aisles until we saw something we wanted to photograph. Limes and a baguette caught our eye, add those to the leftover shredded chicken, cilantro, mayo and pickled jalapeños we had in our fridge and this sandwich was born.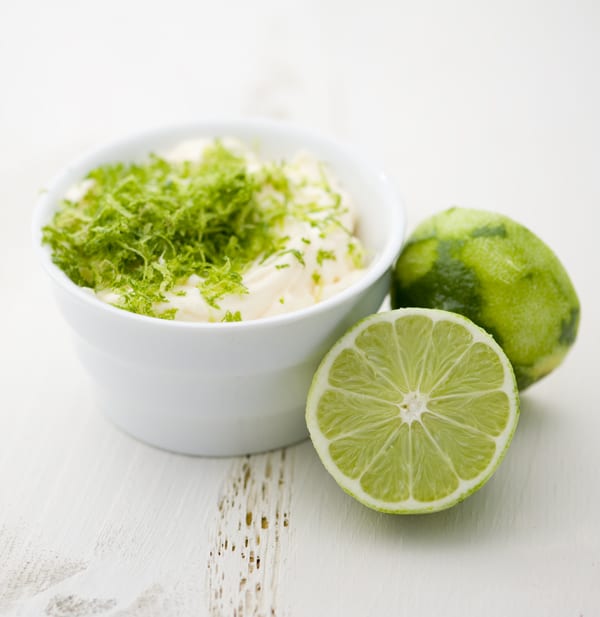 We used those bright green limes to make a zesty lime mayonnaise and slathered the baguette with it like there was no tomorrow. Next, we layered crisp lettuce, thinly sliced tomatoes, warmed shredded chicken, lots of cilantro and pickled jalapeños for a balanced kick.
Balanced, that is why this sandwich is just so incredible – bright and zesty from the lime, creamy and sweet from the mayo, refreshing and light from the lettuce, succulent from the warmed chicken, buttery with a crunch from the baguette and our favorite, a touch of spice from the pickled jalapeño.
Chicken Sandwich with Lime Mayo and Pickled Jalapeños
You Will Need
Sandwich
1 baguette
1 cup shredded chicken, warmed
1/2 cup lime mayonnaise, recipe shown below
4 red lettuce leaves
4 slices tomato
handful of cilantro leaves
1/4 cup pickled jalapeño slices (found in the international section of the grocery store)
Lime Mayo
1/2 cup Mayonnaise
zest of one lime
juice of one lime
pinch salt
Directions
To make the lime mayo,stir the lime zest, juice and salt into the mayonnaise.
Taste for seasoning, adjust if necessary.
Slice the baguette in half crosswise.
Spread the lime mayo on each cut side.
On the bottom half, layer the lettuce, tomato, shredded chicken, cilantro leaves and pickled jalapeños.
Place the top of the baguette onto the sandwich, slice in two and serve immediately.