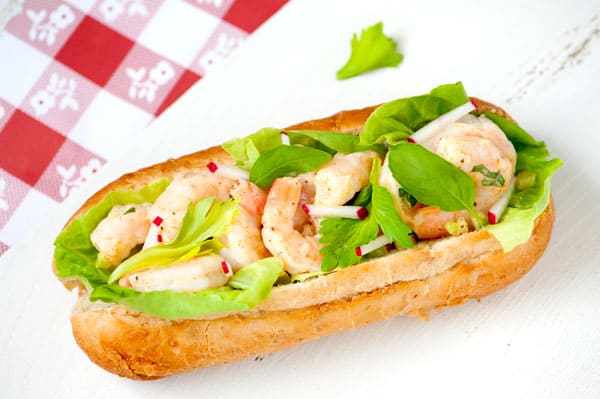 We had fun with this one. The other day, we were contacted about a new website to be launched in July by Kraft Foods. A part of this new website will be an interactive map of regionally-inspired sandwiches. Adam and I were asked to create a sandwich inspired by our hometown. We both grew up in Annapolis, Maryland and now live just a few minutes outside of Washington DC, so we decided to go for a seafood sandwich that took advantage of fresh ingredients, a light dressing and a favorite of ours, Old Bay Seasoning.
We are pretty picky when it comes to shrimp salad. To us, the dressing should be simple and light, never thick or heavy. The rolls should be soft and easily squeezed just before taking a bite and there should be some sort of crunch. For this recipe, the crunch comes from bright green Boston lettuce, celery stalk and radish. We also really wanted to keep things fresh with lime, basil and celery leaves (read: celery leaves are often overlooked and under-utilized).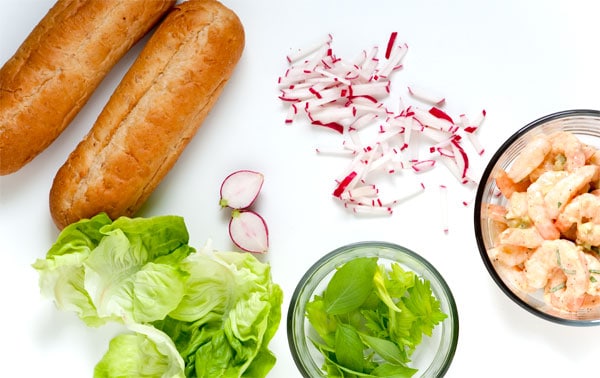 The recipe is found below and this sandwich will eventually be added to the interactive map over at Kraft's new website, Outsandwich.com. To celebrate, they are helping us out with a giveaway. This giveaway is now closed.

You Will Need
12 ounces cooked shrimp (21-24-sized), peeled and devained
1/3 cup mayonnaise
2-3 tablespoons lime juice
1/4 cup chopped celery, 1/8-inch dice
2 teaspoons seaseafood seasoning (suggested: Old Bay Seasoning)
1/8 teaspoon salt
4-6 leaves Boston lettuce (also called bibb lettuce)
8 whole celery leaves
6 whole basil leaves
1 whole radish, 1/8-inch matchsticks
2 whole multigrain rolls, split in half
Directions
In a large mixing bowl, combine mayonnaise, 2 tablespoons of lime juice, celery and seafood seasoning. Season with additional lime juice and salt to taste.
Add the shrimp and toss.
Assemble the sandwich by laying 2-3 lettuce leaves onto the bottom of each roll. Next, add the shrimp salad and top with some radish, celery leaves and basil.