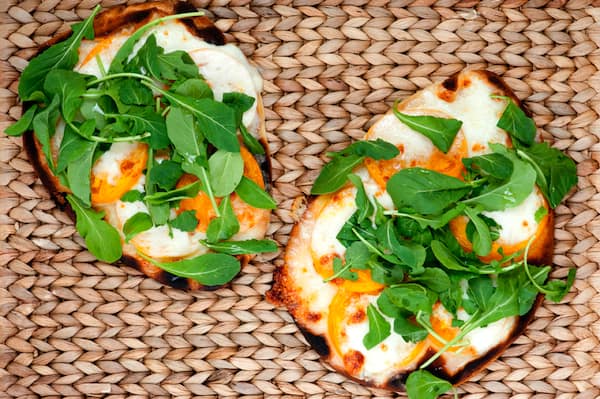 We have had so much fun working American Express for their newly launched cash back Blue Cash Preferred and Blue Cash Everyday cards. To help celebrate the launch of these new cards, we were asked to share appetizer recipes that can be made with 6 ingredients or less, since both cards give you 6% cash back on purchases at the supermarket.
We have already shared our  step-by-step recipe for watermelon cups  and step-by-step recipe for arugula toasts (loved those so much) so, to wrap things up we thought this simple pizza would be a good choice.
When we were asked to come up with appetizer recipes, we wanted to challenge ourselves with making sure anything we came up with would lend itself well to entertaining, which to us, means inviting, flavorful and something that looks a lot more complicated than what it really is! This pizza is perfect for that! It literally takes 15 minutes to make.
We start with garlic Nann bread from the store then found the most beautiful yellow tomatoes (aren't they striking), some fresh mozzarella cheese, arugula and splurged a bit on some white truffle oil.
The white truffle oil was $15.99, a lot, we know, but since we hardly ever splurge on something like that, we went for it. You could substitute with olive oil or even spice the pizza up a bit with some chili or garlic oil, usually found in the international section at the grocery store.
Then, we just sort of piled tomatoes, seasoned with a touch of salt and the cheese on top of the Nann bread, baked them in the oven just until the cheese melts and topped with peppery arugula and a drizzle of the white truffle oil.
Oh. So. Good. Here is the step-by-step: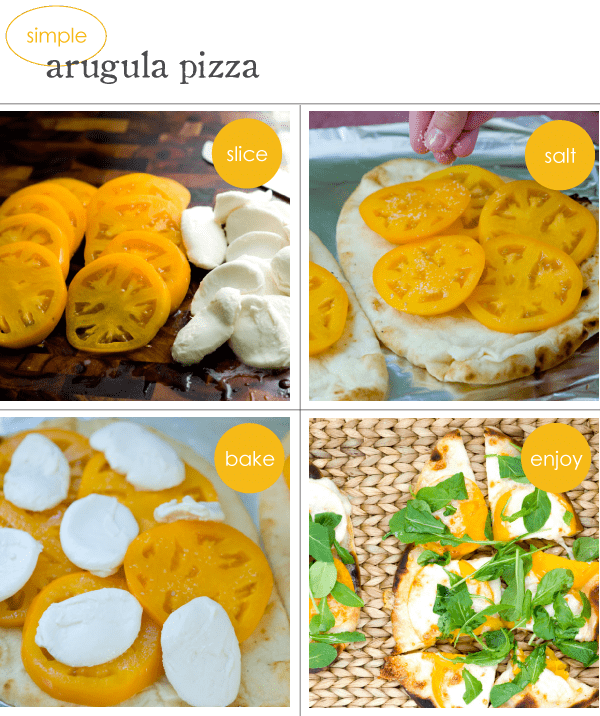 Do you want to know what else that is great? How about the fact that the awesome people over at American Express were so, well awesome (I know I used that twice), that they asked if we could hold a recipe contest for our readers to find other appetizer recipes using 6 ingredients or less! You submitted some great recipe ideas from Sweet Potato Bites to Crock Pot Pizza Dip to Party Meatballs to Grilled Caprese Tomatoes to the most adorable Mini Baked Potatoes. All of the entries sounded so delicious but only one can win (oh, how we wish everyone could win!).
So — after deliberations with friends, we chose a winner… drum roll, please
We chose Jaclyn's Prosciutto, Mascarpone & Honeyed Arugula Bruschetta. We just loved how put together this was. Five minutes is all it takes to make this show-stopping appetizer.
Congratulations, Jaclyn! (By the way, you should definitely head on over to her blog for the recipe and lots of other exciting dishes – s'mores mousse tart, anyone… she had us at s'mores!
White truffle oil can be expensive. For a slightly different and inexpensive variation, try using chili or garlic oil in place of the white truffle oil. These can be found in the international area of your supermarket or on the same aisle as olive or vegetable oil.
Created By:
Adam and Joanne Gallagher
You Will Need
2 garlic Nann flatbreads
2 yellow tomatoes, 1/4-inch slice
8 ounces fresh mozzarella cheese, 1/4-inch slice
1/2 cup packed arugula leaves
white truffle oil
salt
Directions
Preheat oven the 500 degrees F.
Layer yellow tomatoes on top of the Nann bread, season with a pinch of salt.
Layer mozzarella cheese on top of tomatoes.
Bake pizza in oven until cheese melts and begins to brown, about 8 minutes.
Top with arugula and a light drizzle of white truffle oil.