Orange Honey Teriyaki Chicken Recipe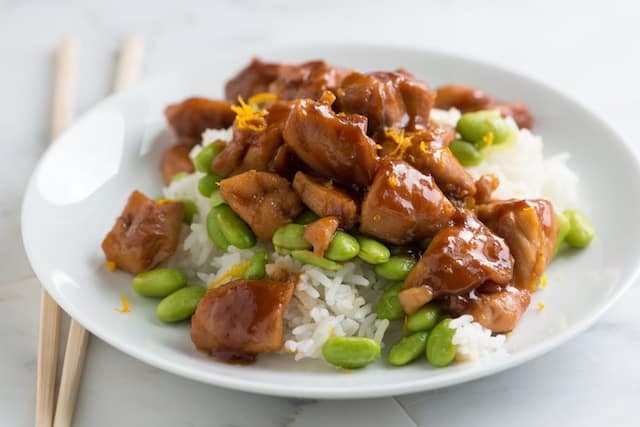 Created By:
Joanne and Adam Gallagher
1/4 cup (59 ml) low-sodium soy sauce
1/3 cup (79 ml) fresh orange juice (about 3 small oranges)
2 tablespoons mirin
3 tablespoons honey
2 teaspoons finely grated fresh ginger
1 teaspoon toasted sesame oil
1 3/4 pounds (794 grams) skinless, boneless chicken thighs
2 teaspoons orange zest (optional)
In a medium bowl, combine the soy sauce, orange juice, mirin, honey, ginger and sesame oil.
Cut chicken thighs into bite-size pieces then add to the marinade. Let marinade for 15 to 20 minutes.
Heat oil in a large saute pan or wok (with lid) over medium-high heat. Once the oil is hot use a slotted spoon to add the chicken, but not the marinade. Save the marinade until later.
Cook chicken, stirring occasionally, until lightly browned on all sides. Turn the heat to medium-low then add the marinade and cover pan with lid. Cook for 5 minutes. Remove lid then check to see if chicken has cook through. If cooked, remove the chicken to a clean bowl. Allow the marinade to simmer for 1 to 3 minutes until thickened then toss with the chicken.
Sprinkle top of teriyaki chicken with orange zest then serve with rice and/or vegetables.
To grate ginger, first peel the skin using a spoon - just drag the spoon against the side of the ginger. Once peeled, use a fine microplane to grate. If you do not have a microplane, you can mince the ginger. If you do this, make sure the ginger is cut into very small pieces.
Recipe by
Inspired Taste - Easy Recipes for Home Cooks
at http://www.inspiredtaste.net/19055/orange-honey-teriyaki-chicken-recipe/