Cook the pasta in boiling salted water until it is tender but not mushy. Reserve 1/4 cup of the hot pasta water then drain pasta.
Meanwhile, heat olive oil in a large skillet over medium heat, add bacon and cook until it has rendered its fat and is crisp. Transfer bacon to a plate then discard enough bacon fat so that two tablespoons are left in the pan.
Prepare three small bowls. Separate the egg whites and yolks. Add egg whites to one bowl then add each egg yolk to the two remaining bowls.
Add the pan with bacon fat back onto the heat then add reserved pasta water and pasta to pan with bacon fat, toss and cook 1 minute. Remove from heat then add 1/2 cup of the cheese, egg whites and lots of fresh ground pepper. Toss until well mixed.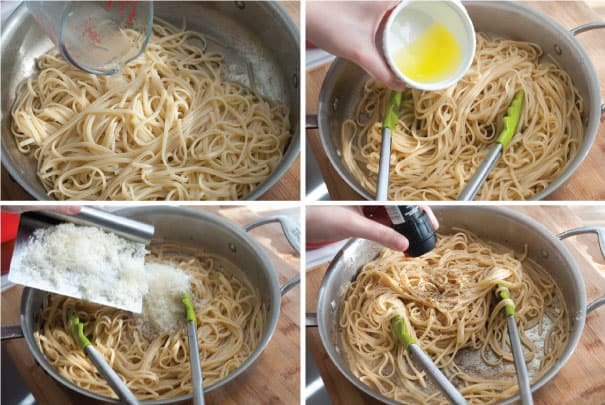 Divide the pasta between 2 bowls, make a nest in the middle then gently side an egg yolk into each nest. Top with more cheese, bacon and an extra grind of pepper. Serve immediately.