This is all very new to us and I must say we are trying our very best to get up to speed with the new lingo (blogosphere, blogroll, gravatar) as well as learning about WordPress, plug-ins, etc…  Adam is doing a better job than me at the moment, but I keep telling him, I will get there … just give me time.
With this in mind, we made the decision to officially relaunch our site after 3 months.  By no means does this mean we feel the site will be perfect, Adam and I both believe we will still be learning new and exciting things for years to come, but it is a start.  Over wine a few nights ago night, we sat down and wrote all the things we thought we could do to make Inspired Taste better, let me tell you, it was a long list!  After writing our "to-do list," we picked out a few initial goals for our relaunch date:
A beautiful new logo and background.   We are lucky enough to have Heather over at Quite Like It design our very own logo and background.  Quite Like It did our wedding stationary and we could not have been happier so we knew they were the right choice for our logo.

A better site layout is on its way, making it easier to navigate, comment and subscribe

Post, Post, Post!  You want content, you will get it, our plan is to have at least 50 posts for you to browse through so you can see what we are all about
So when is this relaunch date?
Tuesday, November 10, 2009

The timer on the homepage is counting down the days!
Now of course, the site will not change all at once, we are only human, but instead between now and November you will slowly see changes, some may be huge, like our new logo while others will be subtle, but they will all be leading to what we hope will be an enticing place for you to browse through and most importantly enjoy.

Now for the contest …

One thing we have learned from some of the talented and established bloggers out there is that hype helps.  So, to create a little buzz, we are holding a contest.  It's simple, all we want is feedback.  Of course, Adam and I both have visions of what things should look like or how posts should read, but that is just us, two people and two very biased people for that matter, so we need your help.
How to Enter
Leave us a comment on this post between now and 10 a.m. EST Monday, November 9, 2009.  Comment as many times as you wish, but each time please make sure you are leaving us feedback, preferably constructive.  We want to know what you think about our site, even if you don't like something or think something could be done better.

Once the contest ends at 10 a.m. EST on November 9, 2009, Adam and I will enter the number of comments from this post and use RANDOM.ORG to randomly choose 3 winners.  Once the numbers are randomly chosen, we will notify the winners by email in order to get a shipping address to send the prizes.

NOTE:  When you comment, please make sure you enter a valid email address in the comment form (you do not need to enter it in the actual comment box), this way only Adam and I will see your email address and we will be able to contact you if you have won.  In the event that we do not hear back from a winner by 10 a.m. EST on Friday, November 13, we will choose another.
Once you have entered you are more than welcome to use our contest post image as a badge.

The Prize

What will the winners receive?  Each of the 3 winners will receive a hand-picked sampling some of our favorite things from Crate and Barrel.
We have one more tiny request, the internet is a big place and a little website like ours can easily get lost, so if you enjoyed our website or think someone you know might, let people know about it, we would truly appreciate it. We also have added a new page which will let you know of upcoming posts or updates.

Here is a little more insight to our lives before Inspired Taste…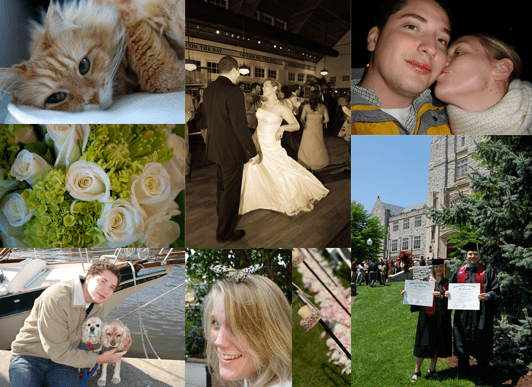 Thanks, and we are looking forward to what you have to say 🙂

~Joanne and Adam
Since it would be unfair to post our own comments and then randomly win a prize, I thought we could respond to any questions you have here.
Wendi – a search box is a great idea, and is definitely part of our redesign.  Thanks for the compliments on the new logo, we love it too 🙂
Michael – I love the idea to add posts which discuss cooking techniques or tips in the kitchen (properly roasting and de-skin a pepper is a great one, I might use that one 😉  We do have a category for Tips & Techniques, but I think we only have one post to match (How to clean a leek) … this is definitely something we want to work on, thank you for the suggestion!

C – The idea to add a "related posts" feature is a great one and I think would move people around the site a bit more.  To be honest, it would also work well because we get into cooking moods, like the other week all I wanted to make were soups, so we had a burst of soup posts.  Thank you for your suggestions!!!
Camilla – Adding a "recent posts" feature is a great one and something we did not even consider until you mentioned it.  We just added it a few days ago and are really pleased!  Thanks!
Dhi – We totally agree!  We also think there is just too much in the sidebars.  We are struggling a bit with this one since most of what is there is important information.  We have a few ideas that we have not implemented yet, so we are hoping things will improve.  Thanks so much for the feedback.
Erin – We love you too!!!

Tracy – Thank you so much for commenting!  De-cluttering the sidebar is definitely a hot topic, we are really trying to make it work.  The recent posts idea is a great one too, we are also adding  "related posts" to each recipe to help move people around the site a bit.  Also, we are hoping the photo box at the top right side of the page would catch people's interest too, when you click on that it will take you to a corresponding recipe.  This is all so helpful, thank you!!
Sheetal- You are too kind, thank you!!
James – Contests are great to create a little buzz, they are also fun and when done in this context (asking for feedback) Adam and I are learning so much.  It has been incredibly helpful!  Thank you!
Lisa – Awesome idea to have printable recipes!  We will get on that right away, thank you.

Megan – You brought up a great point.  After your comment, Adam and I took a look at some other sites and saw that we do have a larger window than most and decided we should make it a little smaller in width.  Thank you so much for the comment.
Sudeshna – What a lovely comment, thank you and you are so right, using the word "recipes" is not technically correct especially since we have a tips and techniques section in that list – categories makes more sense.