Heat the oven to 425 degrees F.
Discard the first 2 inches from the top of each scallion. Cut scallions in half crosswise and thinly slice them lengthwise into strips.
Heat the olive oil in a skillet over medium heat. Add the spring onions, red pepper flakes and a pinch of salt. Cook, stirring occasionally, until the scallions are wilted and begin to brown.
Season fish on both sides with salt and fresh ground pepper then place, in one layer, into a baking dish. Divide the cooked scallions between the tops of each piece of fish. Scatter lemon zest over scallions then cut the butter into small squares and place on top.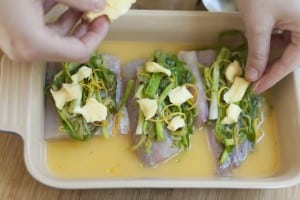 Pour the orange juice around the fish then cover the pan with aluminum foil. Bake until the fish is opaque throughout, 15 to 18 minutes, depending on thickness of the fish.