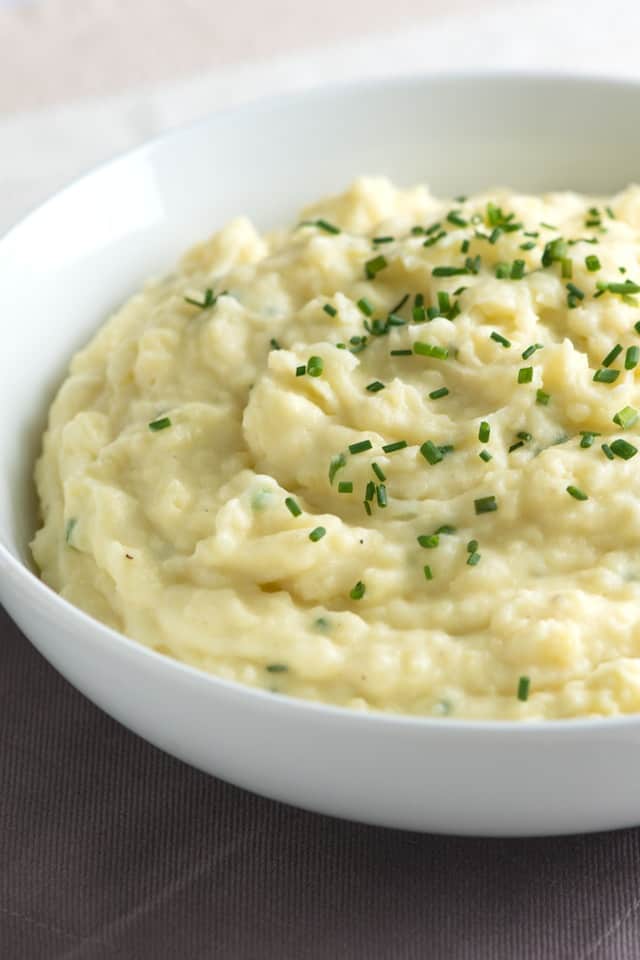 There are lots of  ways to make mashed potatoes. Some are die hard mashers, others use a food mill and some use a hand blender to whip them. We love all three. Seriously, we do them all. With that said, when we want the lightest, creamiest potatoes we use a hand blender and make whipped potatoes. 
They're really simple to make. Boil your potatoes (we love using Yukon Gold potatoes for this). Then, drain and break the potatoes up a little with the ends of the whisks. Add creamy mascarpone cheese and butter then turn the hand blender to low and whip the potatoes until light and creamy.
What Else Can You Add to Whipped Potatoes?
We love our addition of creamy mascarpone cheese (very similar to cream cheese) and chives to our whipped potatoes, but there are so many options. We bet you have some suggestions (leave them in a comment below), but here are our thoughts:
Just add butter
Sour cream + fresh herbs (dill, chives and green onion are our favorites)
Bacon + shredded cheddar cheese
Cream cheese
Heavy cream
Plain yogurt + fresh mint
Caramelized onions
Creamy horseradish
Roasted garlic
We shared this recipe over on Bettycrocker.com. To see and print the recipe visit, Mascarpone Whipped Potatoes.