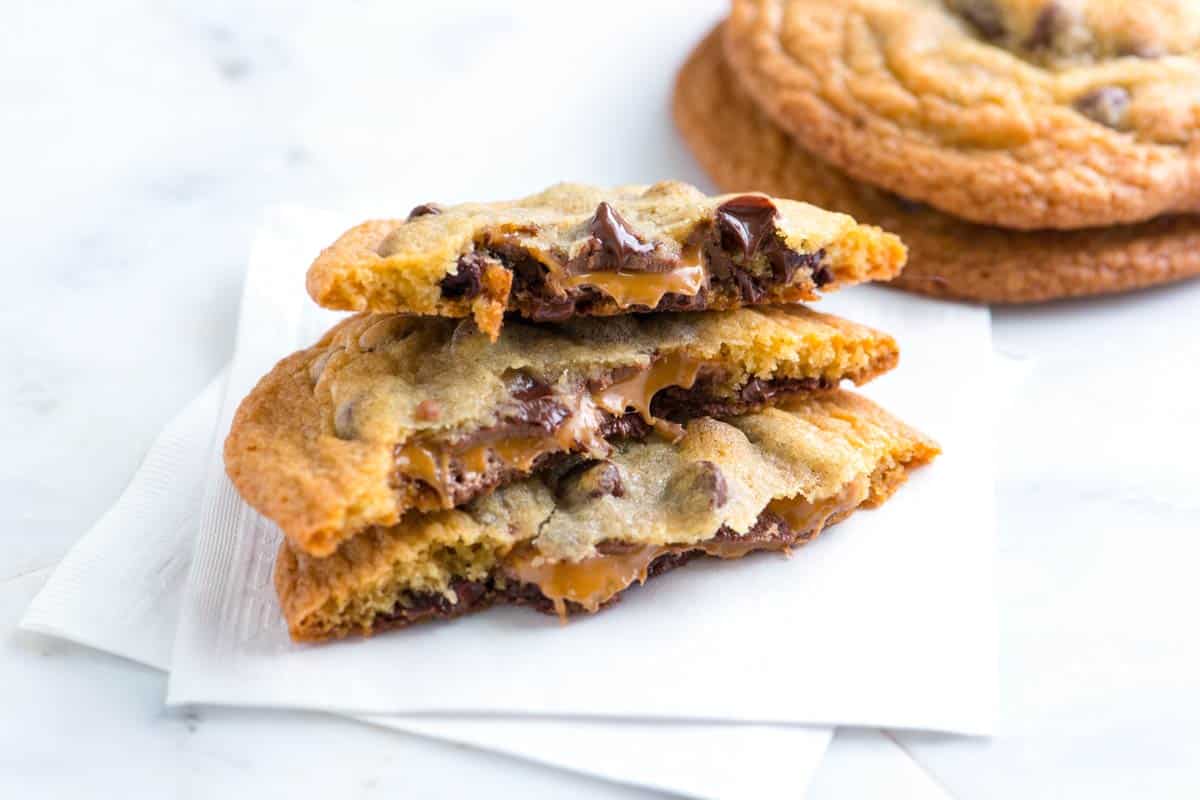 Milky Way Stuffed Cookies
PREP

25min

COOK

15min

TOTAL

40min
This stuffed cookie recipe is really easy to make — all you need is an extra 5 to 10 minutes so you can stuff a fun-size Milky Way inside cookie dough before baking. We make our own cookie dough, but if you're in a pinch, use a store-bought cookie dough, it will still work. (If you do use store-bought dough, watch the baking time as it may vary from what we share below). Also, feel free to switch out the Milk Way bars for your favorite small or "fun-size" candy bar.
You Will Need
16 tablespoons (230 grams) butter, softened (2 sticks)

3/4 cup (150 grams) granulated sugar

3/4 cup (150 grams) lightly packed brown sugar

1 teaspoon vanilla extract

2 large eggs

2 1/4 cups (190 grams) all-purpose flour, we use Gold Medal

1 teaspoon baking soda

1/2 teaspoon sea salt

10 ounces (280 grams) chocolate chips

12 to 14 "fun-size" Milk Way candy bars
Directions
Make Batter

Heat oven to 375 degrees F. Line two baking sheets with parchment paper or a silicone baking mat.

In a large bowl, beat the butter, both sugars and the vanilla extract on medium speed with a hand mixer until creamy, light and fluffy, scraping down the sides as necessary. This should take about 2 minutes. Add eggs, one at a time, beating until blended.

In a medium bowl, whisk to combine the flour, baking soda and the salt until blended. Add the flour mixture, in three parts, to the butter mixture, beating until incorporated and scraping down the sides of the bowl as necessary. Stir in the chocolate chips.
Stuff Cookies

Use the palms of your hands to roll about 12 cookie dough balls, using 2 tablespoons of dough for each. Flatten one cookie dough ball, place a Milky Way into the middle. Flatten a second cookie dough ball and cover the Milk Way. Crimp the edges so that the Milky Way is completely covered. Repeat with remaining dough. You should be able to make 12 to 14 stuffed cookies.