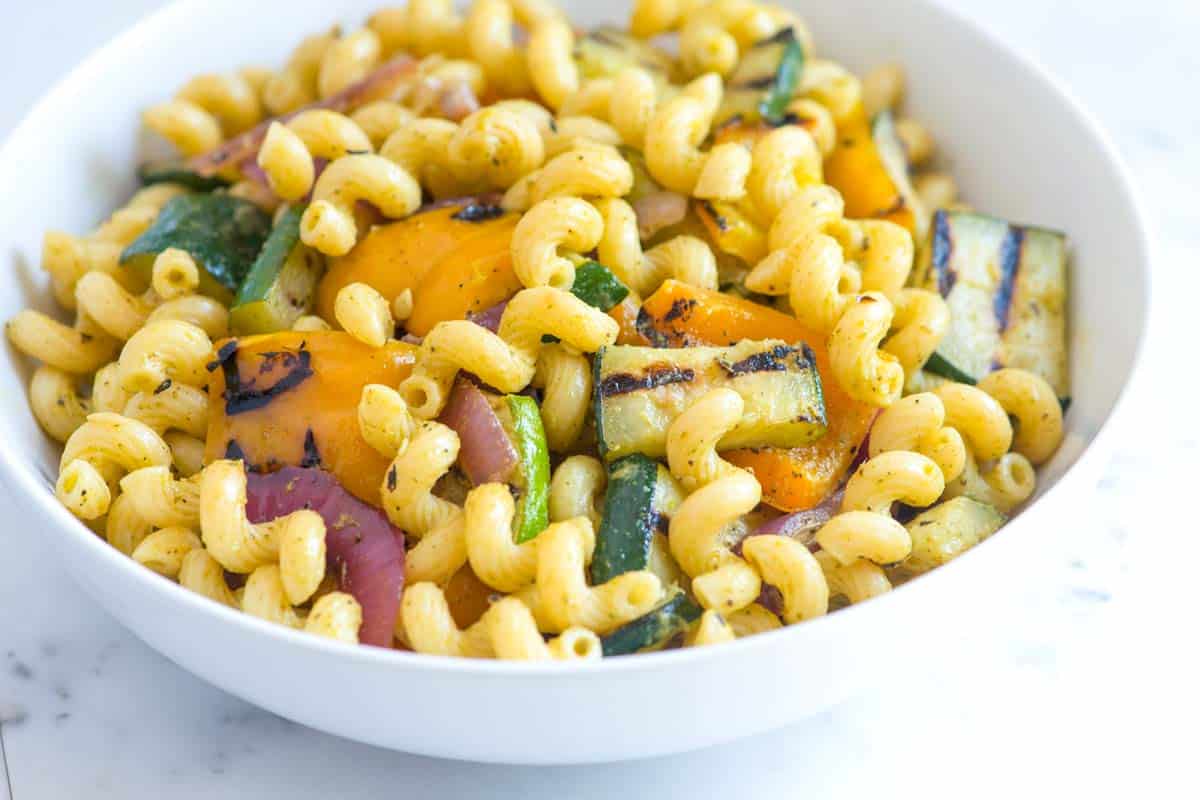 Lemon Basil Pasta Salad Recipe with Veggies
This pasta salad can be prepared up to 8 hours ahead. Just cover and refrigerate. Then bring to room temperature or warm before serving. The longer the salad sits, the basil will loose some of its bright green color. It sill tastes delicious. It might be a good idea to make a little extra dressing to toss in just before serving.
Makes approximately 6 servings
You Will Need
2 medium zucchini, sliced into long 1/4-inch strips

1 red onion, sliced into 1/4-inch rings

2 bell peppers, seeds removed and quartered

3/4 pound dry pasta such as cavatappi, fusilli or penne

2 tablespoons extra-virgin olive oil

Salt and fresh ground black pepper
Lemon Basil Dressing

2/3 cup loosely packed fresh basil leaves

1 tablespoon Dijon-style mustard

1 teaspoon honey, plus more to taste

2 teaspoons lemon zest

1/3 cup (80 ml) fresh lemon juice

1/3 cup (80 ml) extra-virgin olive oil, plus more if needed

Salt and fresh ground black pepper
Directions
Cook Pasta and Veggies

Bring a large pot of salted water to a boil then cook pasta according to package directions. Drain.

Meanwhile, heat a grill pan over medium heat or prepare an outdoor grill or barbecue (medium heat).

Toss vegetables with 2 tablespoons of oil then season with salt and pepper. Grill vegetables, turning occasionally, until cooked through and edges are beginning to brown; 8 to 10 minutes. Cut vegetables into 1/2-inch pieces. (If using a grill pan, you may need to do this in batches.)
Make Dressing

Blend basil, mustard, honey, lemon zest and the lemon juice in a food processor or blender, scraping down sides of bowl as needed. With the machine running, gradually add the olive oil and blend until creamy. (If the dressing is too thick, add 1 to 2 tablespoons more olive oil.) Season to taste with salt and pepper.