Prepare a small bowl of ice water. Bring a small saucepan, filled halfway with salted water, to a boil. Submerge basil leaves in boiling water for 5 to 10 seconds, or until wilted. Then, immediately plunge into ice water to stop cooking. Drain, squeeze to remove excess water then pat dry with a clean dish towel.
Smash and peel the garlic clove then mince. Holding a chef's knife at an angle, scrape the blade of the knife across the minced garlic. Gather it all together then scrape it against the board again until it becomes a very fine paste.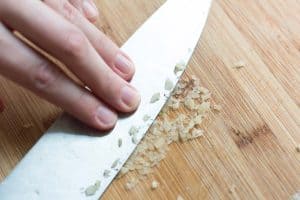 Combine the garlic paste and the pine nuts in the bowl of a food processor. Pulse 2 to 3 times until everything is chopped small. Add basil.
With the processor running, slowly pour the olive oil into the bowl. Once all the olive oil has been added, check the consistency of the pesto — we like it to have some texture. If you prefer it smoother, pulse a few more times.
Transfer pesto to a bowl then stir in cheese and season to taste with salt and pepper. Use immediately or store for later.