How to make classic pumpkin pie from scratch. This easy recipe is our favorite method for making pumpkin pie. It's one of the simplest (and tastiest) pies you can make at home. Use canned pumpkin or homemade pumpkin puree in this pumpkin pie recipe.
Watch the video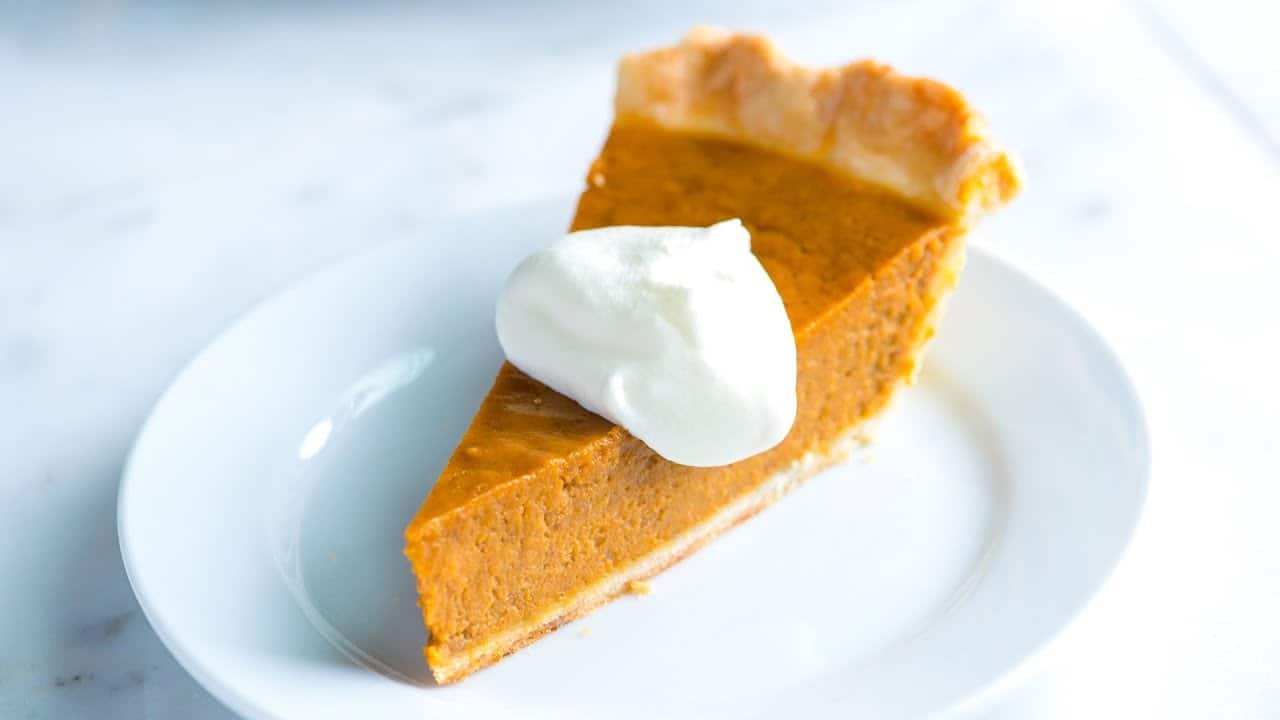 ⭐️ Try our homemade sweet potato pie that just as delicious as this pumpkin pie.
Why we love this pumpkin pie recipe
It's easy! Mix your pie filling in under 5 minutes, fill your crust, and bake!
This pumpkin pie tastes amazing thanks to pumpkin puree (yep, canned is fine), cream, and the perfect blend of spices.
It's ideal for making in advance. In fact, we prefer the texture of this filling after a night in the fridge.
I love homemade pumpkin pie, especially this one. Adam takes his plain, while I love adding a dollop of homemade whipped cream. Our pumpkin pie filling is creamy and rich with just enough sweetness to balance the spices, including cinnamon, ginger, and cloves.
Key ingredients for homemade pumpkin pie
Use a high-quality pie dough. As with all the pie recipes on Inspired Taste, we start with this homemade pie crust with helpful video showing how we make it. It has never failed us and is our go-to recipe for making pumpkin pie, this easy sweet potato pie, and our homemade apple pie. If you have a favorite store-bought pie crust, then use it. It's entirely up to you.
Use canned pumpkin or homemade pumpkin puree in this pumpkin pie recipe. I love the pie when we've used canned puree, but making fresh pumpkin puree is easy and means the pie is 100% homemade.
Bonus: when you make your own puree, you get to roast the pumpkin seeds. When using canned, I use Libby's. If you love sweet potatoes, take a look at our homemade sweet potato pie.
Our easy pumpkin pie filling comes together in minutes. In addition to the pumpkin, you'll need the following ingredients:
Eggs
Heavy cream
Granulated sugar and brown sugar
Vanilla, cinnamon, ginger, ground cloves, and salt
We don't add too many spices to our pumpkin pie filling and love how the pumpkin gets a chance to shine. If you love spicier pies, increase the spices in the recipe below. You can also swap them for this pumpkin pie spice blend.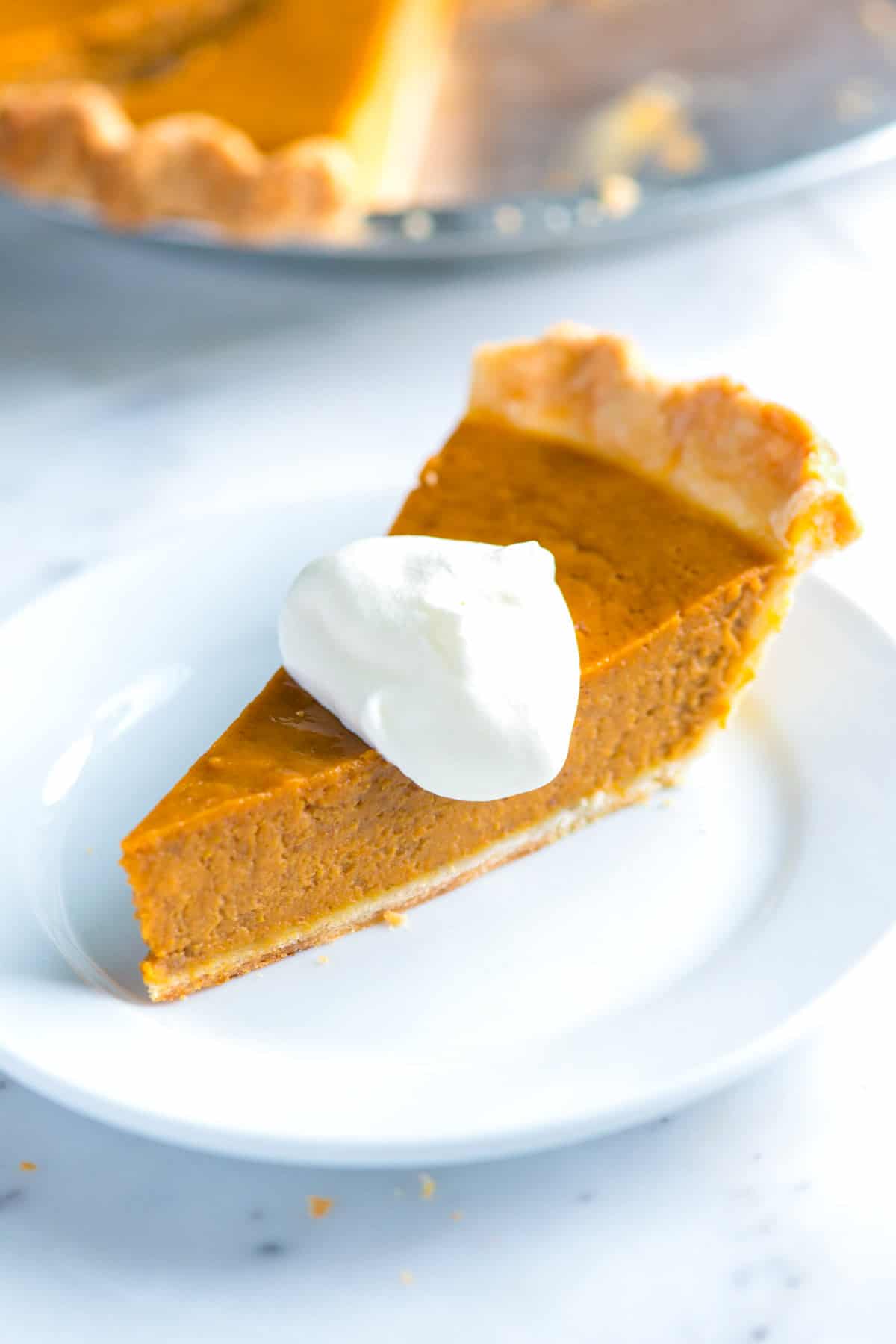 Should you blind bake pumpkin pie crust?
We don't blind-bake pie crust when making pumpkin pie. "Blind baking" means partially cooking the crust before adding the filling, which helps the crust stay crisp and flaky.
By not pre-baking our crust, I love how the crust gets a little wet from the filling. The bottom of the crust browns and becomes flaky, but where the filling and crust meet, it's soft and tender. For the best results, we highly recommend using this pie crust recipe.
With all of that said, you can absolutely par-bake / blind-bake your pie crust for our pumpkin pie recipe below. Follow these steps to blind bake your crust, before adding our pumpkin filling:
Line your pie dish with dough, prick the bottom with a fork, and line with parchment or foil. Fill the foil with pie weights (or use uncooked rice or beans), then bake in a 425° F oven for 8 minutes.
Remove the parchment or foil (and weights), then bake until the crust is just starting to brown, another 5 to 6 minutes. Set aside to cool while you make the filling. The crust can still be warm when you add the filling, just cool it enough so it is not hot.
How long to bake pumpkin pie?
We bake pumpkin pie in a 425° F oven for 35 to 45 minutes. Depending on your oven, you might need a bit longer.
You can tell when pumpkin pie is done when a toothpick or thin knife plunged it into the pie, about 2 inches from the edge, comes out clean. The pie should look set, but a little wiggly.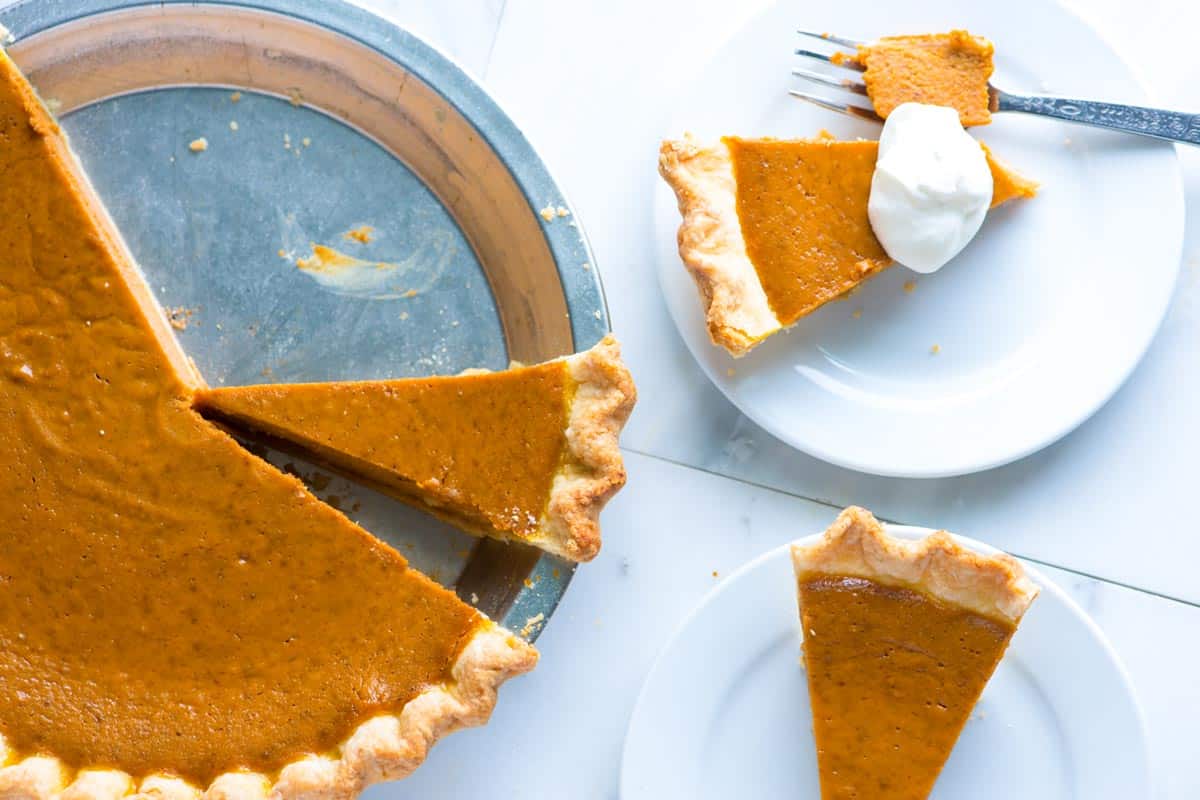 Does pumpkin pie need to be refrigerated?
Since pumpkin pie has eggs and cream, we recommend storing it in the refrigerator unless you are serving it. It can sit out at room temperature for 2 hours. Homemade pumpkin pie will last in your refrigerator for up to three days.
To refrigerate the pie, let it cool completely, and then wrap it tightly before placing it into the fridge. As a bonus, the texture of the filling improves after some time in the refrigerator.
Can you freeze pumpkin pie?
To freeze pumpkin pie, let it cool completely, and then wrap it tightly in foil before freezing. Thaw frozen pumpkin pie overnight in the fridge. Homemade pumpkin pie will last in your freezer for up to three months
More Pumpkin Recipes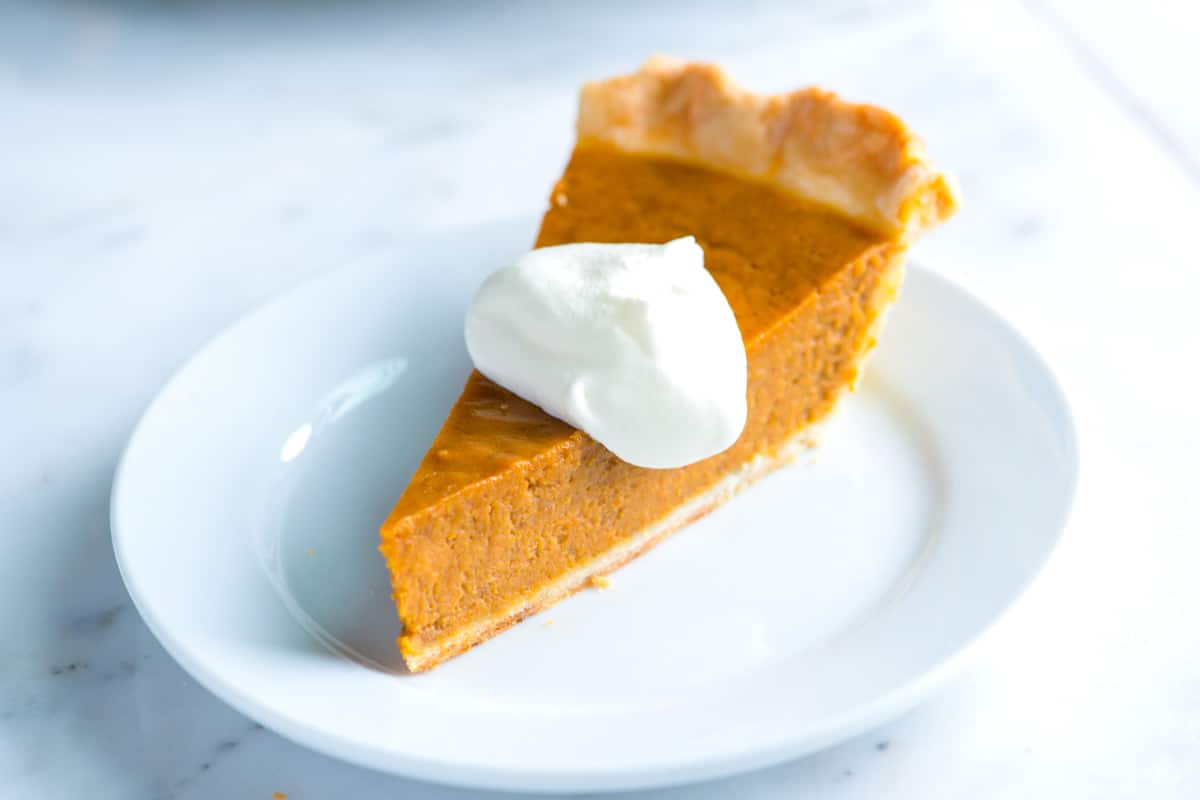 Our Best Easy Pumpkin Pie
Making this pumpkin pie from scratch is easy. Use canned pumpkin or homemade pumpkin puree in this pumpkin pie recipe. We take it plain or with a dollop of softly whipped cream. The spices are not overpowering. If you like more spices in your pie, increase the cinnamon and ginger a little. We'd avoid increasing the cloves; a 1/4 teaspoon should suffice.
Watch Us Make the Recipe
You Will Need
Chilled pie dough for one single-crust 9-inch pie, see our pie crust recipe
3 large eggs
1/2 cup (100 grams) granulated sugar
1/3 cup (65 grams) light brown sugar
1 (15-ounce) can pure pumpkin puree or 2 cups (440 grams) fresh pumpkin puree, see our homemade pumpkin puree recipe
3/4 cup (175 ml) heavy whipping cream
1 teaspoon vanilla extract
1 ½ teaspoons ground cinnamon
1/2 teaspoon ground ginger
1/4 teaspoon ground cloves
1/4 teaspoon fine sea salt
Homemade whipped cream, for serving
Directions
Prepare Crust

1Roll out the dough to be two inches larger than your pie dish. Gently press the dough down into the dish to line the bottom and sides. (Be careful not to pull or stretch the dough). Trim dough to within 1/2-inch of the dish edge.

2Fold the edges of the dough underneath itself, creating a thicker, 1/4-inch border that rests on the lip of the dish. Crimp edges. (We do this in our pie crust recipe video). Refrigerate while you make the pie filling.
Make Filling

1Whisk the eggs and both sugars together until smooth. Add pumpkin puree, cream, vanilla, cinnamon, ginger, cloves, and salt. Stir until well blended.
Bake the Pie

1Heat oven to 425° Fahrenheit (218° C). Set aside a large baking sheet.

2Place the pie on your baking sheet. Pour the pumpkin filling into the pie shell.

3Bake the pumpkin pie at 425° Fahrenheit (218° C) for 15 minutes. Reduce the oven temperature to 375° Fahrenheit (190° C) and bake for 35 to 45 minutes or until a toothpick or thin knife plunged it into the pie, about 2 inches from the edge, comes out clean. Rotate once or twice during baking. If, while the pie bakes, the top of the crust becomes too dark, cover it with a thin strip of aluminum foil.
To Finish

1Cool completely on a wire rack for 2 hours or until room temperature. Cut into eight wedges and serve alone or topped with whipped cream. To store, cover the cooled pie loosely with foil or plastic wrap and keep it in the refrigerator for up to 3 days.
Adam and Joanne's Tips
Pumpkin pie spice: Substitute 2 ¼ teaspoons pumpkin pie spice for the cinnamon, ginger, and cloves. Here's our homemade pumpkin spice blend.
How to tell when pumpkin pie is done: Take the pie out of the oven when the majority of the pie looks shiny and set on top. It should jiggle a little like jello, but not much more. The middle will still look wet on top — this is okay. It will continue to cook as the pie cools on the counter. And, as a final test, grab a toothpick or thin knife, then plunge it into the pie, about 2 inches from the edge. If it comes out clean, the pie is done. As the pie sits until cooled to room temperature, it will continue to cook and set. We wait until the pie has cooled completely, 2 to 3 hours. If the middle does not seem to be set when you cut into the pie, let it cool a little longer. Or, cut the slice anyway and cover the end with whipped cream. It will still taste great.
Nutrition facts: The nutrition facts provided below are estimates. We have used the USDA database to calculate approximate values.
Nutrition Per Serving
Serving Size
1 slice (1/8th of pie)
/
Calories
365
/
Protein
6 g
/
Carbohydrate
38 g
/
Dietary Fiber
2 g
/
Total Sugars
21 g
/
Total Fat
22 g
/
Saturated Fat
13 g
/
Cholesterol
131 mg