In the spirit of New Year's Resolutions, we felt we needed to come clean about something.
We have a confession to make… something that we have been keeping a secret from you for quite some time now… we are a little embarrassed… its about our kitchen.  A little over 10 months (possibly more, we actually have lost track) we started to renovate our kitchen.  We had the plan laid out, first we would paint our walls a bright color then give our cabinets an updated look with some paint and we would to change out the hardware from old bronze handles to updated black knobs.  We then found some really pretty mosaic tiles from Home Depot that we planned to use as our back splash.  The whole renovation plan did not seem too daunting at the time, we have watched HGTV before and know such things can be done by 2 generally intelligent people within a reasonable amount of time.  We were pumped.  It's been over 10 months and here is our status…
Walls to be painted a bright color – almost done, we have the following two sections of wall to complete.  We love the bright apple green, but we only wish we could finish!!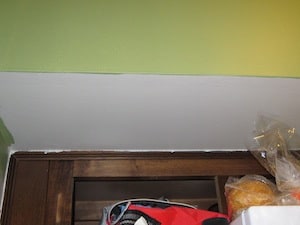 Cabinets to be painted- we have only completed half of the cabinets (all the top ones)… we love the creamy color, it brightens up the kitchen tremendously, but unfortunately the bottom half of our kitchen has not been touched…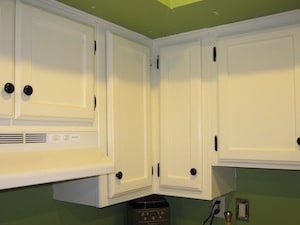 Knobs to be replaced – halfway done … and yes, we have had no knobs or doors on the bottom half of our kitchen for the past 10 months
Back splash covered in beautiful mosaic tiles – we bought one 12in x 12in square – the only place this has been used was in photos of food for this site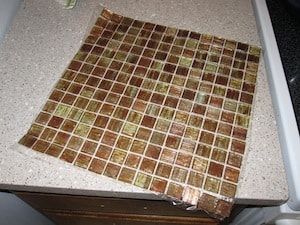 What went wrong?  We are busy people, but not that busy… we even have the can of paint still sitting on the floor in our kitchen … what is wrong with us … we have a food and cooking blog for goodness sake!  I think we might have a procrastination problem …
Woah … that feels so much better, the weight has been lifted … we almost feel motivated to get our project moving again … almost …
Well I bet you can guess what our New Year's Resolution for the kitchen in 2010 is … We want to master souffles … and maybe finish our kitchen!  Not too long ago, we asked you what your resolutions for 2010 in the kitchen were, we are so impressed with you guys…. mastering the art of bread making … one new recipe a week … only cooking with real products … master sauces … eat better on a budget … cook at least one recipe from every cookbook you own … they are all so awesome!
We wish our giveaway could go to all of you since we are so inspired by your resolutions, but today, we only have something for 3 very lucky winners … Spices Inc, a truly fantastic source for herbs, spices, rubs, salt free seasonings, organic spices and spice sets were kind enough to present Adam and I with three incredible spice sets to giveaway to our winners.  The Grand Prize winner was the 25 Spices Every Kitchen Must Have set, the second prize was the Little Mexico Spice Set and the third prize was the Italian Festival spice set.  To find our winners, we went back to RANDOM.org to generate three random numbers which would then correspond to your comments.
Now for our Spicy Holiday Giveaway Winners!
Grand Prize – 25 Spice Set
#9: Sarah who wanted to try one new recipe a week to get out of her cooking rut.
Second Prize – Little Mexico Spice Set
#6: Suzanne who resolved to try at least 1 recipe per cookbook she already owns.
Third Prize – Italian Spice Set
#1: Melanie Sand who hopes to bake something new each month in 2010.
Oddly enough, while driving into work this morning (half asleep) we heard on the radio that 35% of people who write down or say their New Year's resolution never even start … given our personal experience with our kitchen, we completely understand, but let's try to break that statistic and really get going on all these amazing resolutions… to help you a bit, we plan to research, experiement and then post ideas to help you with your resolutions about certain cuisines, budget cooking, wholesome food, sauces, etc… maybe in return you can push us a bit to get our kitchen in to shape.  We wish you all good luck and a HAPPY NEW YEAR!