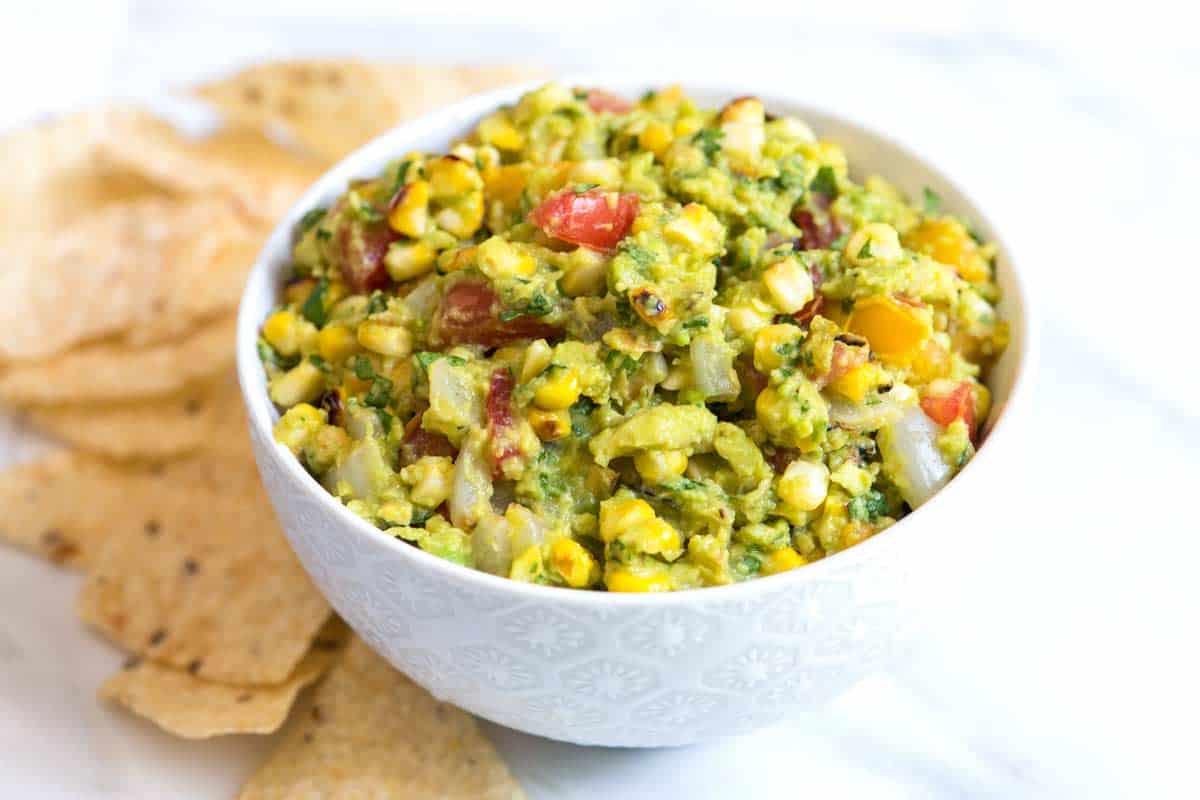 Easy Grilled Guacamole Recipe with Corn
Grilled guacamole starring blistered avocados, corn and jalapeños is a must make, especially if you love guacamole as much as we do. Adjust the heat based on your tastes, if you love heat in your guacamole, add the whole pepper called for below as well as some of the membrane and seeds. If you like things on the milder side, consider discarding all of the pepper membrane and seeds then only add about half of the leftover pepper.
Makes approximately 2 cups
You Will Need
2 medium ripe avocados, halved with pits removed

2 medium ears corn, husked

1 onion slice, about 1/2-inch thick

1 jalapeño pepper

1 cup chopped tomatoes (1 large or 2 medium)

1 clove garlic, finely minced

1/4 cup fresh cilantro leaves, chopped

1/2 teaspoon kosher salt

1 to 2 limes
Directions
Grill Vegetables

Prepare a grill, with heat medium-high and rack about 4 inches from the fire. Or, heat an indoor grill or grill pan to medium-high heat.

Place avocado halves, cut side down, corn, onion slice and jalapeño onto the grill. Cook until avocado and vegetables begin to char, about 5 minutes.

When underside of avocado is blistered, transfer to a bowl and set aside. Turn the corn, onion and jalapeño until all sides are slightly blackened then transfer to cutting board.
To Finish

Remove corn kernels by standing the grilled corn cob upright. Hold the cob steady and use a sharp knife to make long downward strokes against the cob, separating the kernels from the cob. (It can be helpful to place a dishtowel between the cob and work surface to prevent slipping).

Chop the grilled onion. Remove seeds and membrane from grilled jalapeño then mince finely. (It is the seeds and membrane that have the most heat, for medium-hot heat, we discard the seeds and membrane. If you like things spicy, save some seeds and membrane to add to the guacamole).

Scoop grilled avocado into a bowl then top with corn kernels, onion and all or some of the jalapeño pepper, depending on how spicy you like your guacamole. Add tomatoes, garlic, cilantro and salt then squeeze the juice of one lime on top. Use a fork to gently mash and mix the guacamole (we like it pretty chunky). Taste for seasoning then adjust with additional lime juice or salt.