After a mini sneak peak and then lots of photos from the baby shower we just helped host, we thought we would get down to the good stuff: the food.  You know all about the shower, so let's just get right to it, shall we?
When planning a party with lots of small bites or hors d'oeuvres like this baby shower or even a cocktail party, there are just a few guidelines to follow:
#1 Know your numbers.
After much research and having thrown a couple parties ourselves (successful and not), we like to serve 5 to 6 different choices and always plan to have enough for each guest to have 2 to 3 pieces of each option.  This of course can vary dependent on the time of your party.  If your party takes place during meal hours, then assume people will eat a bit more, maybe 3 to 4 pieces per option per guest.  In our case, we held the baby shower at 2:00 in the afternoon, so we assumed about 2 pieces of each food option per guest.
#2 Don't be a hero.
Just as we were, when planning a party people seem to get really excited and often take on too much.  Remember your guests are coming to spend time with you, or whoever the party is in honor of.  Yes, the food should still be incredible, but incredible does not equal 15 steps.  Also, be careful with how many hot items you plan to serve on your menu, go for things that can be served hot and at room temperature or just opt for just room temperature items, allowing you to prepare well in advance.
Also, Be sure to include "fillers" in your menu, in our case we had a plate of cheese cubes (that were devoured) and pink colored M&M's (also gone by the end of the party).  These two items were easy to put out on the tables and people loved them.  Consider nuts, olives, snack mixes and breadsticks  as other options for fillers.
#3 Know your guests.
Don't just serve food you would like to eat, make sure you take your guests preferences and the occasion into consideration.  Are there vegetarians coming?  If you are not sure, be sure to include a vegetarian option.  Will your guests be expecting an outdoor barbeque or will they have something else in mind.  Use the style and wording of the invitations, type of celebration, how the guests will be dressed and time of day as guidelines.
#4 Have fun.
It's a party after all, if the planning / prepping is becoming too much to the point that you, the host, are not enjoying it, then there is a problem.  Enlist help from friends or family (we had a whole team for the baby shower), buy pre-made hors d'oeuvres from the store and make sure you are not spending the whole time in the kitchen.  You are a host, so plan your menu in a way to make sure as soon as those guests walk through the door you are there to greet them and join the party.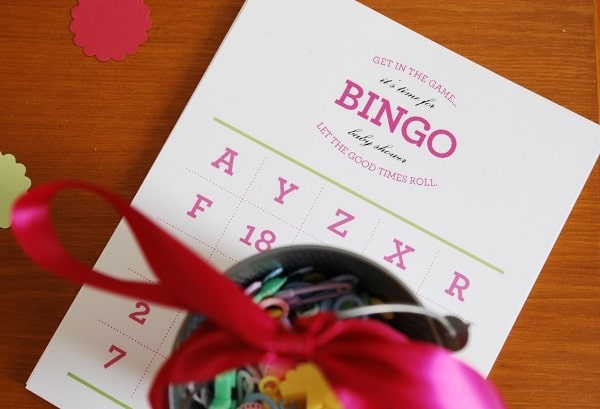 For the baby shower, we offered cheese burger sliders, mini hots dogs, tiny hummus sandwiches, s'mores pops, itty bitty cheese squares, granola bar bites and a beautiful cake made by a friend.  Everything was a hit, especially the granola bar bites…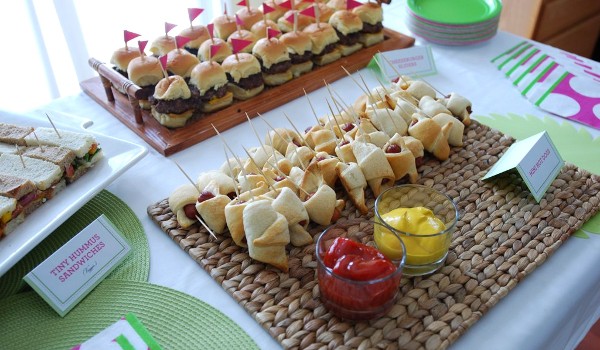 Cheeseburger Sliders
makes 8 sliders

8 mini hamburger buns (substitute: dinner rolls)
1 pound 80/20 ground beef
1 tablespoon steak seasoning
8 small slices of cheese
8 dill pickle slices
American mustard
ketchup
Preheat the oven to 250 degrees F.  Preheat a griddle or pan to medium-high heat. Wrap the mini buns in foil and place into the oven to get warm for about 5 minutes.  In a bowl, add the steak seasoning to the meat.  Gently work the seasoning into the meat then shape the meat into 8 small patties, try not to overwork the meat.  Place each burger onto the preheated griddle.  Let the burgers cook 2-3 minutes per side.  Remove the buns from the oven, and place a slice of cheese, a pickle, and a squirt of mustard and ketchup.  Finish with the burger and then use a toothpick to secure the slider, place each slider on a platter and watch them disappear.
Mini Hot Dogs
This was one of our "making-it-easy-on-ourselves" options.  We went with the traditional Pillsbury dough wrapped smoked sausages.  They were easy, inexpensive and we knew they would be liked.  You could very easily update this with phyllo dough or puff pastry and place chorizo or Italian sausage inside.
Tiny Hummus Sandwiches (Vegetarian Option)
makes 16 tiny sandwiches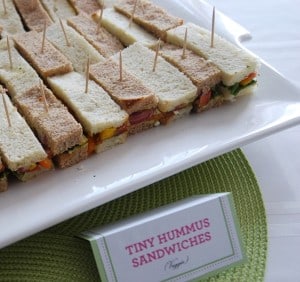 4  slices white bread
4 slices wheat bread
Herby Hummus, recipe below
handful spinach leaves
1 thinly sliced tomato
1/4  yellow pepper, sliced thinly
1/4 red or orange pepper, sliced thinly
2 ounces feta cheese, crumbled (optional)
salt and pepper
On a cutting board, lay out all the bread slices then spread a thin smear of the hummus on each slice of bread.  On 2 of the white slices and 2 of the wheat slices, place a very thin layer of spinach, tomato, and peppers.  Sprinkle with a little feta cheese and a very small amount of salt and pepper.  Put the other slices on top, the white on top of the white and wheat on top of the wheat.  Use a bread knife to slice the crusts off each side of the sandwiches then carefully cut each sandwich into quarters lengthwise, making little finger sandwiches.  If necessary, use a toothpick to hold the sandwiches together on the platter.
Herby Hummus
1 cup hummus (store-bought or homemade)
8 fresh basil leaves
6 fresh mint leaves
1 garlic clove, minced
1 teaspoon lemon zest
1 tablespoon fresh lemon juice
1 tablespoon olive oil
pinch cayenne pepper
salt to taste
In a food processor add the basil, mint, garlic, lemon zest, lemon juice and olive oil then pulse until everything is chopped small.  Add the hummus and pulse until incorporated.  Add the cayenne and any required salt then pulse a few more times.
Itty Bitty Cheese Squares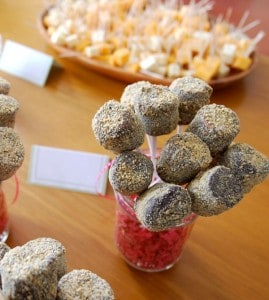 These were just another filler, we cut sharp cheddar cheese and swiss cheese into cubes, placed a toothpick into each cube and served on a pretty bamboo platter.  They were simple, tasty and gone at the end of the day.
S'mores Pops
You can make S'mores pops a day ahead.  Just follow this recipe that we shared with you a few weeks ago.  Don't forget to mix it up a bit if you want, add mini chocolate chips, nuts, or mini M&M's instead of crushed up graham crackers to make your own version.
Mini Granola Bar Bites
makes about 22-24 granola bar bites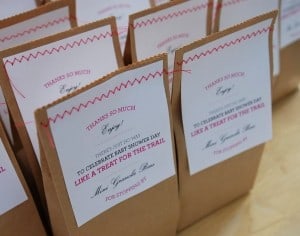 2 cups old-fashioned oatmeal
1 cup sliced almonds
3/4 cup raw sunflower seeds
3/4 cup shredded coconut
3/4 cup toasted wheat germ
2/3 cup honey
1 1/2 teaspoons pure vanilla extract
1/4 teaspoon + 1/8 teaspoon salt
1/2 cup chopped dried apricots
1/2 cup dried cranberries
1/2 cup raisins
non-stick cooking spray
Preheat your oven to 350°F.  Spray an 9×13-inch baking dish with non-stick cooking spray then line it with parchment paper.
In a large bowl, add the oatmeal, almonds, coconut, sunflower seeds and wheat germ.  Add them to a sheet pan (with walls) and bake in the oven for about 12 minutes, stirring occasionally until everything is lightly toasted.  Remove from the oven and transfer the mixture back into the large mixing bowl, immediately add the salt and stir.
Reduce the oven temperature to 300 degrees F.
Next, while the mixture is still warm, add the honey and vanilla, stir until everything is well coated then add the dried fruit and stir again.  Pour the mixture into the prepared 9×13-inch baking dish.  Use all your might to press the mixture until everything is as tightly packed as possible (use a silicon spatula for this).  When you think you have pressed enough, do it again.  Now, place the pan into the oven to bake for 25 to 30 minutes, until it is lightly browned.  Remove from the oven and allow to cool for at least 2 hours, if not 3 before you attempt to cut the granola bars.  Once completely and evenly cooled, use a serrated knife to gently cut into squares.  For mini granola bites, cut into 2-inch squares.  Store the granola bar bites in an airtight container.  They can be stored at room temperature, but they will become a bit softer after a day.  Storing them in the freezer works really well and prevents them from going soft.
** granola bar recipe inspired / adapted from the incredible Smitten Kitchen