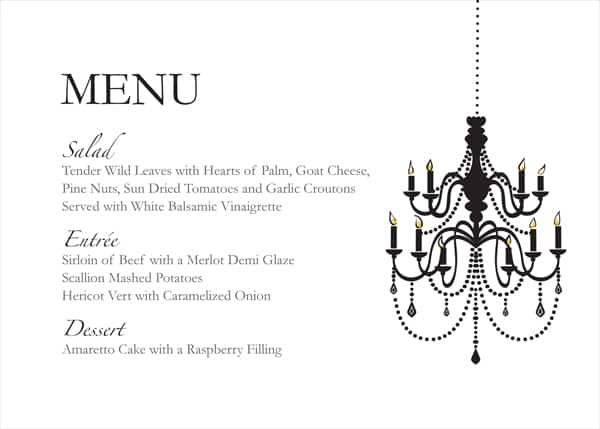 Hi! We're Heather and Ananda from Quite Like It Design and we're thrilled to be guest posting here on Inspired Taste. We may not be able to throw together an amazing Roasted Tomatillo Salsa or be well-versed on lemons, but we do know a thing or two about design and how to put on a stellar soiree.
We decided to use our superb shopping skills to put together two table settings just for you. Whether you're hosting an Evening of Glam or a Sunday Brunch, we've got just the items you need to make sure your guests enjoy your cuisine to the fullest!
Scenario #1: Evening of Glam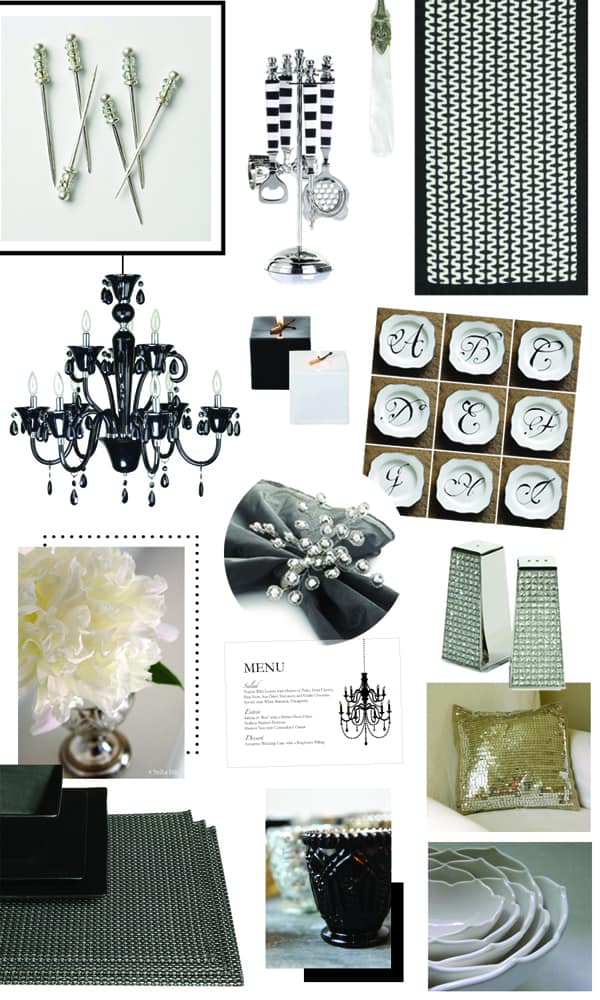 (from top left)
Doll up your appetizers with cocktail picks from Anthropologie. They'll add just the right amount of sparkle.
This Cabana Bar Set from Z Gallerie will be a show (er, dinner) stopper. From bar set to conversation piece, you can't go wrong with this guy.
Ditch your mundane silverware and add an extra touch of elegance with these Napoleon Ivory pieces of flatware by Rosanna.
Impress your guests with this zig zag table runner from CB2. It had such an impact on me that it inspired the decor for this whole shabang!
Who says a chandelier can't be switched out for a dinner party? Set the stage with this black crystal chandelier from The Home Depot. At 139 bucks it won't totally break the bank and you'll definitely make up for the cost in wow factor.
Light things up with these brass "match" cube candles from TableArt.
I love these Initially Yours plates by Rosanna. They're a sure way to make your guests feel special. Although they might not be great for a large get together, they're perfect for an intimate(ish) night among friends.
Grab some luminous white peonies the day before your party and display them in shiny silver vases. They're oh-so sleek and ooze glamour.
You can pick up these Firethorn Napkin Rings from Z Gallerie for just the right touch of bling.
Z Gallerie is hitting the glam out of the park. Make sure you snatch up these Marquis Salt and Pepper shakers. Ohh la la, they fit the bill!
Let your guests know what's on their plates with these chandelier-inspired menus from Quite Like It Design. Printed on translucent paper, the light and sparkles will shine right through them.
Holy sequins! This Silver Sequin Cushion from Rockett St George is a MUST for this party. Imagine the comfort! Your guests won't want to leave.
Add these Steel Placemats from Z Gallerie to the table to offset some of the shimmer…the men at the party will thank you.
Top things off with a few more candles in these Assorted Tea Light Holders from Rockett St George. You can never have enough sparkling candlelight.
I've been coveting these Nesting Lotus Bowls by whitney smith pottery since the day I laid eyes on them. They'd be perfection as serving bowls and you'd get tons of use out of them.
Scenario #2: Spring Brunch
(from top left)
Brunch and cereal are two peas in a pod at my house. I'd definitely take my cereal in one of these Latte Bowls from Anthropologie.
Spring means green. These sky planters from Rockett St George are definitely green. Bring the outdoors inside (and to your table!) with these inventive house plants.
Help your guests find their seats with these bold, colorful seating cards from Quite Like It Design.
Charm your guests by serving up sweets with this adorable cake knife from Rockett St George.
Punch things up with this Trio Beverage Dispenser from Z Gallerie. It's a beverage dispenser and a show-stopper all in one.
Make your apron part of the decor (just in case your still making finishing touches in the kitchen as guests arrive)! I love this Spring Flowers Craft Apron from pamwares.
Pops of color are so very Spring. Keep things simple with a white tablecloth and use these basketweave placemats from CB2 to add dramatic bursts of color.
These Island Time Juice Glasses from Anthropologie inspired this entire post! The big, bright flowers will bring joy to the table.
Crate & Barrel knows how to do Spring. These Cecelia Embroidered Cocktail Napkins are no exception. They're simple and fun.
Brunch=coffee, right? Well, I take cream and sugar in my coffee…and it's a good thing I do because this Tangerina Creamer and Sugar Bowl Set from Target are just what this brunch table needs.
Looks like grass, but softer. This grass-like green par shag rug from CB2 is just what the doctor ordered.
Perfectly cute and perfectly Spring. It was love at first sight and now I just don't think you can set a Spring brunch table without these teeny tiny Pottery Barn Glass Pedestals.
The vibrant color of these Tinge Plates from Crate & Barrel screams spring. Pick up a set and use them through summer too.
Finish off your table with some glass vases full of these adorable flowers. They're Craspedia (or billy balls) and there's something so refreshingly Spring about them.
Now, who's ready for dinner? Or brunch?
Be sure to check out our blog, shop and website (if you haven't already) for more fabulous design inspiration. If you like what you see, follow us on Twitter too! Thanks so much for letting us be your guest bloggers, Adam and Jo. It's been fun!
Heather + Annie