Sometimes, we just feel like baking.  On Saturday morning, we woke up entirely too late, were incredibly refreshed and were in the mood to bake.  We scavenged through our cupboards and came up with a ridiculous assortment of nuts – We have one of those awkward corner cabinets that has a ton of space, but you cant reach past the first few inches –  In an attempt to figure out just what we had in that horribly designed cupboard, we got out a chair and rummaged through.  You have no idea how many opened and partly used bags of nuts, chocolate chips and dried fruit we had…it was slightly embarrassing (read:  expect to see a multitude of recipes involving nuts, chocolate chips and dried fruit over the next, oh I don't know, 6 months!).  Anyway, with this surprising procurement of ingredients, we decided to make some biscotti with a lot of nuts.
Biscotti is a bit more time-intensive than other cookies, but well worth it if a large cup of freshly brewed coffee or tea and a slightly sweet and crunchy – just perfect for dipping – cookie is your thing.  To get that extra crunchy texture you have to bake the cookie twice.
The first time you bake for a lengthy 40 minutes and the second just about 15.  The dough is wet and sticky, but that leads to a really nice cookie in the end, not crumbly (no one likes a crumbly cookie).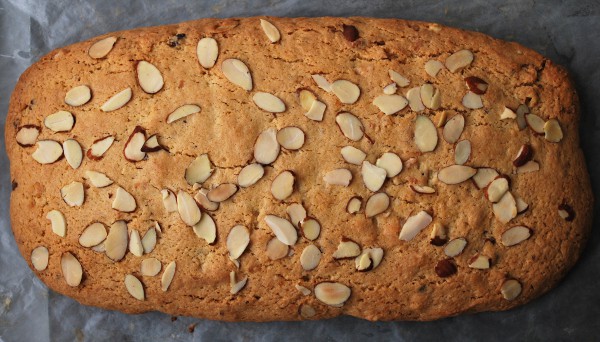 The cookies last a while, especially if you keep them in an air tight container and would make for an adorable gift to a friend alongside a bag of their  favorite coffee … or you could do what we did and keep them all to yourself.
Nutty Biscotti
makes about 20 cookies

2 cups all-purpose flour
1 1/2 teaspoons baking powder
3/4 cup sugar
1/2 cup (1 stick) unsalted butter, room temperature
1 tablespoon grated lemon zest
1/4 teaspoon salt
1 teaspoon vanilla extract
2 large eggs
1/4 cup sliced almonds + extra for sprinkling
1/4 cup chopped hazelnuts
1/4 cup shredded unsweetened coconut
Preheat the oven to 350 degrees F and line a baking sheet with parchment paper.  Add the 1/4 cup of sliced almonds, hazelnuts and coconut to the baking sheet and allow to toast in the oven for 3-4 minutes or until lightly golden brown, set aside.  In the meantime, whisk the flour and baking powder in a  mixing bowl.
In another large mixing bowl, use a hand mixer to cream the butter and sugar until light and fluffy (1-2 minutes).  Add the lemon zest, salt, vanilla extract and one of the eggs.  Mix on low speed until the egg is completely incorporated, then add the second egg and mix until it is also fully incorporated.  Next, add a third of the flour and baking powder mixture to the wet ingredients and mix on low speed, repeat with the remaining two thirds.  Fold in the toasted nuts.
Empty the mixture onto the same baking sheet used for toasting the nuts and form into a 3 inch x 12 inch log (the dough is sticky, lightly wet your hands to prevent the dough from sticking to you).  Sprinkle the dough with some un-toasted almonds and bake in the oven until light brown for 40 minutes.  You may need to turn once in the oven to help evenly bake.  Remove the biscotti from the oven and allow to cool for at least 30 minutes.  Once cooled, use a serrated bread knife to slice the biscotti on an angle.  Place the sliced cookies back onto the baking sheet and into the oven for an additional 15 minutes then remove them from the oven and allow to cool completely before serving with coffee or tea.