In our experience, a great way to sneak in a bit of love on Mother's Day is to spend a bit of time in the kitchen, get out some of the sugar and make Mom a sweat treat from the heart.  This year, we came up with a sweet Berry Muffin recipe perfect for brunch with Mom or Grandma on her very special day.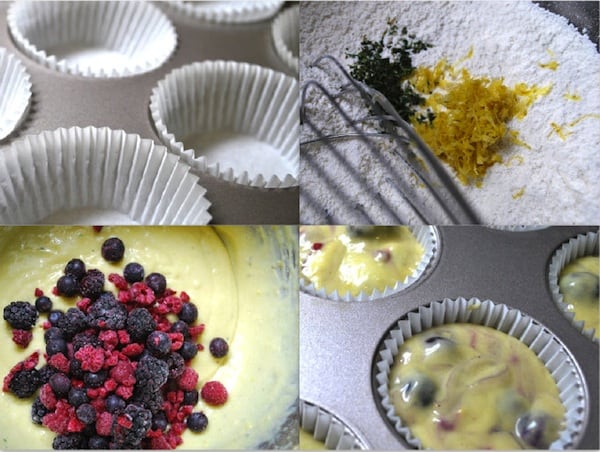 We kept it simple with frozen berries, very little prep and cooking time and made sure the house would smell fabulous!  The muffins are bursting with berries and are so light and fluffy, whoever eats them may not realize they are already onto the second muffin – so you might consider making two batches!
Berry Muffins
Makes 12 muffins

2 cups all-purpose flour
3/4 cup sugar
2 1/2 teaspoons baking powder
1/4 teaspoon baking soda
1 tablespoon of lemon zest
1  teaspoon of finely chopped thyme leaves
1/4 teaspoon salt
1 cup milk
1/2 cup extra virgin olive oil
2 large eggs
1 1/2 cups frozen berries
Preheat the oven to 400 degrees F.  Spray a cupcake pan with non-stick cooking spray or line with paper muffin cups.
In a large bowl, combine all dry ingredients, lemon zest and thyme.  In another bowl, whisk together the milk, olive oil and eggs.  Add the wet ingredients to the dry ingredients and stir until just blended then fold in the frozen berries.  Spoon equal amounts of muffin batter into the muffin cups then bake in the oven for 18-22 minutes until a toothpick can be inserted into a muffin and removed clean.  Remove the muffin pan from the oven and allow the muffins to cool in the pan on a cooling rack for about 5 minutes.  Serve warm.
*Inspired by Art Smith's cookbook, Back to the Table