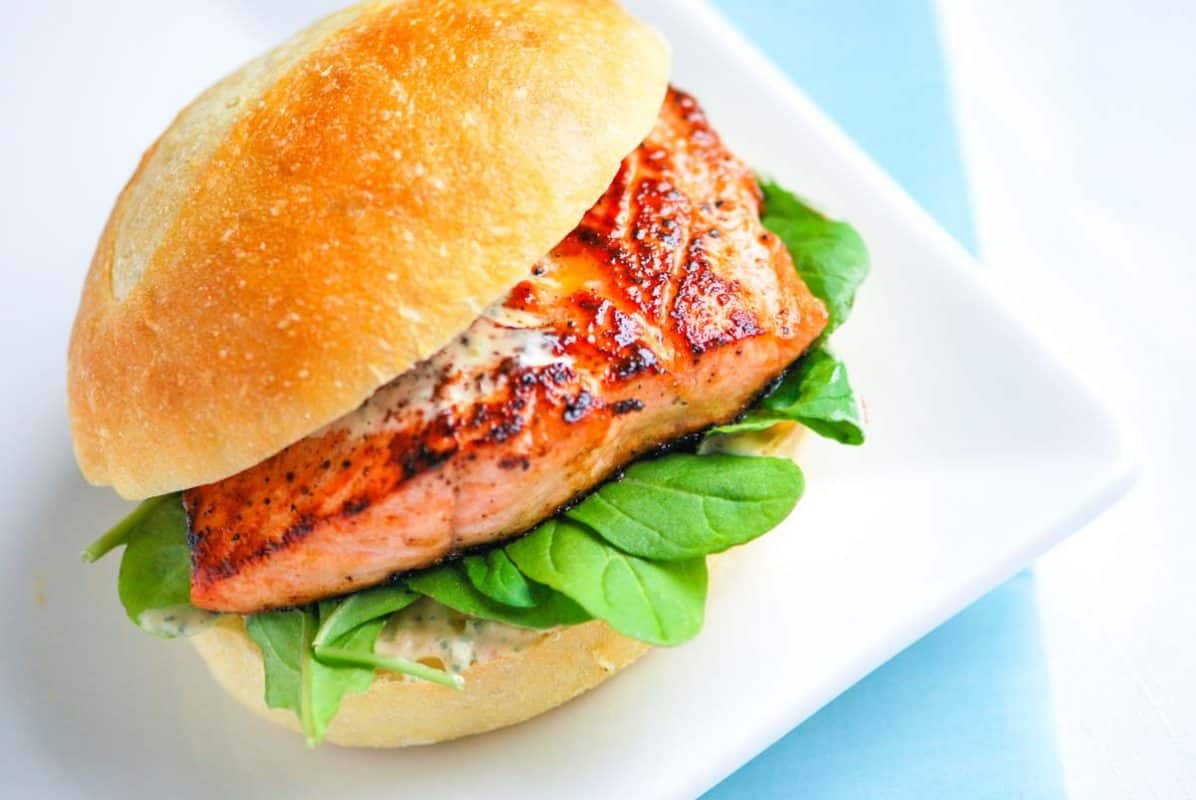 Pan Seared Salmon Burgers with Chipotle Mayonnaise
We make a simple chipotle mayonnaise to spread on the bun. You can do this using a food processor or if you prefer, mince the chipotle pepper and cilantro very small and just stir into the mayonnaise with a spoon. You can find canned chipotle peppers in adobo sauce in the international aisle of grocery stores as well as in Hispanic or Asian markets.
You Will Need
Salmon Burgers

1 tablespoon grape seed or canola oil

4 center cut salmon fillets, skin removed, about 6 ounces each

2 tablespoons agave nectar or substitute honey

Salt and fresh ground black pepper

1 cup baby arugula

4 bread rolls
Spicy Mayonnaise

1 cup mayonnaise, see our homemade mayonnaise recipe

1 or 2 small chipotle peppers in adobo, seeded, depending spice level

1 tablespoon sauce from the canned adobo chile

1/4 cup fresh cilantro leaves, finely chopped

Juice of 1 lime

Salt and fresh ground black pepper
Directions
Prepare Salmon

Heat oil in a heavy-bottomed skillet over medium-high heat.

Brush agave onto both sides of the salmon fillets then season with salt and pepper. Add salmon to the skillet and cook 2 to 3 minutes until the agave forms a nice brown crust. Turn the fillets and cook for another 2 to 3 minutes, or until the salmon flakes easily with a fork.

Transfer to a plate and rest for 5 minutes.
Make Mayonnaise

Add the mayonnaise, minced pepper, adobo sauce, cilantro and lime juice to a small food processor. Season with about 1/4 teaspoon of salt then blend until mostly smooth. Taste and adjust with more peppers, sauce or salt.