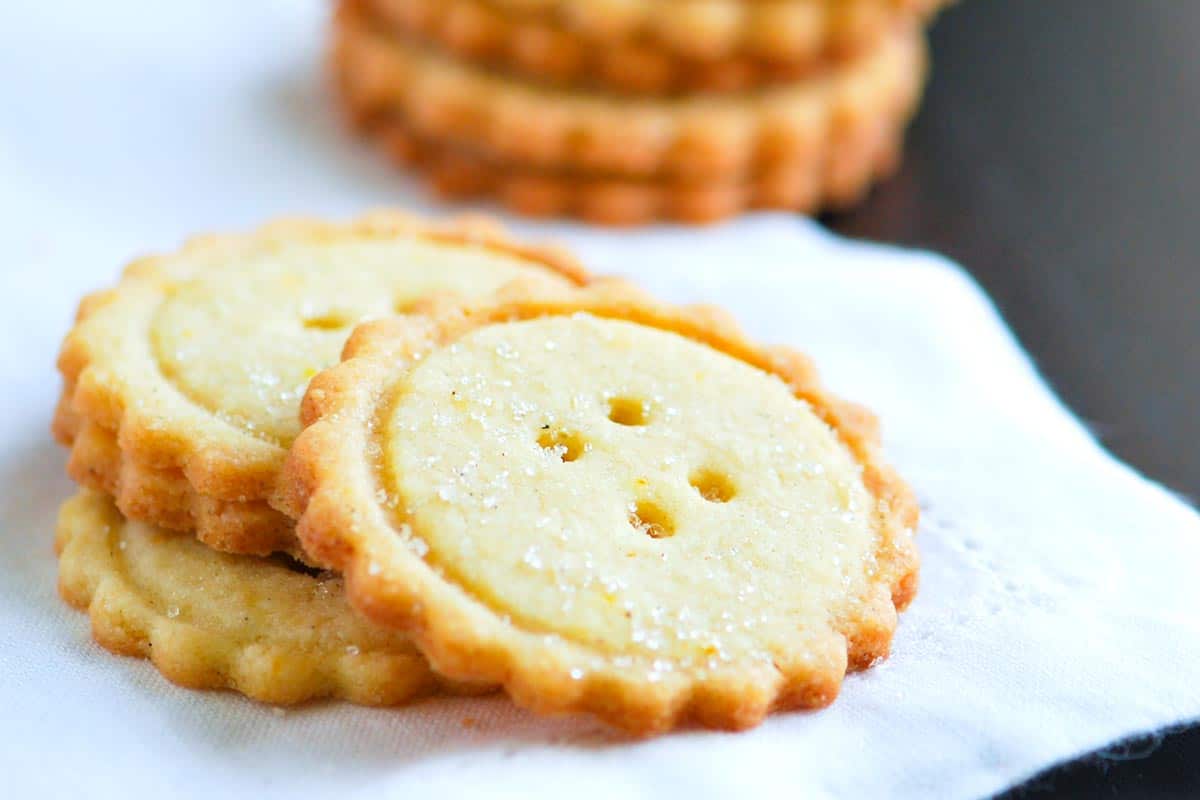 Easy Butter Cookies Recipe
PREP

45min

COOK

15min

TOTAL

1hrs
These easy butter cookies are very simple to make. When making them, it is important to keep the dough relatively cool. If the dough is too cold, it will crack. If this happens to you, leave the dough out to warm up a little. If the dough is too warm, it will fall apart on you. If this happens, just place it back into the fridge to chill for a few minutes.
We add a fun button design to the cookies. If you are not into adding the button design, you could roll the dough into a log and slice into cookie dough rounds or even make your own design/shapes. This recipe does have a lot of butter, so the cookies will spread a little while they bake. Because of this, we don't recommend using intricate cookie cutter shapes with this recipe.
Makes approximately 45 cookies
You Will Need
2 cups all-purpose flour

16 tablespoons unsalted cold butter, sliced (2 sticks)

1 large egg

3/4 cup granulated sugar, plus more for tops

1/2 teaspoon sea salt

1 teaspoon lemon zest

1 teaspoon orange zest

1 teaspoon vanilla bean paste or substitute vanilla extract
Directions
Make Dough

Add everything to a food processor and pulse until the mixture looks like lumpy mashed potatoes. Divide the dough between two large sheets of plastic wrap. Wrap and form into round disks. Chill for 15 minutes in the refrigerator.

(If you plan to make slice and bake cookies, shape the dough into two 8-inch logs instead).
Bake Cookies

Heat the oven to 350 degrees F. Line two cookie sheets with parchment paper or silicon baking mats.

Lightly flour a clean work surface, remove one disk of dough from the fridge. Roll out to about 1/3-inch thick. Use a cookie cutter to cut out shapes. If you formed the dough into logs instead of disks, simply slice them into 1/3-inch thick slices.

Arrange the cookies on the prepared cookie sheets, spacing them about 1/2-inch apart. Bake until the edges start to turn a very light brown, 10 to 15 minutes. Remove pan from the oven and let the cookies cool on the pans until set, about 5 minutes. Transfer cookies to a cooling rack to cool completely.
To make the cookies look like buttons, use a round cookie cutter to cut out cookie dough rounds then lightly press a shot glass partially into the cookie rounds, leaving a small indent. Poke 4 holes with a wooden skewer into the middle then bake as described above.
This recipe was inspired and adapted from James Peterson's cookbook, "Cooking" — a book we highly recommend adding to your own collection.
If you make this recipe, snap a photo and hashtag it #inspiredtaste — We love to see your creations on Instagram and Facebook! Find us: @inspiredtaste
The full recipe post can be found on Inspired Taste here: https://www.inspiredtaste.net/3814/simple-butter-cookies/