When I was asked quite a few months ago to be the Maid of Honor at my best friend's wedding, I just could not be more .. well, honored.  We have had lots of fun looking for dresses, flowers, decorations and much more, but I must say one of the tastiest jobs as the Maid of Honor has been helping my dear friend and her future husband to choose a signature cocktail to serve at their wedding reception!  Now, we must admit, these two drink recipes are more fitting for the winter, but as Erin and Jim's wedding will be at the end of November and we know you appreciate a good cocktail any time of the year, we thought we would tell you about the winners.
Armed with rum, triple sec, vanilla cognac, pears and many more ingredients Erin and Jim showed up on our doorstep ready to get to work and test our their picks for a signature cocktail.  I believe somewhere between the door knock and the shakers coming out at least one of us quoted "it's a dirty job, but someone's gotta do it!"
If you want to see more about our day of sampling winter cocktails, check out Art Without Pretense, where Erin shares her thoughts of the day and talks about our process of recipe testing and taking photos for this very post.
After making each drink, two went straight to the top.  The first, was a pear vanilla sparkler made by muddling ripe pears into a mixture of lemon juice, vanilla cognac (Navan), light rum and a bit of honey syrup for a touch of sweetness then finished with some champagne.  This, was my favorite, the aroma was incredible … in fact, I would go as far to say that the aroma from that drink should be considered for perfumes, candles and any other possible fragrance used by or around me!  The taste was just as lovely, slightly sweet from the vanilla and honey, but leveled out with a nice punch of rum and sparkle from the champagne.  While this one was quite the hit, trying to imagine a bartender making these for over 100 guests at a wedding was a little difficult, so it won't actually be at the wedding … however, it may make an appearance at a pre-wedding festivity or two and will certainly be enjoyed in our condo this winter!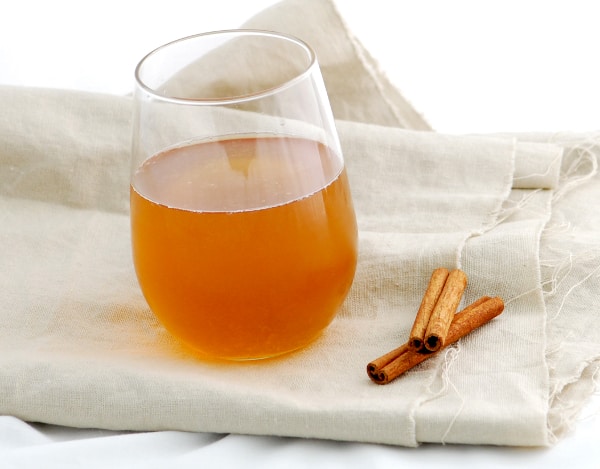 The real winner of the day, was a winter punch packed with apple cider, lemon juice, maple syrup, orange liqueur and light rum.  It definitely looked the part, can be made in advance and was absolutely delicious!  We served it cold, but I would imagine a warmed version of this would be divine.
Pear Vanilla Sparkler
1/4 of a ripe pear, cut into pieces
1/2 ounce honey syrup
1/4 ounce fresh lemon juice
1/2 ounce Navan (vanilla cognac)
1/2 ounce light rum
2 ounces sparkling wine
In the bottom of a shaker, muddle the pear, honey syrup, and lemon juice. Add the Navan, rum and stir briefly with ice. Strain into a chilled champagne flute or martini glass and finish with Champagne. Garnish with a couple slices of pear.
Winter Rum Punch
2 parts light rum
1 part apple cider
1 part orange liqueur
1/2 part maple syrup
1/2 part fresh lemon juice
Combine ingredients in a shaker or punch bowl (if preparing a large batch). Serve over ice or shake with ice and add to high ball glasses. Garnish with a cinnamon stick.
Recipes as seen on Theknot.com