This has been a long time coming!  For months, Adam and I have been contemplating how to organize our spices.  There are so many options out there, but we had 4 very strict requirements:
1.  Takes up very little space
2.  Keeps our spices fresh and makes them last longer
3.  Is expandable
4.  Is inexpensive
To begin our search for our perfect spice organization process, we looked around to see what was available on the market already, we found some pretty cool ideas like this 20-piece magnetic spice set complete with tins and a magnetic board.  It is an interesting idea, but was not as expandable as we had hoped for and was just too expensive for us.  We also found some awesome ideas like these adorable little airtight spice jars (suggested by Smitten Kitchen in her post entitled How to make an overly obsessive spice rack).  They are an awesome option, but we feared we just would not have enough space.  Our kitchen is packed to the brim as it is – we have shelves, kitchen carts, hooks, you name it … so, we really were looking for something easily accessible and that takes up as little space as humanly possible.  Finally, we settled on screw-top metal (food-grade) tins which we found wholesale online on various websites (SKS Bottle was our first choice, but you have to buy at least 72, so it may be worth checking if a friend would be interested in splitting the costs or checking out another retailer).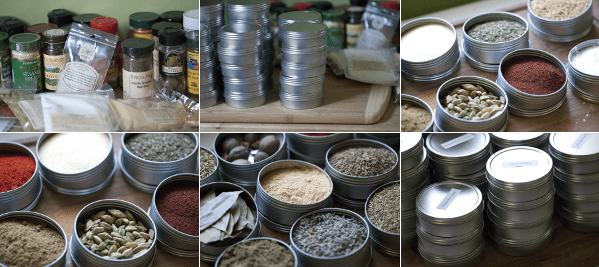 The spices tins were delivered a couple weeks ago.  We went with the magnetic concept, found some strong magnets online (Magnets we bought) and have been able to turn our ugly, outdated refrigerator into a mega spice rack!  We are pretty happy with the results, although,  there are a few issues… at times, the tins are difficult to screw back together (especially if you hands are damp), when we had a lot of one particular spice, not all of it fit into the 3 ounce tins we bought and some of our printed labels are a bit smudged already, so we might need to figure out a better labeling process.  So, our end result is not perfect, however, it is much better than before and we only spent just under $100 on everything (lots and lots of tins, labels and magnets).