To be honest, we were never planning on writing a post about our experiences with The International Food Blogger Conference. But, for some reason, after a few days of watching that #IFBC twitter feed scroll, reading the various and often inspiring IFBC posts from other bloggers as well as feeling like our heads are spinning in every direction, we felt that we had to say something.
But, what?
It was many months ago that Adam and I were agonizing over the idea to travel 3000 miles, spend money on conference tickets as well as a hotel, all to attend a food blogger conference to learn more about food blogging, something that generated pennies from ads and was *just a hobby*.  We went back and forth, wondering if it was worth it.  Was it too soon, heck, we only had 100 subscribers, was it out of our league?
A decision was made.  Go.
Fast forward a month.  I was in the middle of my first quarter at culinary school.  My schedule was not as I expected.  That fancy knife bag and uniform I was given at orientation was not needed, instead, I found myself sitting in a classroom, not a kitchen, learning about management in the food service industry and how many inches flour should be kept from the floor in a kitchen.
It is 6 inches.
Then, it came time to register for the next quarter. It was time for the kitchen, for my uniform, for my knives, for my dream.
But, it meant one more thing, weekend classes; I could no longer attend IFBC.  My ticket no longer mattered.  Adam considered not going either.  We are a team, why would he go alone.  This was supposed to be done together, for us and for our future.
We struggled.  A decision was made.  Adam must go.
Fast forward to last Thursday as Adam went off to the airport, I was holding back frustration and jealousy, he, of course, felt guilty.  I went to school, we talked about potatoes.
They are tubers.
Adam and Ryan, a dear friend who graciously went in my place, arrived, they were in awe; they had their laptops and Adam, his camera.  Notes were taken, tweets were sent, people were introduced, friends were made and the cute little business cards that we designed were handed out.
IFBC ended and they came home.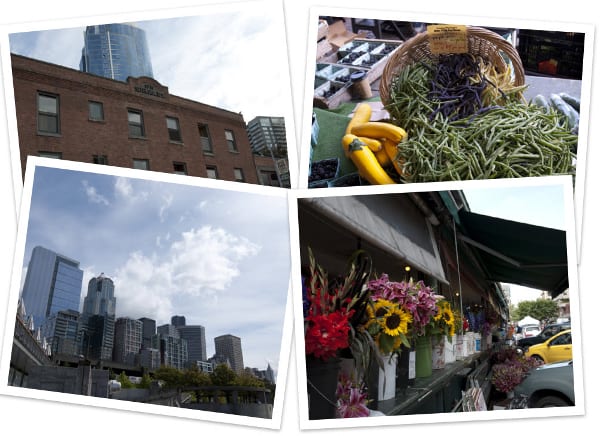 Adam was overwhelmed with information. I was overwhelmed with it too.  What does it all mean?  WHY can I not use semi-colons on our blog, I like semi-colons.  To be paid or not to be paid, that seemed to be the question.  Give away recipes for $0? … Recipe development… Google Insights…
[recipe, recipes, pizza, cake, chocolate, wine]
We talked, talked for hours; there was wine involved and salami, it was truffle salami.  Our heads were spinning, but we believe we finally got them to spin in the right direction.
We are unsure if that means left or right, I would lean towards right.
So, what did we get from IFBC, other than sticky notes full of tips and advice and the "swag bag" containing truffle salami?
We learned this *hobby*, the two of us writing, cooking, photographing and researching search engine optimization, well, it's worth it, and more than that, really can be what we will it to be.  Yes, we can continue to call this a hobby, but why, why not make it more, a lifestyle maybe or a career that allows two people to continue to be in love with food, cooking and each other?
That is our tagline.
Maybe we will push ourselves to create more movies, or maybe we can become recipe developers, could we get syndicated or maybe, just maybe actually find a way to write a cookbook.
Don't worry; there will be a minimal use of semi-colons.
Adam brought home a lot of information when he arrived on Monday night, much of it still to be absorbed.  But, for now, we can say with great confidence, deciding to attend IFBC was the right decision, it was right for us.
And we now have a strawberry corer, so that was certainly a plus.
Also, for the record, we no longer have 100 followers, it has grown and we now have a twitter account and Facebook Page, they have followers too.