One year ago, we took on what turned out to be the biggest project that we've undertaken. We remodeled an entire house!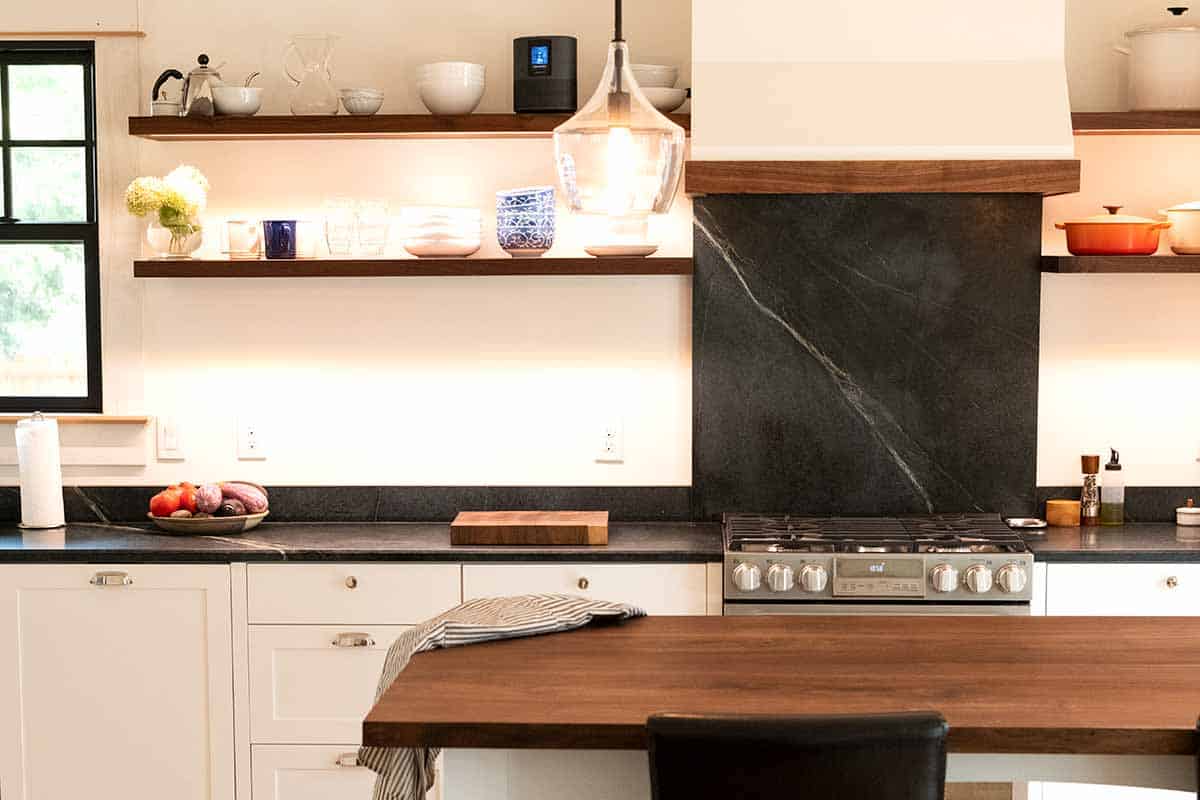 The house is in Walla Walla, WA and was built in 1914 and has cute craftsman touches everywhere you look. We fell in love immediately, but for it to work for our family and our in-home business, lots of things needed to change. (If you've never heard of where we live, take a look at what we have to say about why we moved to Walla Walla)
A good example is the electrical wiring. This house had knob and tube wiring, which if you are familiar, isn't exactly up to date as far as the electrical loads a more modern home requires. Another example was our kitchen. It was dark with very little natural light. For us to take photos, film videos and enjoy working in the space, we needed light and lots of it.
For those who don't know, this blog is run by just the two of us — Adam and me (Joanne). We develop, test, photograph and film every recipe and it all happens in our own kitchen. (Take a look through our older YouTube videos and you'll see a variety of kitchens we've owned or rented over the years.)
The project took almost one year to complete. It was supposed to be 6 (ish) months, but if you've ever renovated a home or part of one, I'm sure you are familiar with how time tends to expand. We also had to contend with delays and a shut down due to COVID-19.
Some jobs aren't 100% done yet, mainly because we decided to take those on and just haven't had the energy to tackle them yet, but the vast majority of the renovation is done and we are finally able to live in our updated old home.
I'd imagine this will be the first of many articles sharing the changes we've made. For now, we're sharing our new kitchen and kitchenette with you, because that's where all the magic happens for the recipes on Inspired Taste. Here we go!
The Before
As I said above, the old kitchen was really dark. The door straight ahead was a back entrance for the house. The little room with the red floor is actually a porch with a little screen door and the windows you see were just panels of sun-warped and stained plexiglass.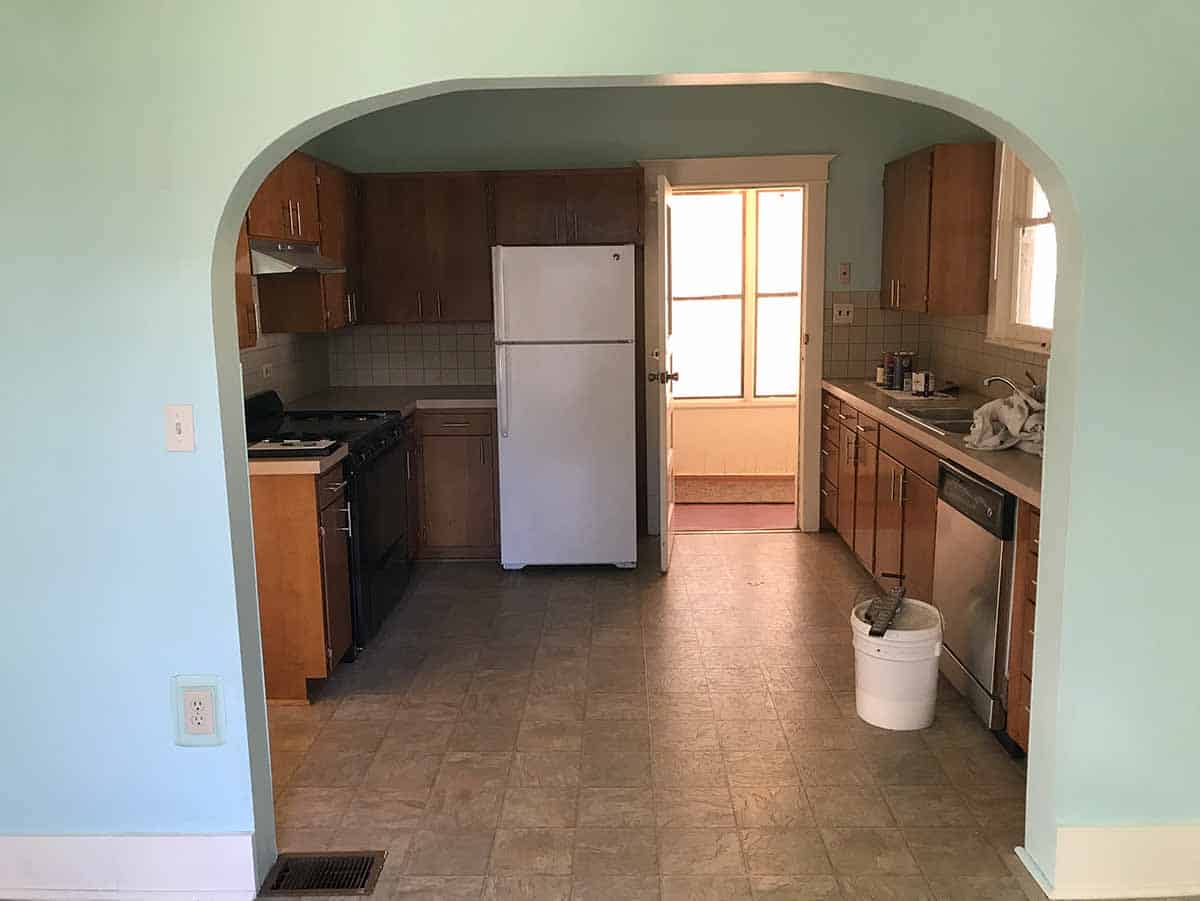 The porch was incredibly hot and stuffy during the summer and freezing cold in the winter so we kept the door shut most of the time, which shut down any light coming from that side of the house.
The windows over the sink overlooked a covered car port. It wasn't a pretty sight and blocked a lot of light. Then there's the dark cabinets and dark floor. All in all, it functioned, but really didn't get us excited to cook and create recipes to share with you!
Adam took this photo from the room next to the kitchen. It was kind of odd since it seemed to be a logical dining room, but just one room away there was already a dining room. So we sort of left it empty.
The Plan
I'm going to go ahead and call this operation sunlight! Our dream was to create an airy, light-filled space.
Take down the car port outside so more light comes through the kitchen windows.
Move the exterior door, turn the porch into a small mudroom and add windows or a sliding glass door to bring in more light to that side of the kitchen.
Reorient the kitchen with the exception of the sink. We didn't like where the oven was and both hated the dark, almost useless corner next to the refrigerator.
Take down the arched wall between the kitchen and the room we didn't know what to do with. This would increase the kitchen's footprint and give us a spot to add a social island between the dining room we actually used and the kitchen.
Add lots of white! I'm a sucker for white walls and white kitchen cabinets.
Add natural tones and textures, which we find soothing.
Replace the appliances and add an extra dishwasher. We have dreamed of two dishwashers for a long time. When it's just the two of us cooking at home, it isn't needed, but when we are working on recipes, the dishes pile up like crazy.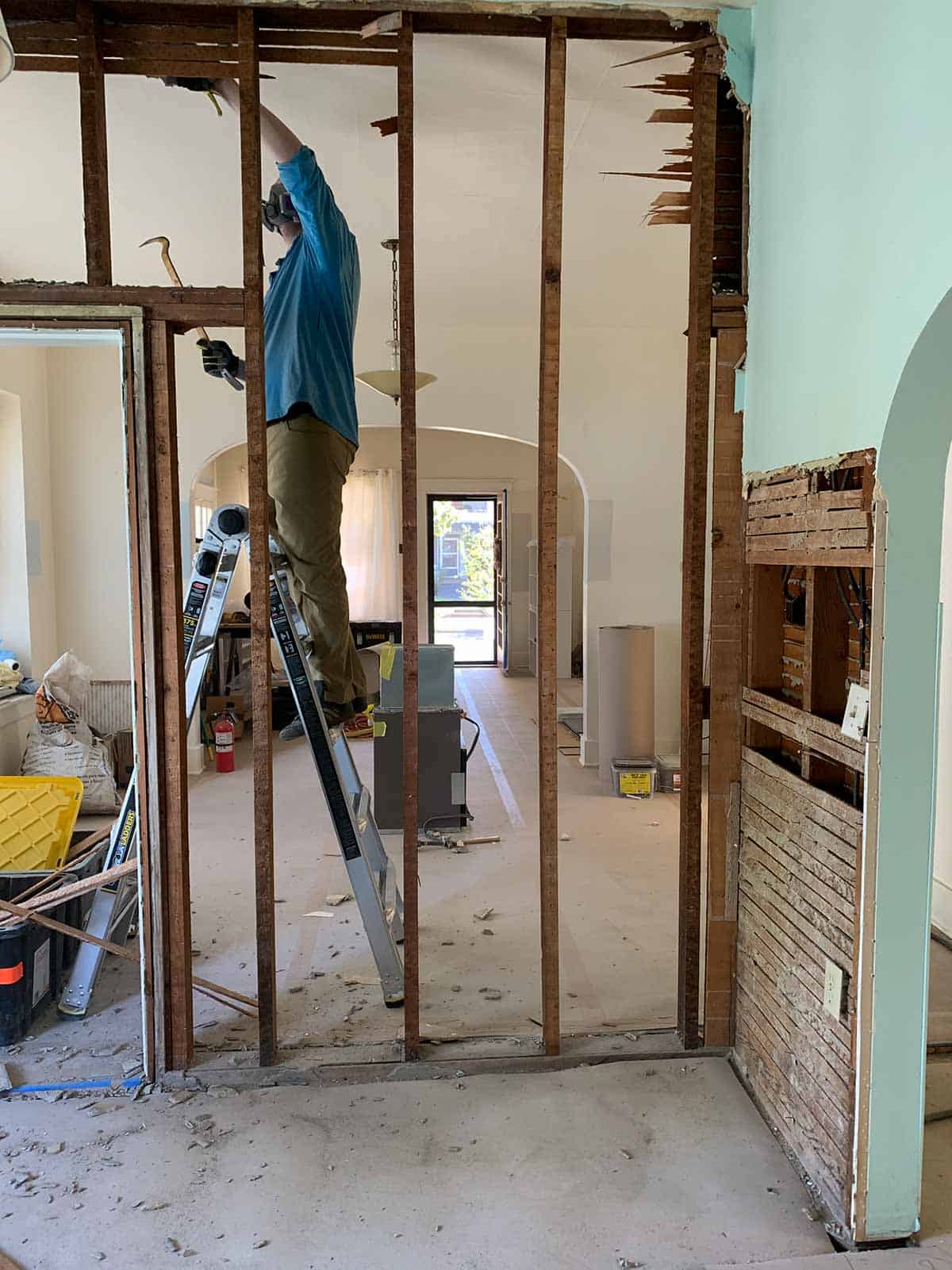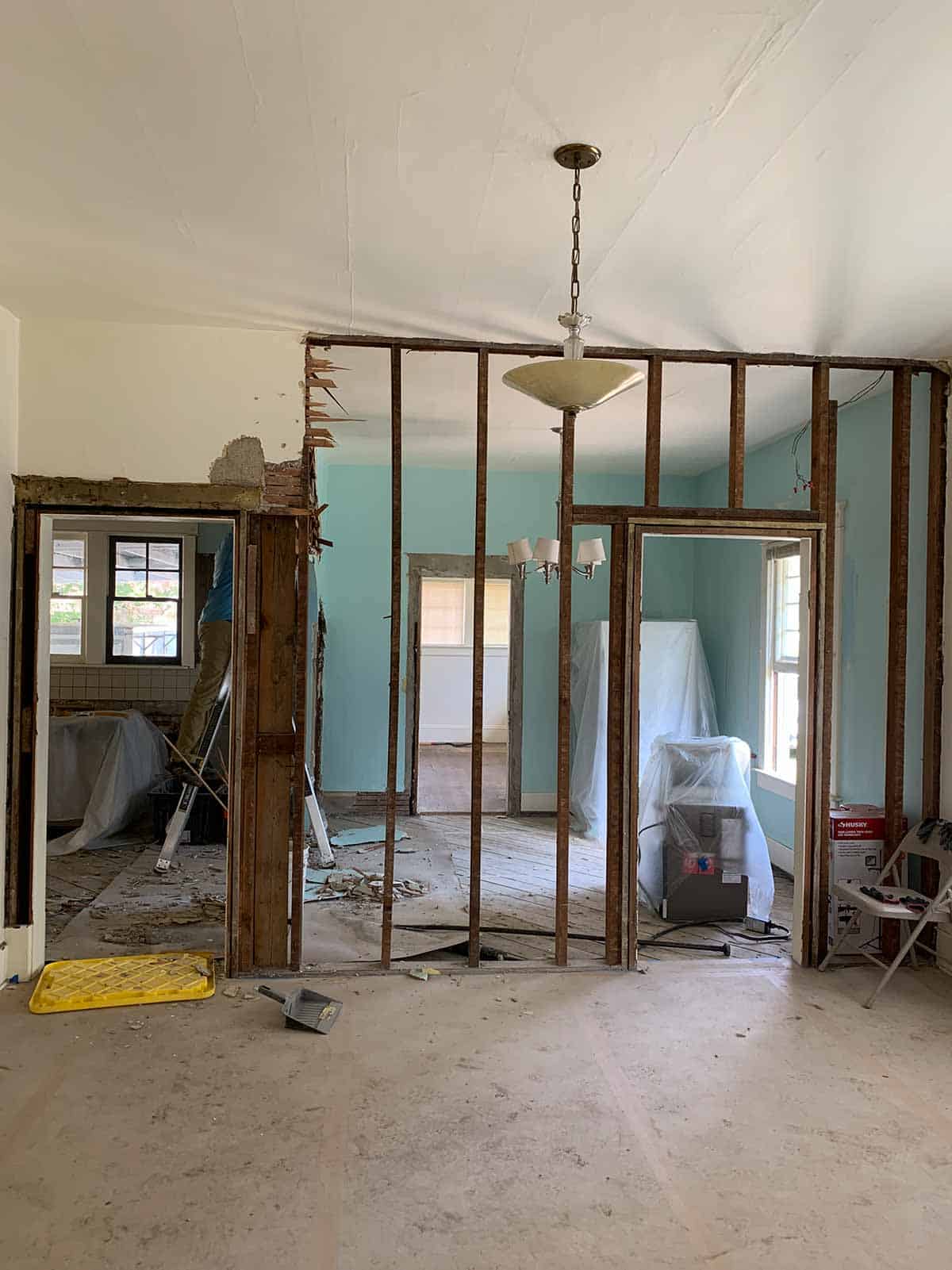 The Reveal
We could not be happier with the changes. Our kitchen is bright, airy and has just enough space to fit everything we need.
The walls and cabinets are the same color (Benjamin Moore Simply White). It's a creamy white that's really pretty in natural sunlight. (Ignore the unpainted window trim. That will also be the same color as the walls one day, we just have to get to it.)
The cabinets are custom made. We looked into a variety of options (Ikea included), but ultimately went with a local company, Systematic Wood Designs in Walla Walla, WA. In keeping things light and airy, I didn't want too many upper cabinets. Almost all the lower cabinets are pull out drawers, which is new for us, but we are loving them so far.
The shelves you see are made of black walnut and we adore them! We purchased the wood from another local company, Jenson Hardwoods. An all-white kitchen can be pretty stark, but when you throw in natural tones and texture like the walnut, it makes the space feel comfortable.
Choosing our countertop took a long time! I love the look of marble, but with the number of fresh lemons we go through in a week, it just didn't make sense. (Marble is beautiful, but doesn't stand up too well to things like citrus acid and wine.) We looked into granite and liked a few options, but never found "the" perfect slab. We both prefer the look and feel of natural materials, so while we loved the durability of engineered options like quartz, it just wasn't speaking to us.
We finally fell head over heals with soapstone. The problem with that, though, is that it is pricy! We just about gave up when Adam found a lonely slab of soapstone sitting outside at a slab yard. It was a little tattered from the sun, but looked like it might work and it was on sale.
We originally wanted soapstone on our counters and on our island, but with just one slab available, we only had enough to do the counters. That's when we pivoted, went back to Jenson Hardwoods and bought more black walnut for our island.
We are so happy that we did! Our contractor (Ian Winterbourne of Winterbourne Construction) was amazing and transformed the walnut we purchased into our floating shelves and this beautiful island. We bought the legs online (here they are), we had them painted the same white as the cabinets and walls, and then he did the rest.
As for the kitchen layout, it's completely different. We went with more of a galley style kitchen in the back with a wall of pantry storage and the refrigerator on the second wall.
As for some of the details, here are the appliances, sink and hardware we chose.
30-inch LG Signature Dual Fuel Range
LG Craft Ice Refrigerator with Insta-View (I actually really like the insta-view door. We aren't sure how we feel about the craft ice, yet.)
Bosch 800 series custom panel dishwashers (they are so quiet!)
Kohler Whitehaven apron front sink in white
A Bonus Area! Our Kitchenette with NewAir Beverage Fridge
Early on in the remodel, we realized that we would have a small area in our basement that would work out as a kitchenette and pantry. The house had an unfinished basement. It smelled and was not somewhere you really wanted to spend too much time. Part of the remodel was to revamp the basement and make it a comfy family room.
Here's me coming down my new stairs. At the top of the stairs, you'd be in our new mudroom and kitchen. The little room next to the stairs is what we turned our pantry into. It's not huge, but didn't really make sense for any other use.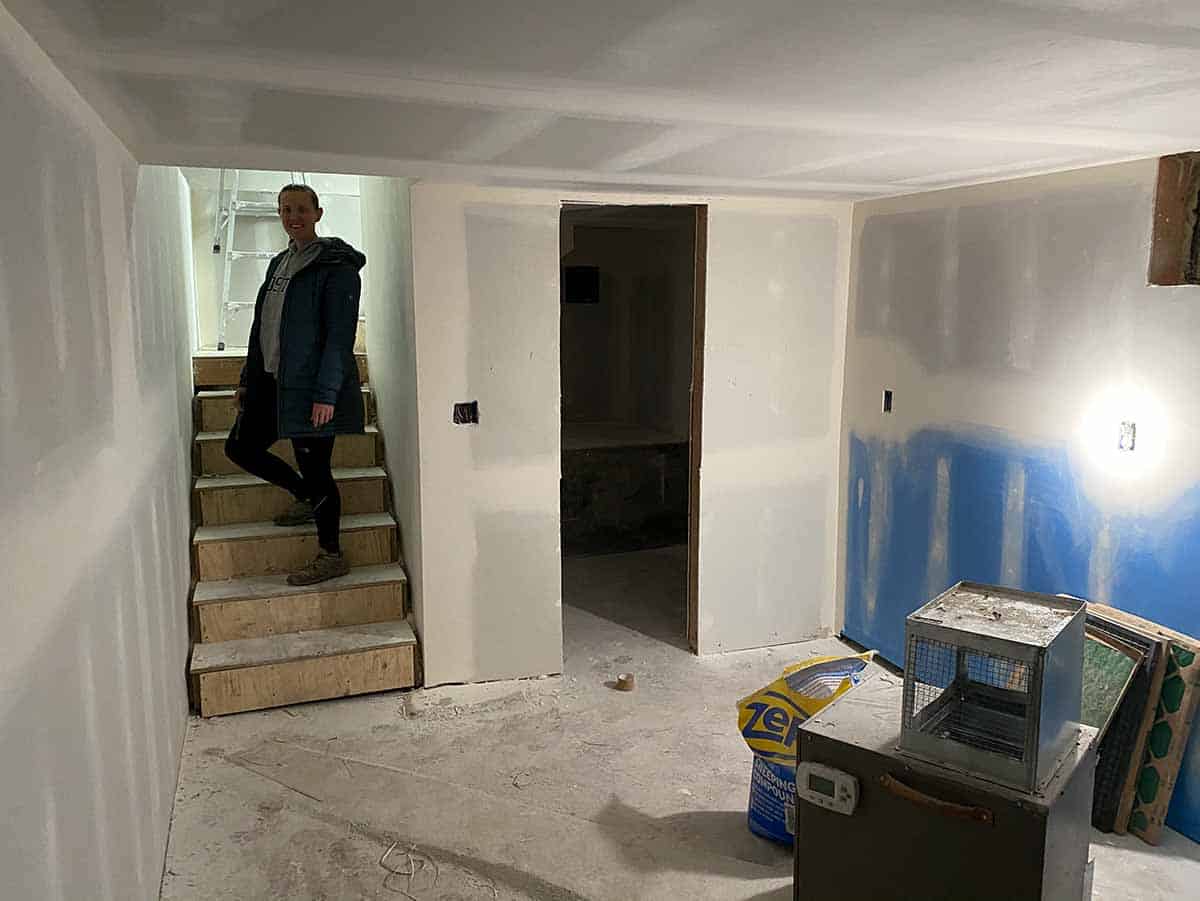 Here I am again, but with the kitchenette and pantry finished (also pregnant). The cabinets were made to match the upstairs kitchen and we went with an off-the-shelf butcher block countertop from Home Depot. The island is something we already had. It was purchased a couple of years ago from Ikea.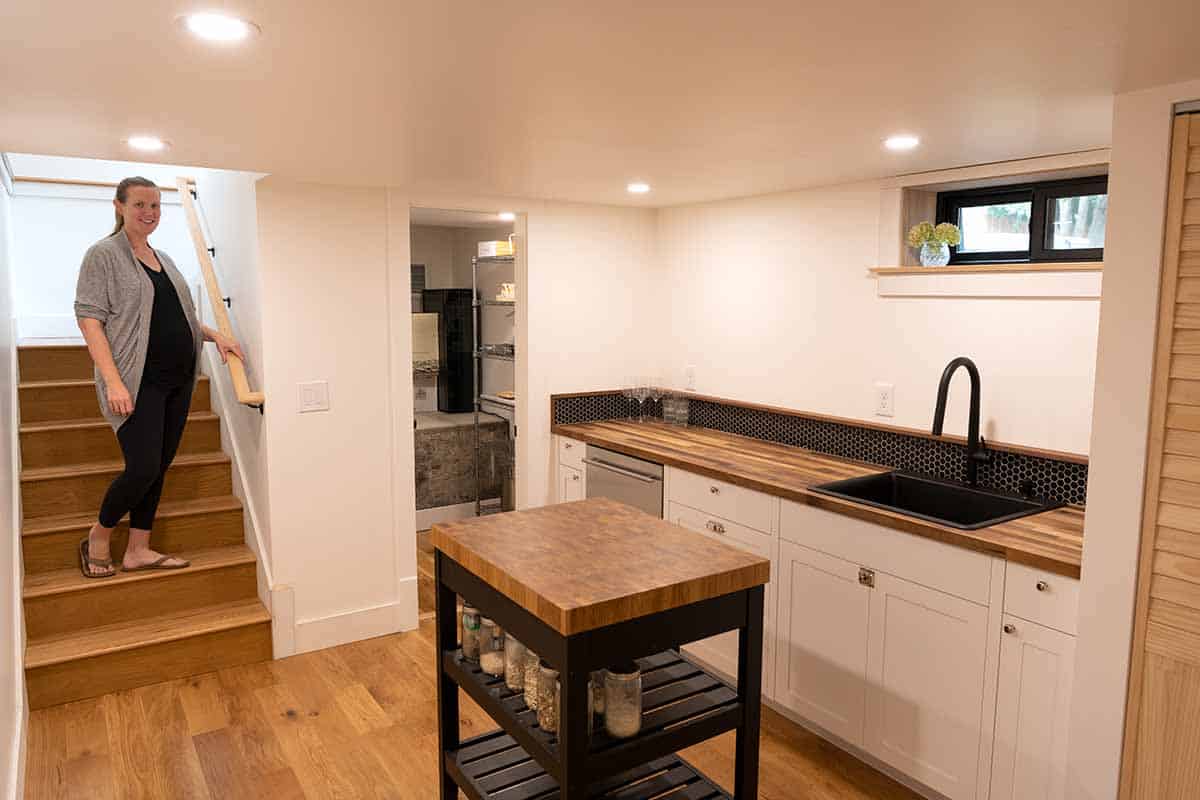 We kept the kitchenette and pantry really simple, but both wanted a beverage cooler or wine fridge. We couldn't fit one in the upstairs kitchen and really hoped to to add one down here.
We ended up adding the NewAir 24-inch Wine and Beverage Fridge. It's actually built to be either indoor or outdoor, which we love. One day, we'd love to add a little outdoor kitchen area and might move it outside (or get another one).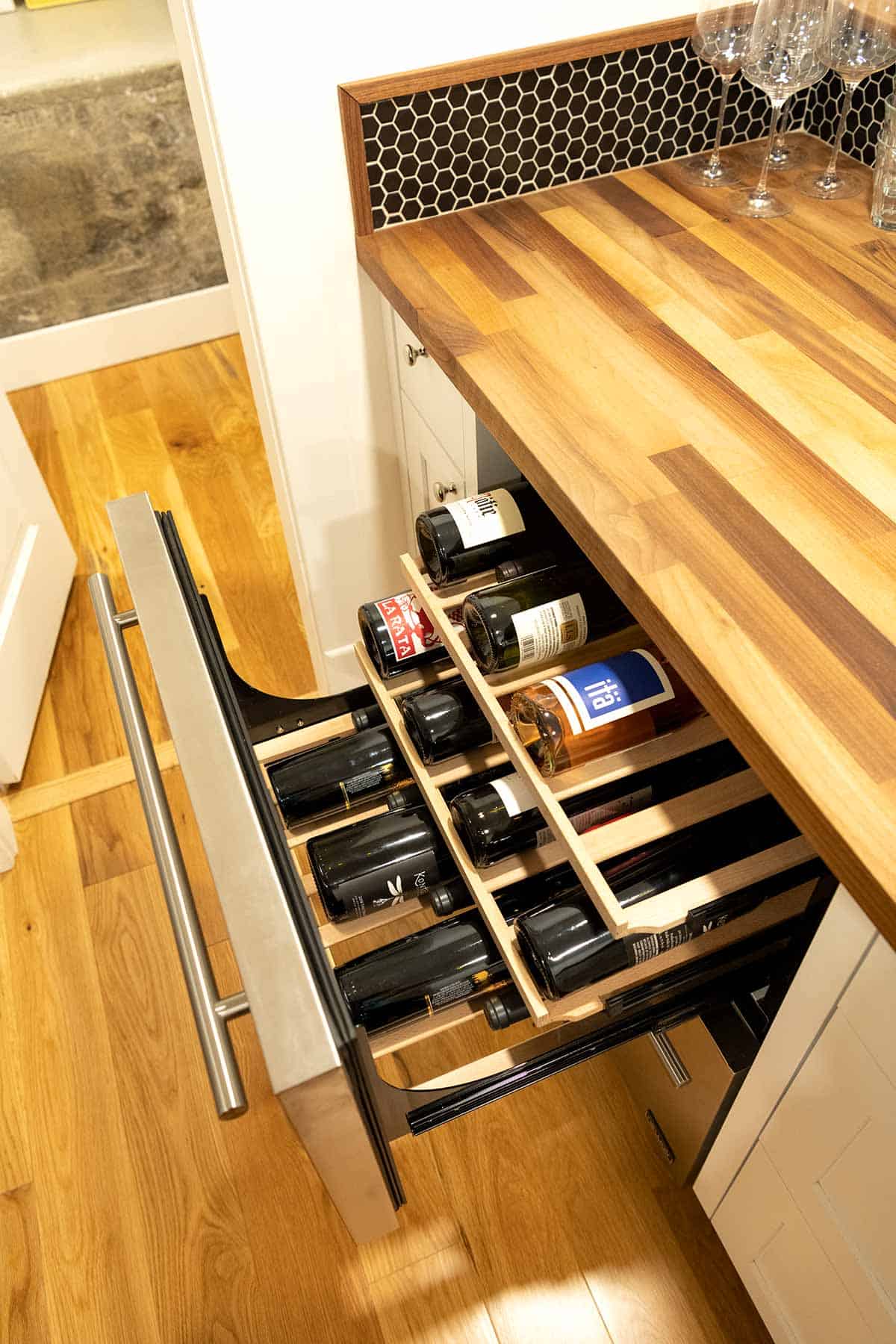 ** NewAir did send us this wine fridge and we are so very grateful for it. It fits up to 20 wine bottles in the top drawer and leaves lots of space for other beverages and snacks in the bottom drawer. They have kindly provided our readers with a discount code to use. Use the code INSPIRED_TASTE and receive over $300 off (shop for the NewAir Beverage Fridge here).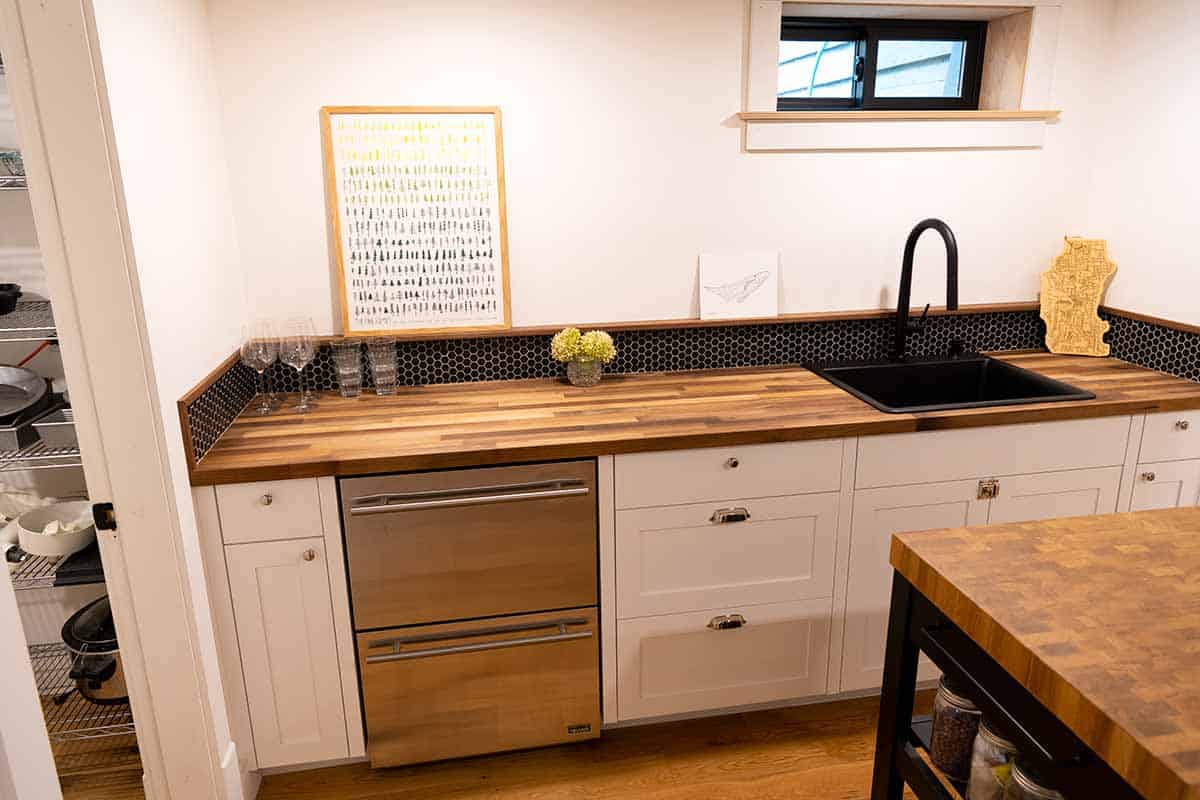 To the left of the kitchenette, you can see a little bit of our pantry. It's not organized yet, but it's already been a lifesaver for storing some of our less used kitchen supplies.
The cabinet hardware is the same as upstairs. The backsplash was tile I purchased on a whim for one of our bathrooms. Unfortunately, we found out that the tile wasn't really the best for flooring and so we repurposed it here with a little more black walnut placed on top as a cap. For the sink, we found a deep black sink by Kohler and the faucet is from VIGO.
That's it for now. It's been a long time coming. We knew years ago that we'd love to buy an older home and remodel it. Thanks to a little luck, some friends who kept us in the loop of local real estate and a wonderful contractor, we finally have our dream kitchen and home.