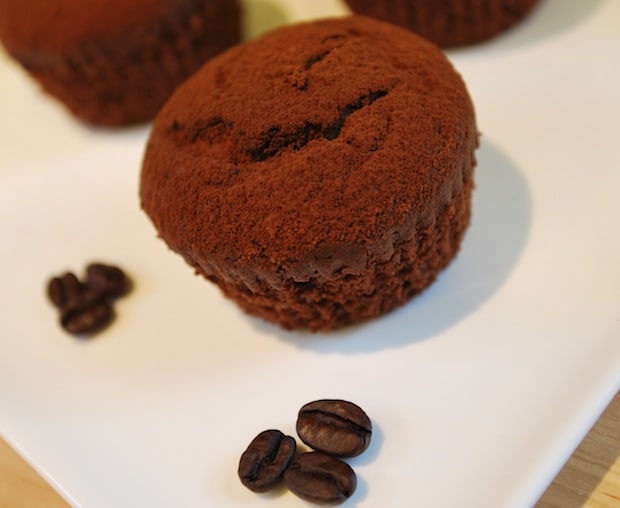 The other day I decided to make chocolate cupcakes for Adam (I know, sweet huh?).  These cupcakes incorporate a couple of Adam's favorite things – dark chocolate and Costa Rican coffee. The very first vacation Adam and I went on together was a trip to Costa Rica.  We fell in love; so much so that just a few months ago we went there again for our honeymoon.  One of our favorite memories of our first trip was coming down for breakfast at our hotel and being served the most amazing coffee you could imagine.  The first thing we did once we arrived on our honeymoon was to find a coffee shop and fulfill the craving of that coffee we had each morning last time, it was wonderful.  On our way home from our Costa Rican honeymoon, we bought some bags of coffee to take with us (although I should mention, it really does not taste the same, I think the waves, sand and sun make it taste better, but it gets close).
Okay, back to the cupcakes.  One great trick for really enhancing the flavor of chocolate is to add some coffee – for some reason, the coffee really brings out the rich chocolate flavor.  Because these cupcakes were for Adam, I used the Costa Rican coffee we brought home from our honeymoon.  The recipe I usually use (Joy of Baking) requires that you combine hot water and cocoa powder, so I switched the hot water to hot coffee.  The name of these cupcakes are no fuss double chocolate cupcakes, so not only do I use cocoa powder, but I added an entire bar of dark chocolate to really seal the deal on the chocolate front.  Another tweak was the combination of brown sugar and white sugar instead of only using white sugar.  The brown sugar makes the cupcakes a little more moist and adds a darker almost nutty flavor.  Finally, to really make these cupcakes "Adam style," instead of frosting (he is not a big fan of frosting), the cupcakes were only dusted with a bit on unsweetened cocoa powder or served plain.
No Fuss Double Chocolate Cupcakes – no frosting required
1/2 cup unsweetened cocoa powder (I used Ghirardelli natural unsweetened cocoa powder)
1 1/4 cup hot Costa Rican coffee
4 ounces dark chocolate, chopped into small chunks so it is easy to melt
1 1/3 cup all-purpose flour
1 teaspoons baking powder
1/2 teaspoon salt
1/2 cup unsalted butter, room temperature
1/2 cup white sugar
1/2 cup light brown sugar, packed
2 large eggs
2 teaspoons vanilla extract
Preheat the oven to 375 degrees F and begin brewing enough coffee to make 1 1/4 cups plus a cup for you to enjoy. While the coffee is brewing, place cupcake liners into a cupcake pan and set aside.
In a bowl, combine the hot coffee, unsweetened cocoa powder and the dark chocolate, then set aside. Sift the flour, baking powder and salt into a large bowl and stir to combine, then set aside.
In another large bowl, use a hand mixer (or stand mixer) to cream the butter, about 1 minute. Add the white and brown sugar to the butter and continue to cream the mixture for another 2-3 minutes or until lighter in color and fluffy. Add the first egg to the butter mixture, mix until combined then repeat with the second egg. Finally, add the vanilla extract and mix to combine.
Add 1/3 of the flour mixture at a time to the butter mixture and mix until just combined. Carefully fold the chocolate mixture into the batter until just combined (use a silicon spatula). Use a regular sized ice cream scoop to scoop the batter into the pan. Bake in the oven for 16 – 20 minutes until springy to the touch and a toothpick can be inserted and come out clean.