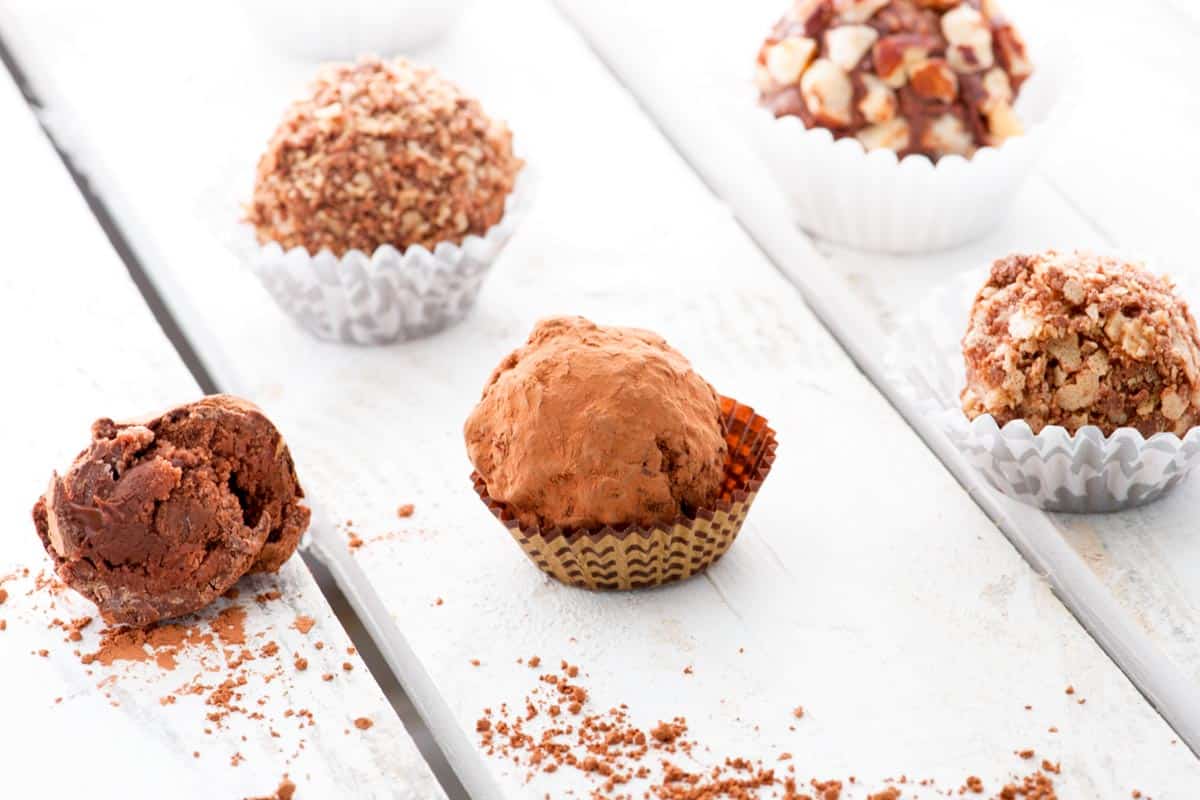 Homemade Nutella Chocolate Truffles
You can roll the truffles in a variety of things — cocoa powder, chopped hazelnut, and crushed hazelnut wafers. Or just dip them in melted chocolate.
You Will Need
Truffles

1/2 cup Nutella hazelnut spread, divided

1/2 cup heavy cream

5 ounces milk chocolate, chopped finely or use milk chocolate chips
Directions
Nutella Centers

Line a baking sheet with parchment paper. Fill a piping bag with with half of the Nutella, about 4 tablespoons. Pipe 16 small balls, about 1/2 teaspoon each. Or use 2 small spoons to create 16 balls. Place in freezer for 1 hour.
Make Ganache

Meanwhile, heat cream in a heavy-bottomed saucepan until bubbles begin to form around the edge of the pan. Add the finely chopped milk chocolate and the remaining Nutella to a medium-sized mixing bowl.

Pour half of the hot cream over the milk chocolate and allow it to sit for 30 seconds. Slowly whisk until smooth. Slowly stream in the remaining hot cream and whisk until all the cream has been incorporated and the ganache is smooth; cool in the refrigerator until cold, about 30 minutes.

Using a hand mixer, whip the cold ganache until light and fluffy then place back into the refrigerator for at least 30 minutes or until you are ready to make the truffles.
Form Truffles

Working quickly, use two spoons to surround each Nutella center with the whipped ganache, forming an imperfect round truffle. Place the truffles back onto a parchment-lined baking sheet and leave in the fridge for 15 minutes.

Melt the 8 ounces of milk chocolate either over a double boiler or using the microwave. To melt the chocolate in the microwave, chop the remaining 8 ounces of milk chocolate and place 3/4 of it in a small microwave-safe bowl in the microwave for 20 seconds. Stir the chocolate and continue to microwave for 20 seconds at a time, stirring in between, until the chocolate is smooth and shiny. Add the remaining 1/4 of the chocolate and stir until smooth.

With two small spoons, dip each truffle into the melted chocolate then roll in the ground hazelnut wafers or optional garnishes, allow the truffles to sit for a few minutes until set, serve at room temperature.