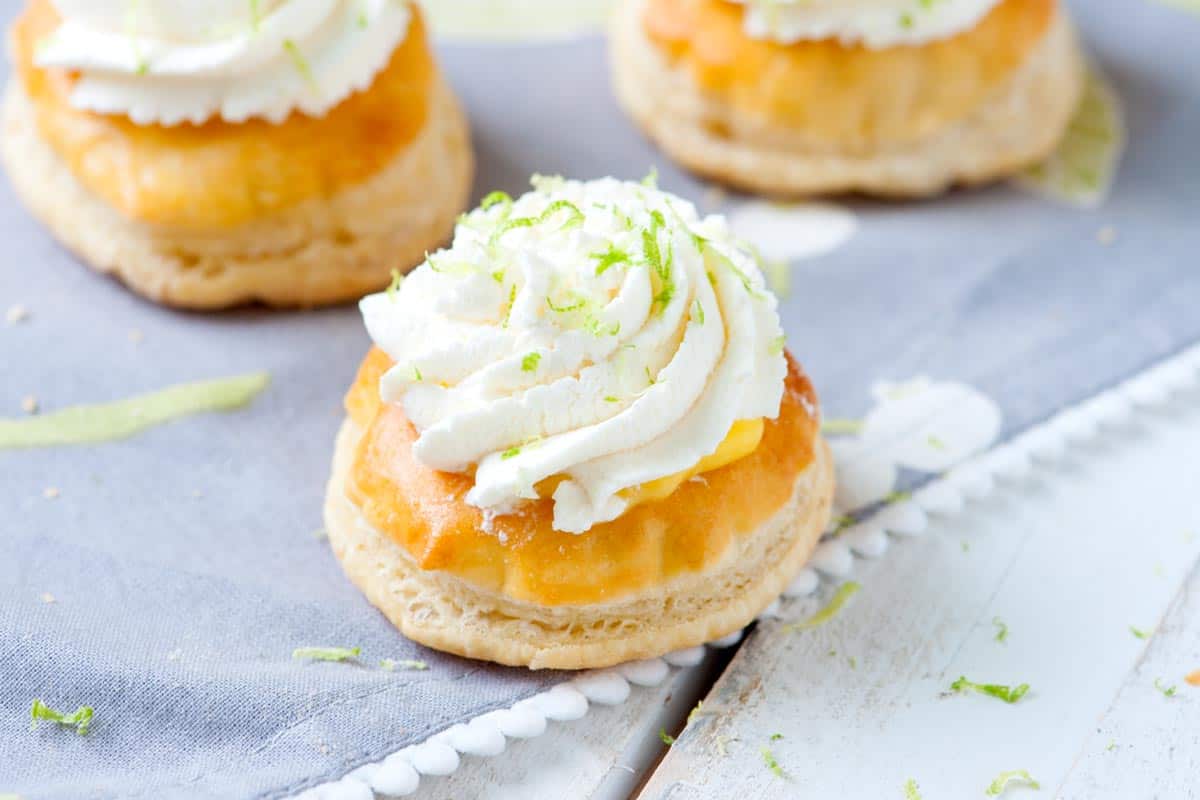 Puff Pastry Tarts with Lime Curd
For the tart shells, we buy puff pastry shells or cups (found in the frozen food section of the grocery store). Phyllo pastry shells or pre-baked shells are also great options. We like to add about a tablespoon of the curd to each baked tart shell.
You Will Need
Lime Curd

4 large eggs

2/3 cup granulated sugar

Zest from 2 limes

2/3 cup fresh lime juice (from 6 to 7 limes)

6 tablespoons butter at room temperature
Tarts

1 (9.5-ounce) box puff pastry cups, we use Pepperidge Farm

2 tablespoons sugar

1 cup heavy whipping cream

Lime zest for topping
Directions
Make Lime Curd

In a heatproof bowl that fits over a saucepan, whisk the eggs and sugar until smooth and pale, about 2 minutes. Whisk in the lime zest and lime juice.

Add 2 to 3 inches of water to the saucepan then bring to a simmer. Rest the bowl with eggs and sugar over the pan. (The water should not be touching the bottom of the bowl. If it is, remove some water from the saucepan). Continue to whisk the mixture until it thickens, about 2 minutes.

Remove the bowl from the heat then whisk in the butter until completely melted and blended in. Strain the lime curd into a container and cover with plastic wrap pressed directly onto the surface of the curd. Cool then refrigerate up to 1 week.
Make Tarts

Bake pastry cups according to the package directions then cool on wire racks. Fill cooled cups with a generous tablespoon of the chilled lime curd.

Place a metal mixing bowl into the freezer and chill for about 10 minutes.

Add the sugar and cream to the cold bowl then use a handheld mixer to beat the cream until stiff peaks form. Top filled tarts with the whipped cream and a few pieces of lime zest.