When Joanne and I decided to launch interviews on our blog, we sat down and brainstormed who, among so many fascinating and talented people, we wanted to ask first. Carrie, from Deliciously Organic was right at the top of both of our lists. She is genuine. She is knowledgable and coming from two people who really love food, but are somewhat naive about the benefits and necessities of eating organic, we have learned to trust her, her recipes and her advice. What we love about Carrie, is that she does not preach, she just does. She transitioned to an organic lifestyle wholly due to health issues, such as migraines and the need for multiple medications, not because of a fad, but because she took charge of her own body and health. Please meet Carrie, from her blog, Deliciously Organic and cookbook, "Deliciously Organic."
Photo Credit for above, Strawberry Shortcakes by Deliciously Organic.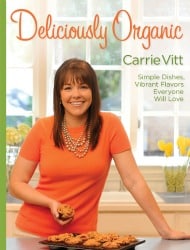 From reading your About Me page, we can see that you have grown up around food and cooking, taking after your mother. When and why did you decide to expand that love of food into a blog and now your cookbook?
After the birth of my second daughter, I began having daily migraines. I was 25. As migraines often are, they were both baffling and debilitating. I had migraines five or more a week. I often had to lie down in a quiet dark room, which was almost impossible with toddlers to care for. I was taking several medications to manage the pain just to get through the day.

One day, a tiny newsletter article caught my eye while going through the mail. It was about the benefits of organic foods. I knew migraines could be related to diet, so I wondered if changing to organic foods might help. I was at the end of my rope and willing to try something different.

At the time, I was eating lots of vegetables to lose the last 10 pounds of baby weight. I replaced my lettuce with organic. It was my first step. I picked lettuce because it was the food I ate the most of. Within a week I noticed a significant difference. The frequency of my migraines decreased, and it was now easier to care of my kids. I didn't need any more encouragement. I next switched all produce to organic with the intent of increasing the amount of pure and untreated food in my diet and decreasing my pesticide intake. As I dug deeper and learned more, I continued making changes to my pantry and refrigerator. Over the next year and a half, I converted my family's diet to whole, unprocessed, organic ingredients.

I started out by converting family favorites to organic. Sometimes, though, that didn't work as I replaced ingredients and I'd have to create my own. Believe me, I had many failures, but I kept tweaking things until I learned which combinations created the best flavors. And along the way, I learned how to gain access to unprocessed ingredients as well as how a typical American household can both function and benefit from a diet free of chemical preservatives.

Over time, I shared with my friends and family how I overcame my health problems. And then I told others. Many were earnestly interested in learning more or in making changes to their own diets. I continued to tell my story, share my adapted recipes, and give encouragement.

Observing all this, my husband asked me to consider writing a cookbook, and finally the lightbulb snapped on. What I was learning and collecting was a cookbook to be shared with others where the recipes used unprocessed, organic ingredients. From that moment, I couldn't stay out of  the kitchen and began writing the cookbook Deliciously Organic.

With the encouragement of friends, I began teaching cooking classes out of my home. Within a year of teaching those classes, I was overwhelmed with requests for information and recipes. So I started a cooking blog, Deliciously Organic, as an interactive and efficient avenue to teach and dispense advice and recipes on a much wider scale.
Adam and I try to buy organic and local when we can, but must admit that there are still some processed, non-organic foods in our pantry. Do you have any advice for us as to how we could begin to transition to an organic lifestyle?
There is a simple and practical way to make the change. The first step is to go through your pantry and fridge and read every label and identify the foods that have processed ingredients in them as well as preservatives and additives. This will begin to help you identify the foods that you will eventually eliminate. When you're ready to start the change, begin by making one change every week. Discard one item and replace it with one new organic/unprocessed item in your pantry. After six months you will be amazed at how much change has occurred, and in a year or so, your entire pantry and fridge will be completely transformed. This was the approach I took because at the time I had two little kids and trying to convert everything at once was too daunting.
Other than salt and pepper, there are a few ingredients that must be stocked in our kitchen, one being lemons. Is there anything that you just have to have on hand when cooking in your kitchen?
A must-have in my kitchen is coconut oil. Virgin coconut oil, processed without chemicals or high heat, is rich in medium-chain fatty acids that are quickly absorbed into the body for energy. I use this oil to cook and bake with. In a typical recipe, coconut oil can be used as a replacement for other oils 1:1. If you are sautéing, however, I have found that you need less coconut oil than you may initially think because it has little water content, so use it very sparingly.
What was it like to write your own cookbook? What was it like to work with editors and Helene Dujardin, a leading food photographer? What is it like today, to look at your own cookbook, how does it feel?
Writing a cookbook is invigorating, laborious, and quite the learning experience. Creating recipes is only the first step. After, comes hours of writing, working with editors, photo shoots and lots of patience. My name may be on the cover, but an extraordinary team put this book together who will never compromised the quality of their contributions.

One of the members of the team is Helen Dujardin. I knew Helen was an amazing photographer and pastry chef with a wonderful sense of humor, and meeting her only increased those opinions of her. She is also incredibly quick witted, confident, an extremely hard worker, and a blast to be with (she also makes the strongest coffee known to man, the spoon can literally stand in the cup). I'd always wondered how food photographers do what they do, so it was interesting to sit back and watch her work. She and I had a blast together and I am grateful to call her a trusted friend.
Since the debut of your absolutely beautiful cookbook, "Deliciously Organic," you have received a great deal of praise and positive feedback. Do you have any new ventures up your sleeve, maybe another cookbook in the works?
I do have another book in the works! I'm collaborating with Helen Dujardin and writing a gluten free desert cookbook that will release in the fall of 2012.
What is your favorite thing about food and cooking? Why do you think so many of us have such a passion for it?
I love the joy that cooking brings and the way it connects us all. It's one of the simple pleasures of life that we can all relate to.
For more information about Carrie, her blog and cookbook, be sure to visit her at Deliciously Organic and follow her on twitter @delorganic.
Thank you, Carrie!