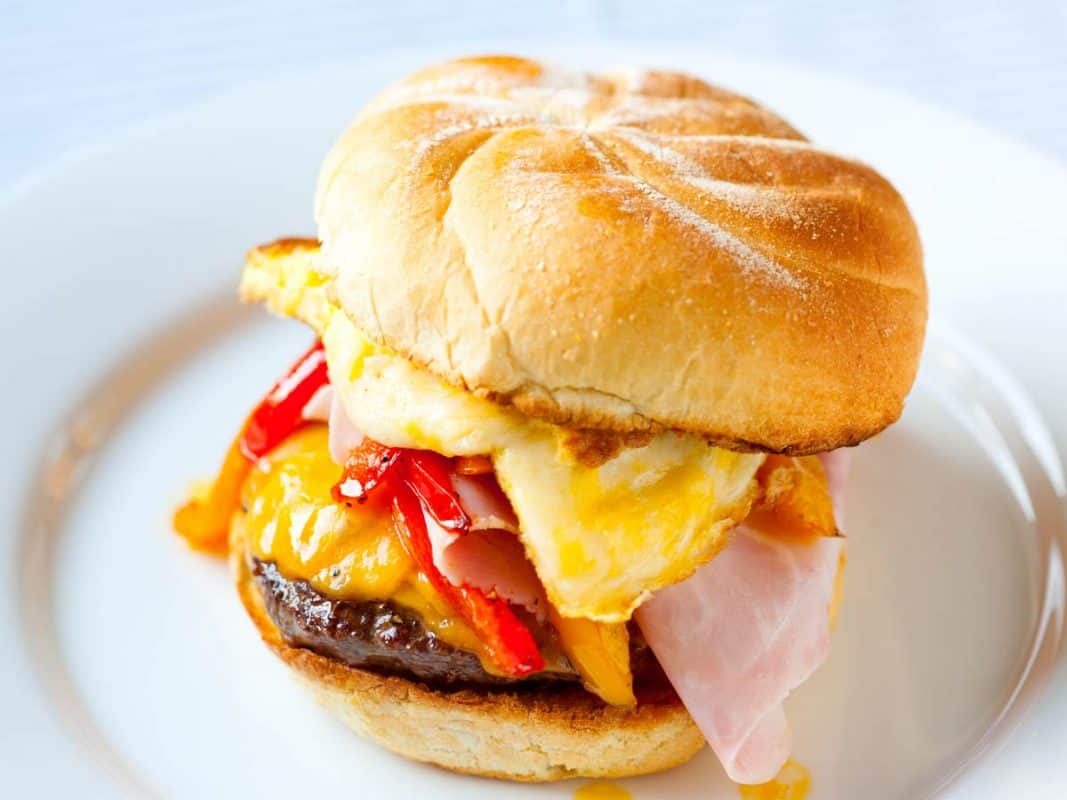 Outrageous Burger Recipe with Egg, Ham and Peppers
PREP

10min

COOK

25min

TOTAL

35min
This burger is over the top, but so delicious. When making burger patties, choose ground chuck or round that is 20% fat content. This makes the juiciest burgers.
You Will Need
Burgers

1 1/2 pounds (680 grams) ground beef chuck or round

Salt and fresh ground black pepper

Butter, as needed

8 slices sharp cheddar cheese

4 burger buns, lightly toasted

1/4 cup mayonnaise, see our homemade mayonnaise recipe

1/3 pound thin sliced ham
Peppers and Onions

1 tablespoon olive oil

1 medium red onion, thinly sliced

1 medium yellow or red bell pepper, core removed and thinly sliced

Salt and fresh ground black pepper
Directions
Make Burgers

Form beef into four 6-ounce hamburger patties. Use your thumb to imprint a dimple into the middle of each burger. (This prevents the middle of the burgers from puffing up while cooking). Season both sides of the hamburgers with salt and pepper.

Melt 1 tablespoon of butter in a cast iron pan over medium heat. Cook hamburger patties 3 to 4 minutes on each side, depending on how well done you like it. Or grill burgers on an outdoor grill. About 30 seconds before the burgers are done, add two slices of cheddar cheese on top of each patty. Rest burgers covered loosely with aluminum foil for 5 minutes then serve with omelet and toppings.
Cook Onions and Peppers

Meanwhile, heat olive oil in a skillet over moderately high heat. Add onions and peppers then cook, stirring occasionally, until softened, sweet and the edges are beginning to brown, about 8 minutes. Lightly season with salt and fresh ground pepper.
Make Omelet

In a non-stick skillet, melt 1 tablespoon of the butter over medium heat. In a bowl, whisk 2 of the eggs with a pinch of salt and a few grinds of black pepper.

When the butter is melted and begins to bubble, pour eggs into the center of the pan and stir with a rubber spatula for 5 seconds. Using a spatula, move around the edge of the egg mixture to loosen the edges. When the eggs are a semi-solid mass, add 3 slices of Swiss cheese. When the cheese is melted, shake the pan to loosen the omelet then fold one side over the other half of the omelet. Slide onto a plate and loosely cover with foil.

Make a second omelet using the two remaining eggs following the same process as before. Cut each omelet into two pieces, making four smaller omelets.
To Finish

Assemble burgers. Spread mayonnaise onto both halves of each bun. Place the hamburger patty on the bottom half and add a quarter of the onions and peppers. Top with a quarter of the ham, one half of an omelet and the top of the bun.