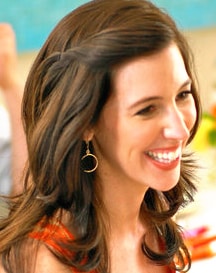 Today, we are so excited to feature Miri Leigh who has a lovely blog and a TV show in the works! As you can see from her picture to the right, Miri Leigh has a smile that could light up any room. If you watch her videos and browse through her recipes you will quickly discover, just as we did, that she has an infectious passion for food and cooking. Here is the interview:
What lead you to blogging? Why did you start Miri Leigh www.mirileigh.com
First let me thank you for giving me the honor of being interviewed on Inspired Taste!  I am so grateful for this opportunity because I really admire your work.  I started blogging in 2008, mostly as a way to organize and chronicle my own recipes.  Of course then I became interested in food styling and photography (inspired very much by Jaden Hair at Steamy Kitchen and Matt Armendariz at Matt Bites.)  It didn't take long for me to get hooked on video-making because I felt that there was so much more to cooking than I could adequately convey with words on the screen or even a beautiful photo. 
We noticed that you have an upcoming TV show! Can you tell us a bit about it, we love watching your videos over at Miri Leigh (add link)!
I have been working on launching a TV show for about the past year and it's been an amazing ride!  In early 2010, my YouTube videos gained the attention of an executive at Food Network and I went on to film two pilot programs for them.  Neither has taken off (yet!) but I'm still forging ahead.  I have just signed a deal to work with a Canadian producer on a new concept this fall and I feel really good about that.  They are wonderful, creative people and they have two programs currently on Cooking Channel.  So I hope everyone will keep their fingers crossed for me – the support of my fans and blog readers has meant so much to me throughout this journey. 
On your "About Me" page we noticed that you went to culinary school with a focus on pastry arts. What do you believe to be the most valuable lesson you learned?
Whereas in cooking you can often substitute one ingredient for another or use a little more or less of something depending upon your tastes, in pastry there's almost no room for error.  The science of how butter, flour, salt, liquids and leavening interact with one another is very exact.  Further, there are so many subtle things that can have an impact on a pastry recipe that we can't control, such as the humidity in the room, the gluten content in a particular brand of flour, and the temperature fluctuation in the oven.  So what pastry has taught me is to slow down and pay attention to the fine details, and that's a philosophy I apply to my every day life.  When I'm on a hike, I try to notice the things others might not see.  When I meet someone new, I try to see aspects of who they are that aren't readily obvious.  I try to really pay attention to the rich (and sometimes hidden) details of life. 
Between your upcoming TV show, pastry classes, speaking events, travel and your blog. Do you find time to set aside for yourself?
I do!  I really do.  My boyfriend and I cook together almost every night of the week, and even though that's related to what I do on my blog and my videos, I don't consider it work.  It's my passion and it's how we unwind and connect at the end of the day.  We cook simple, wholesome things like fish and veggies on the grill or whole roasted chicken.  We love the whole ritual of being in our kitchen together, mostly because it's very small (think large walk-in closet) and hasn't been remodeled in over 50 years.  So it brings us closer together, quite literally!  We also travel quite a bit; our favorite weekend activity this time of year is boating on Lake Tahoe, surrounded by granite mountains and glassy, crystal-clear water.  And when we're home, I like to read in my quiet time and tend to our little garden.  I have a herbs, lettuce and three tomato plants that are specifically intended for San Francisco's cooler climate.  I'm proud to say that we already have three orangey-red tomatoes! 
What is your favorite thing about food and cooking? Why do you think so many of us have such a passion for it?
There are so many things to love about cooking.  From a nutritional standpoint, cooking allows us to control and understand what we eat.  (I don't know anyone who is truly fit and healthy who also eats a lot of packaged or fast food, do you?)  It's also emotionally balancing and connective.  Taking the time to cook is like sending a message to your innermost self that says, "I care about myself enough to feed myself well and nurture myself with wholesome food."  And when you prepare food for other people, and bring people around your table for a fine meal, you're saying, "I care about YOU enough to feed you well and nurture you with wholesome food."  Who wouldn't want to hear such beautiful words?  Cooking and eating together are such wonderful ways to create love and joy among family and friends. 
Isn't she just wonderful! For more information about Miri Leigh, be sure to visit her blog, Miri Leigh, follow her on twitter @mirileigh or check out her Facebook page.
Thank You, Miri Leigh!