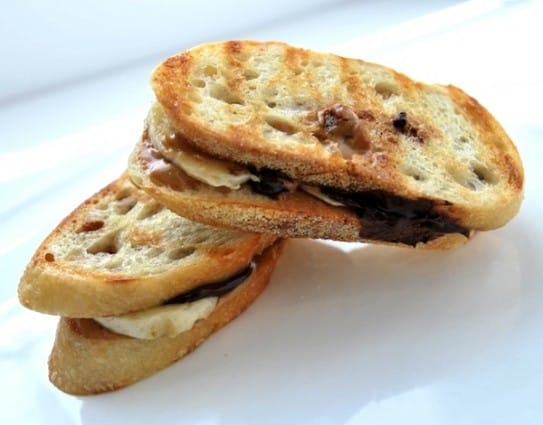 Banana, Peanut Butter and Chocolate Sandwiches
PREP

5min

COOK

5min

TOTAL

10min
Try sprinkling the finished sandwiches with a little sea salt. The peanut butter can be swapped for any nut or seed spread.
You Will Need
4 slices bread

2 to 3 tablespoons peanut butter, see our homemade peanut butter recipe

1 medium banana, sliced

Chocolate bar, broken into squares

Non-stick cooking spray or melted butter for cooking

Sea salt for tops
Directions
Heat a griddle or pan over medium heat.

Spread peanut butter onto all four bread slices. Layer the banana and chocolate pieces on two of the bread slices and top with second slice of peanut butter slathered bread.

Spray griddle or pan with cooking spray (or melt butter) and then cook 2 to 3 minutes on each side, or until the chocolate is gooey and the bread is lightly toasted. Lightly sprinkle sea salt on top.