My absolute favorite feature from the Fall issue of maché magazine tries to get you to channel your inner Girl Scout, the inventors of s'mores.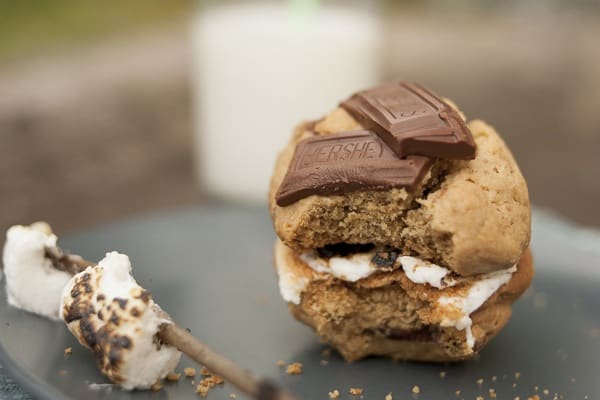 Our friends Ananda, Ben and Daniel created dreamy scenes of everything s'mores — from cookie sandwiches to s'mores cups, they did it all, we just wish we were at the shoot to eat all the leftovers.
These S'more cookie sandwiches are brilliant – the cookie itself has graham crackers in the batter, then you sandwich toasty marshmallows in the middle and top with slightly melted chocolate pieces. I'm drooling, are you? You can see all of the s'mores recipes by clicking here: Bonfire Optional.
S'more Cookie Sandwiches
Recipe published with permission from machémag.com
2 cups all purpose flour
1 cup (5 full sheets) crushed graham crackers
1/2 teaspoon baking soda
1/2 teaspoon salt
3/4 cup (1 1/2 sticks) unsalted butter, room temperature
3/4 cup packed dark brown sugar
1 egg
1 teaspoon vanilla extract
2 chocolate bars, coarsely chopped
2 chocolate bars, broken into squares
6 large marshmallows, cut in half
Preheat oven to 325 degrees. Line a baking sheet with parchment paper; set aside.
In a medium bowl, combine flour, crushed graham crackers, salt, and baking soda; set aside. In a large bowl, or the bowl of a standing mixer, cream the butter and sugar together until fluffy and light in color. Beat in the egg until just combined and stir in the vanilla. Add flour mixture to the butter mixture and beat until thoroughly combined. Stir in the chopped chocolate.
Place 1 tbsp. portions of cookie dough about 2-inches apart on the prepared baking sheets. Bake for 16 to 18 minutes, until edges are golden brown and center are slightly firm. Transfer cookies to a wire cooling rack and immediately place 2 chocolate squares on top of half of the cookies while they are hot (these will be the top cookie of the sandwich).
Preheat the broiler. Place the remaining half of the cookies, bottom side up, on the cookie sheet and place one half of a marshmallow, cut side down, on each cookie. Broil until golden, 30 to 45 seconds. Immediately place the top cookie over the marshmallow and press gently to spread it between the two cookies. Allow to cool for 10 to 15 minutes before serving.
Makes 12 sandwiches