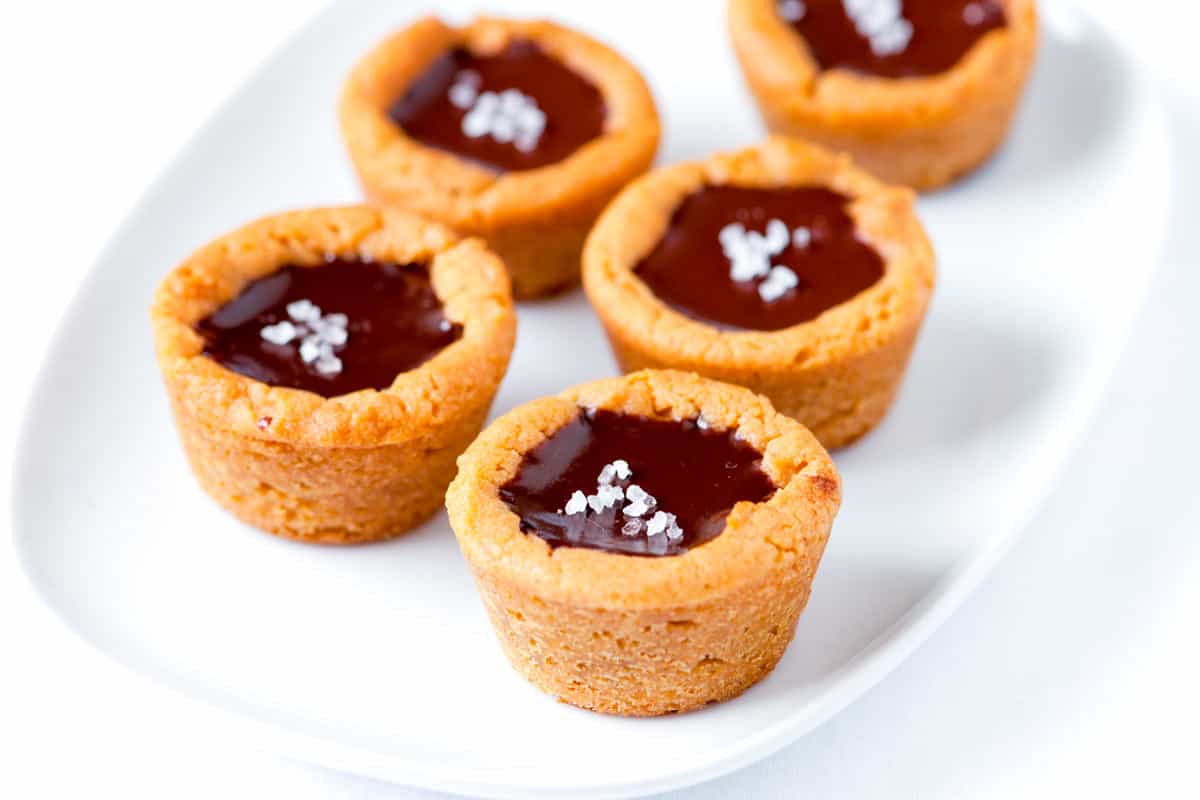 Salted Chocolate Truffle Peanut Butter Cookie Cups
PREP

10min

COOK

20min

TOTAL

30min
We used store-bought peanut butter cookie dough, but you can just as easily use your favorite homemade cookie dough. You will need just less than a tablespoon of dough for each cup.
You Will Need
1 (16-ounce) package Pillsbury Simply Peanut Butter refrigerated cookies

3/4 cup semi-sweet chocolate chips

3/4 cup heavy cream

1/4 teaspoon allspice

1/4 teaspoon fine sea salt

Course or flaky sea salt for topping cups
Directions
Heat oven to 350 degrees F. Spray 32 mini muffin cups with non-stick cooking spray. Break each cookie dough round in half and place 1/2 a cookie dough round in each muffin cup. Bake 15 to 20 minutes or until golden brown.

Using the end of a wooden spoon, carefully press into center of each cookie to make a 1-inch-wide indentation.

Add chocolate, allspice and fine salt to a medium, heat-safe bowl. Add cream to a small saucepan over medium heat; bring to a simmer. Remove from heat and immediately pour over chocolate, leave for 20 seconds, then stir until the chocolate and cream come together and the mixture is shiny.

Fill each cookie cup with about 1 tablespoon of chocolate-cream mixture. Gently cover with plastic wrap and allow to cool until set in the refrigerator for about 1 hour. Once set, sprinkle a few granules of course sea salt on top.