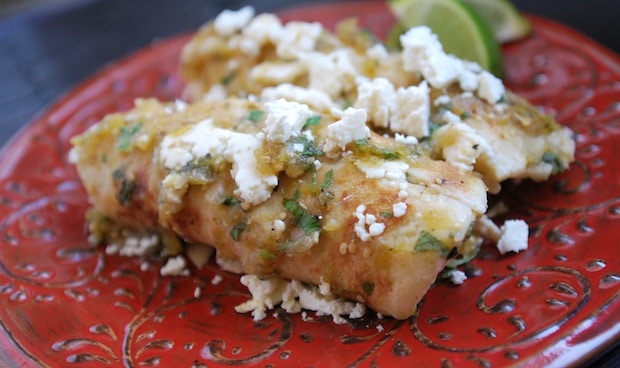 A few weeks ago, Adam and I experimented with Salsa Verde, which is a green somewhat spicy salsa.  Our experiments came to a final success with our Roasted Tomatillo Salsa (Salsa Verde), something that Adam and I are still talking about and are extremely proud of 🙂  Anyway, that same weekend, we got really experimental and tried to make our own flour tortillas.  It was adorable, I measured the ingredients, Adam mixed and we shared in the kneading (since we both have fun with that part).  Then, following the recipe we found online, we allowed the dough to rest for about 20 minutes, then cut the dough into 8 pieces and allowed those to rest another 20 minutes.  After 40 minutes of anticipation, we both rushed into the kitchen and pulled out our brand spanking new tortilla press, which I purchased from Amazon two days prior and opted for expedited shipping for this very moment.  I was in charge of the stove and Adam manned the tortilla press, we were ready for our very own homemade tortillas, there was true excitement in our kitchen that day … and then it ended, the tortillas tasted great, like awesomely great, but there was a slight problem … as soon as they hit the pan, they shrunk and our perfectly 6 inch pressed tortillas very quickly became 4 inch (sometimes 3 inch) tortillas that were about 1/4 inch thick … not exactly what we had in mind. That said, they were delicious. Here's how we made them.
Chicken Enchiladas
2 cups shredded chicken
8 flour tortillas
1/2 cup salsa verde, divided
1/4 cup sour cream
1/2 cup crumbled queso fresco cheese, divided
Preheat oven to 350 degrees F. To make the filling, in a bowl, mix the chicken, 1/4 cup of the salsa verde, sour cream and 1/4 cup of queso fresco cheese.
Fill each tortilla with some filling and roll the tortilla, then place in a baking dish seam side down.
Cover the enchiladas with the remaining 1/4 cup of salsa verde and some of the remaining cheese.
Bake in the oven for 10 minutes then remove from the oven and sprinkle the remaining cheese on top.