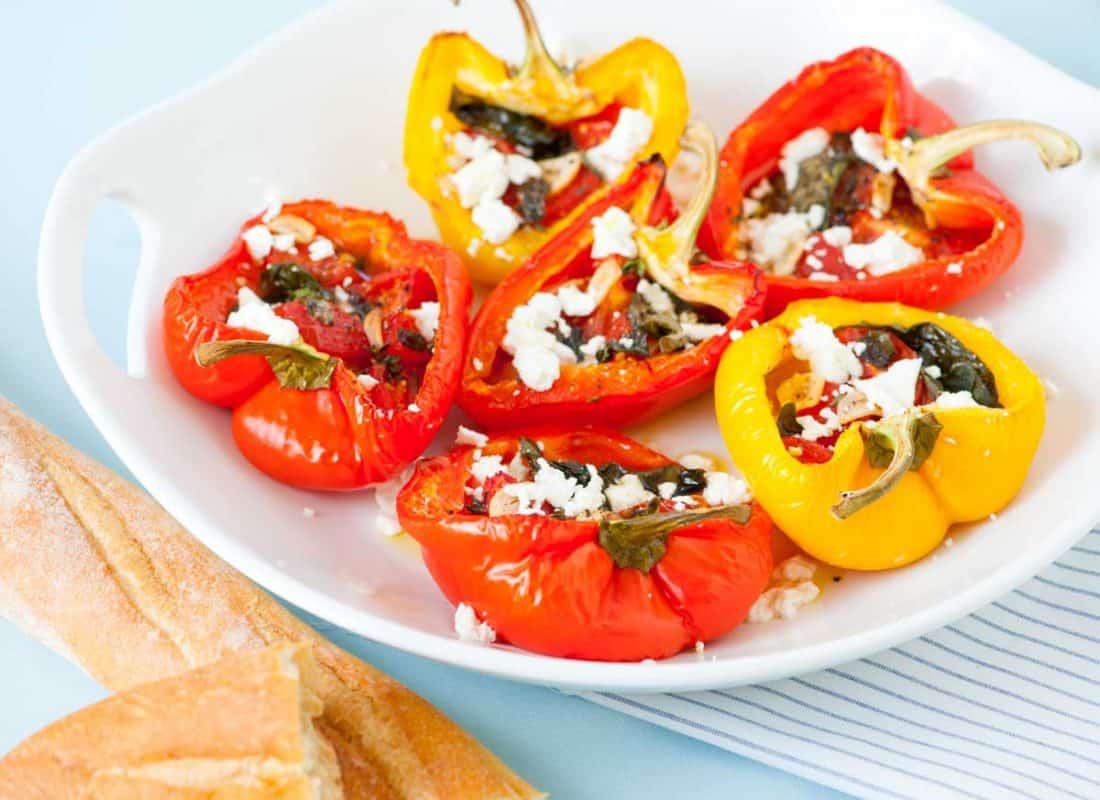 Baked Tomato Basil Stuffed Peppers Recipe
These easy roasted stuffed peppers are delicious served as an appetizer or as a light meal. If you wanted to skip the fresh tomatoes, open a can of diced tomatoes and use a tablespoon or so added to each pepper half instead.
You Will Need
3 bell peppers

8 cherry tomatoes

2 garlic cloves, thinly sliced

1 small bunch fresh basil or use another herb such as thyme, parsley or oregano

1 1/2 tablespoons extra-virgin olive oil

3/4 teaspoon sea salt

1/2 teaspoon fresh ground black pepper

3 ounces goat cheese or feta cheese

1 baguette, warmed for serving
Directions
Prepare Peppers

Heat the oven to 350 degrees F. Line a shallow sheet pan with foil or parchment paper or lightly oil.

Cut each pepper in half, lengthwise through the stem. Remove the membrane and seeds, but leave the stalk intact. (The stalks are not edible, but will help the peppers keep their shape while roasting). Lay the pepper halves in the sheet pan with the inside of the pepper halves facing up.
Prepare Tomatos

Bring about 2 cups of water to the boil. Meanwhile, score an "x" into the bottom of each tomato then place into a heat-safe bowl. Pour the boiling water over the tomatoes and leave for one minute. Drain the tomatoes and use fingers to slide the skins from the tomatoes. Cut the tomatoes into quarters, evenly divide and add to each pepper half.
Bake Peppers

Divide the garlic slices and fresh herbs between pepper halves. Drizzle the pepper halves with olive oil and season with salt and pepper.

Bake until the peppers are tender, about 50 minutes. Transfer the cooked peppers to a serving dish, pour any juices left in the pan over the peppers, crumble goat cheese into each pepper and serve alongside warmed bread.