Strawberry Baked Oatmeal with Bananas
This extra easy baked oatmeal recipe with fresh strawberries, bananas and rich chocolate is one of our favorites. Jump to the Baked Oatmeal Recipe now or watch our quick recipe video showing you how we make it.
We love this recipe so much because you can make it the morning of or, if you're short on time, prepare it the night before and bake in the morning.
It's really flexible, too. Feel free to play with the add-ins to our recipe. We love adding strawberries, banana and chocolate, but  add whatever you love. Or, add that odd amount of nuts, raisins or cranberries left in your pantry from another recipe. It's up to you!
YOU MAY ALSO LIKE: This oatmeal casserole was so popular, we created our Blackberry Baked Oatmeal drizzled with a quick caramel sauce. It's flavored with lemon zest, nutmeg and packed with juicy blackberries! We know you'll love it.
How to Make the Best Oatmeal in the Oven
There's something special about entertaining in the morning — it's casual, laid back and really can start the off right. Just picture this:  baked oatmeal recipe next to a a plate of crispy oven baked bacon or (if serving a crowd) these Breakfast Enchiladas with Ham and Peppers.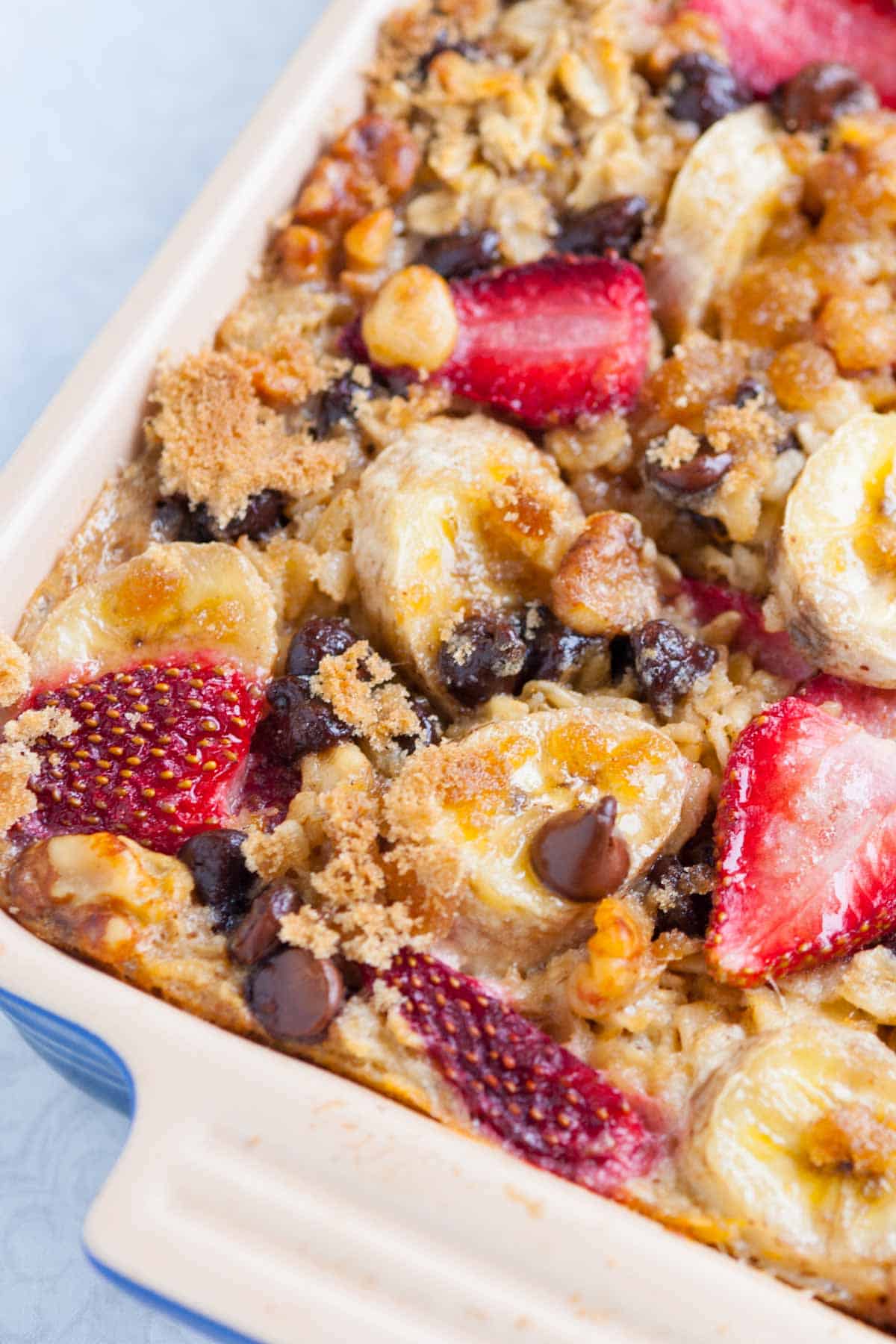 If you take a read through the comments below, you'll see so many who have shared this baked oatmeal recipe with family or friends. Some have even taken it to work.
You can mix all of the ingredients the night before cooking and then bake in the morning. If you do this, place bananas on the bottom of the dish and not on top of the oats since they may brown slightly over night.
Some readers have tried freezing the oatmeal: After mixing everything together, tightly cover the oatmeal or pour into resealable plastic bags and freeze for up to one month. Then, when you want to bake the oatmeal, just remove from freezer, thaw and bake as directed. If you decide to do this, we suggest that you mix the fruit into the oatmeal instead of placing on top to prevent browning – especially the bananas.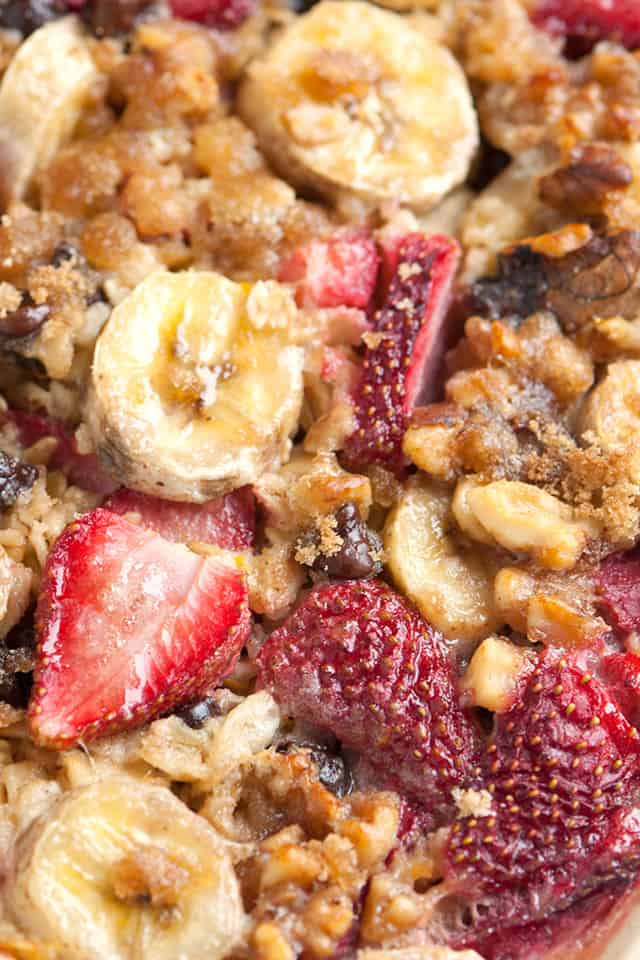 Recipe Substitutions
This baked oatmeal recipe is easily adapted for dairy-free and egg-free diets. While we call for one egg in the recipe, we have had success removing the egg completely. Another easy substitution is replacing soy, almond or even coconut milk for the milk called for in the original recipe.
You can, of course, change the fruit and chocolate in the recipe, too. To reduce calories or level of sweetness, eliminate chocolate from the recipe all together. You could also substitute blueberries, blackberries or other fruit for the strawberries and banana
Finally, if you wish to reduce the amount of sugar, readers have had success eliminating the sugar all together. You could do this or replace the sugar with honey or agave nectar.
YOU MAY ALSO LIKE: Easy Homemade Blueberry Muffins from scratch. We make them in one bowl in under 30 minutes.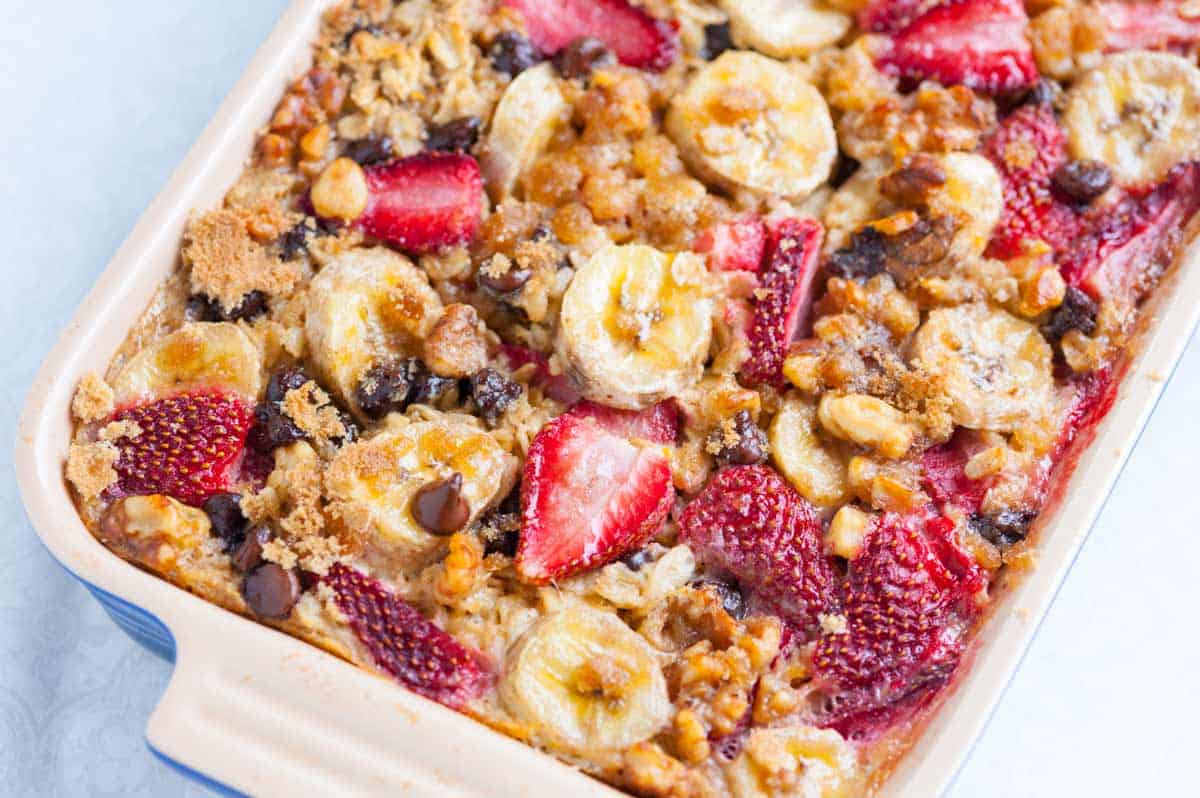 Recipe updated, originally posted December 2011. Since posting this in 2011, we have tweaked the recipe to be more clear and added a quick recipe video. – Adam and Joanne
Strawberry Baked Oatmeal Recipe with Bananas
Our extra easy baked oatmeal recipe with fresh strawberries, bananas and chocolate is such a crowd-pleaser. You could make this in the morning or if you're short on time, prepare it the night before and bake in the morning. There are lots of substitutions you can make, here. A few ideas: replace the milk with soy milk, remove the egg, reduce sugar a little, or change up the fruit, nuts and chocolate to something you love. We talk a bit more about recipe substitutions in the article, but you can also read below in the comments to see what others have done.
Makes approximately 6 servings
You Will Need
2 cups (175 grams) old fashioned rolled oats
1/3 cup (70 grams) light brown sugar
1 teaspoon baking powder
1 tablespoon grated orange zest
1 teaspoon Chinese five spice (you can substitute cinnamon)
1/2 teaspoon salt
1/2 cup (55 grams) walnuts, chopped
6 ounces strawberries, sliced
1/3 cup (60 grams) semi-sweet chocolate chips
2 cups (470 ml) milk, dairy or non-dairy
1 large egg
3 tablespoons butter, melted
2 teaspoons vanilla extract
1 ripe banana, peeled and cut into 1/2-inch slices
Directions
Heat oven to 375 degrees F. Generously spray the inside of a 2-quart baking dish with cooking spray and place on a baking sheet.

In a large bowl, mix together the oats, sugar, baking powder, orange zest, Chinese five spice, salt, half the walnuts, half the strawberries, and half the chocolate. Add to prepared baking dish. Scatter the remaining strawberries, walnuts, chocolate, and the banana on top of the oats.

In another large bowl, whisk together the milk, egg, butter, and vanilla extract, then pour over the oats and fruit. Gently shimmy and shake the baking dish to help the milk mixture go throughout the oats.

Bake oatmeal until the top is golden brown and the milk mixture has set, about 35 minutes.

For an extra tasty top, sprinkle a tablespoon or so of brown sugar on top of the oatmeal, and then place back in the oven under the broiler and broil for 20-30 seconds.
Don't Miss Our Latest Recipe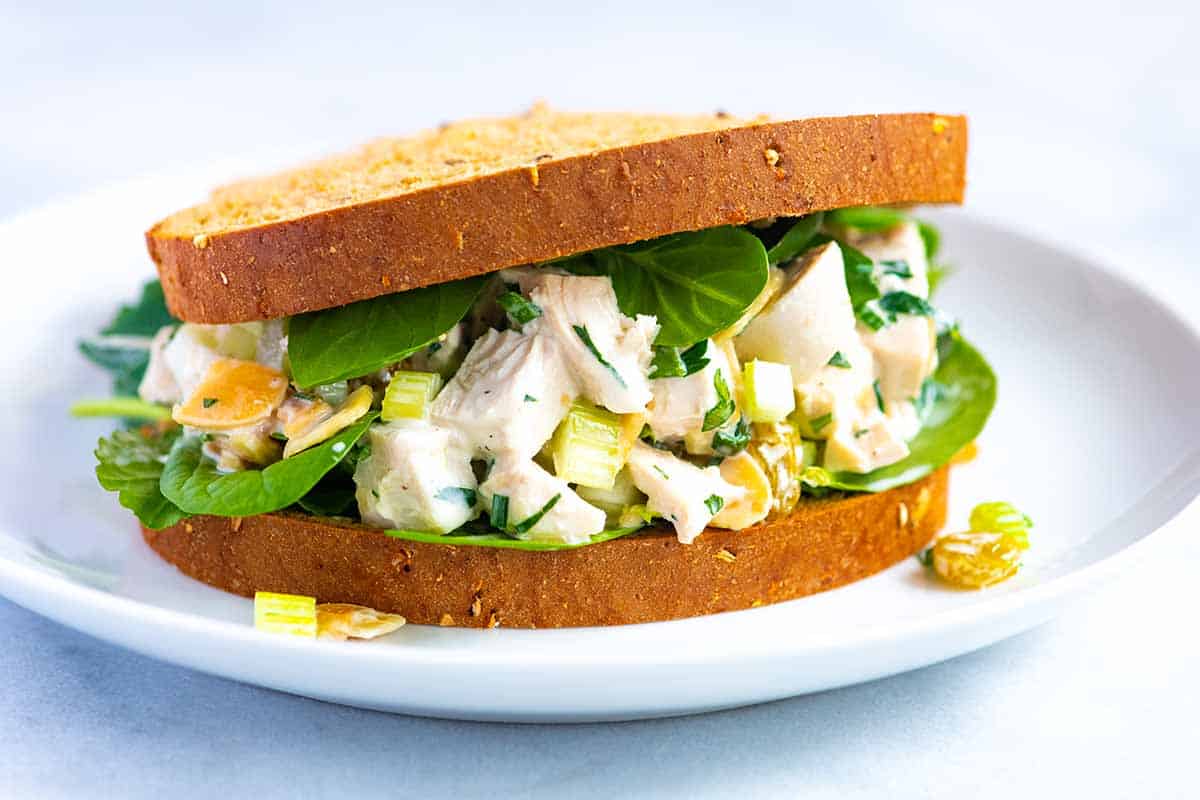 Say hello to your new favorite recipe for chicken salad. It combines perfectly tender chicken, crunch from veggies and nuts, a little sweetness, and the easiest creamy dressing. Read More…
Previous Post: 20 Minute Mashed Cauliflower Recipe
Next Post: Quick and Easy Avocado Pasta Recipe