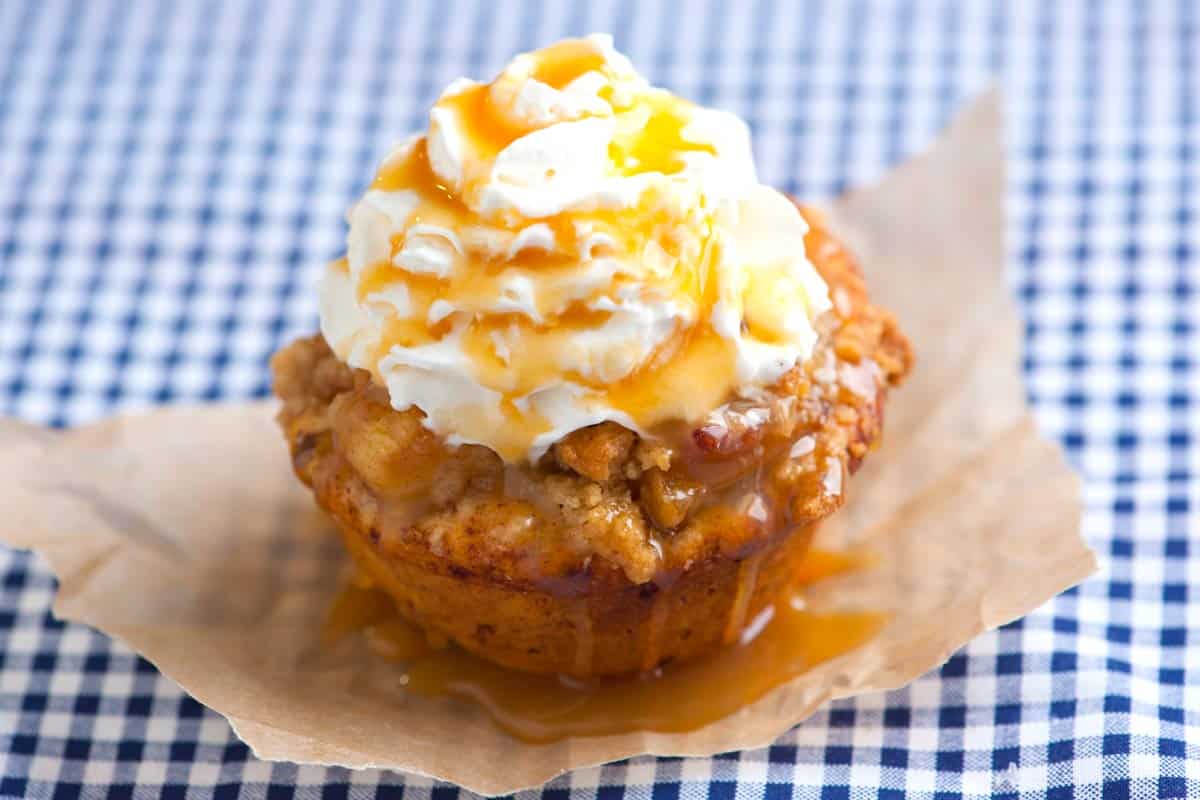 Easy Apple Pie Cupcakes Recipe
These cupcakes are made with store-bought cinnamon rolls that have been flattened into discs and placed into cupcake cups. Then we fill them with cooked apples and top with a streusel topping. When chopping your apples, it can be helpful to spritz them with a little lemon juice (teaspoon or so). This way, they will not brown or discolor.
You Will Need
Apple Cupcakes

2 tablespoons unsalted butter

2 large baking apples, peeled, cored and diced in to 1/4-inch cubes

2 tablespoons brown sugar

1/2 teaspoon ground cinnamon

1/8 teaspoon salt

Juice from half a lemon

1 can (8 count) refrigerated cinnamon roll dough

Whipped cream, ice cream, or caramel sauce for topping
Crumble Topping

2 tablespoons unsalted butter

1/4 cup all-purpose flour

1/4 cup brown sugar

1/4 cup chopped nuts
Directions
Prepare Apples

Heat oven to 400 degrees F. Lightly spray 8 regular-size muffin cups with cooking spray.

Melt 2 tablespoons of butter in a wide skillet over medium-high heat. Add the diced apples and cook, tossing occasionally, until the start to soften; about 5 minutes. Stir in 2 tablespoons of brown sugar, cinnamon, and the salt. Cook 5 more minutes, or until tender. Stir in lemon juice.
Make Topping

Add the flour, brown sugar, and walnuts to a medium bowl. Cut the butter into small cubes and then add them to the bowl. Using your fingers or a fork work the butter into the flour and sugar until crumbly.
To Finish

Separate cinnamon roll dough into 8 rolls. Flatten each into 4-inch round then place into each muffin cup. Divide the apple filling evenly onto rolls in muffin cups then top with the crumble topping.

Bake the cupcakes 10 to 15 minutes or until bubbly and tops are light brown. Cool in the pan 5 minutes then transfer to a cooking rack. Serve the cupcakes topped with whipped cream, with ice cream, or topped with a drizzle of caramel sauce.