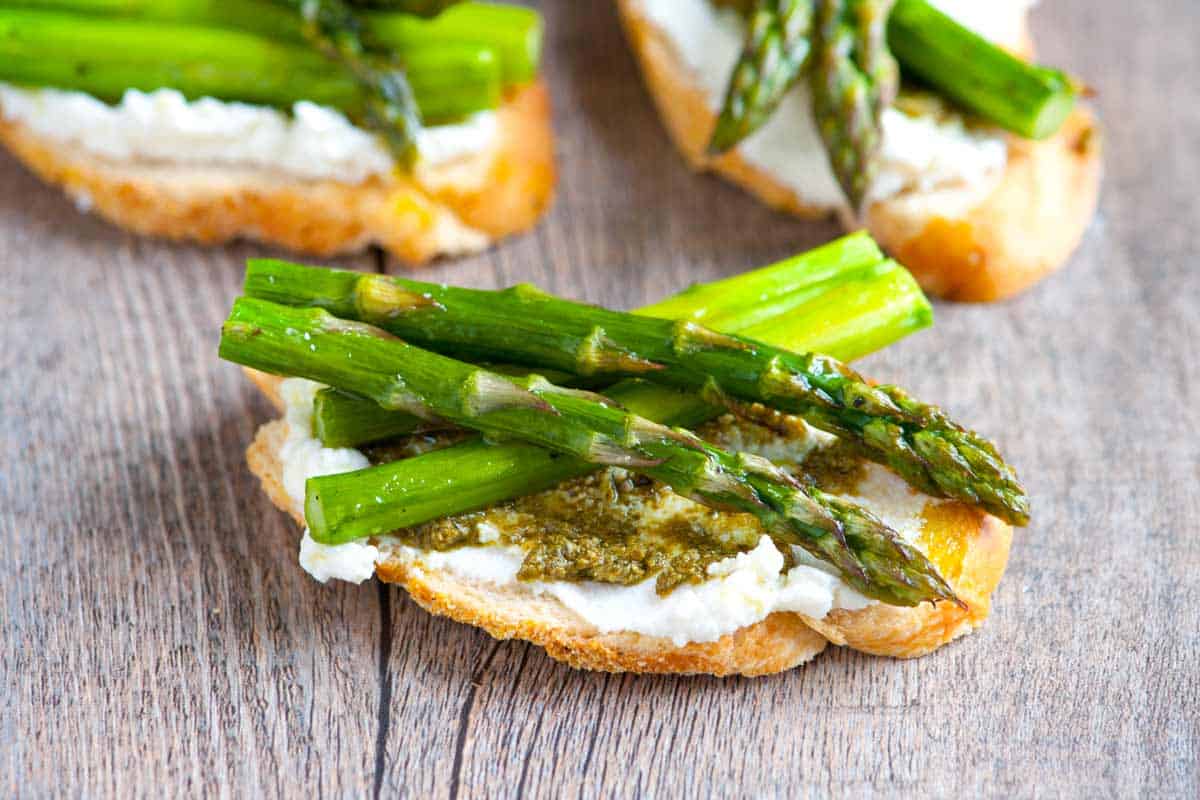 Roasted Asparagus, Ricotta and Pesto Crostini
We smear lightly toasted bread with ricotta cheese, pesto and roasted asparagus for a simple and quick appetizer. When you buy your asparagus, look for bunches that have thinner stalks, if you can only find thick-stalked asparagus, use a vegetable peeler to peel away the outer layer of asparagus as this can be a bit tough. You can also swap the asparagus for other roasted vegetables — we love using tomatoes or broccoli.
Makes approximately 6 servings
You Will Need
1 pound fresh asparagus

1 tablespoon extra virgin olive oil

1/4 teaspoon sea salt

Fresh ground black pepper

1 baguette, cut on diagonal into 1/2-inch slices

3/4 cup ricotta cheese

4 tablespoons basil pesto, see our homemade pesto recipe
Directions
Roast Asparagus

Heat the oven to 400 degrees F. Line a baking sheet with aluminum foil.

Rinse asparagus and pat dry. Trim about 1/2-inch from the stalky ends. Place trimmed asparagus onto the baking sheet and toss with olive oil, and then lightly season with salt and fresh ground black pepper. Spread into a single layer. Bake until the tips begin to brown and the stalks are tender, 15 to 25 minutes depending on the thickness of your asparagus.
Make Crostini

Just before serving, add bread slices to a clean baking sheet and bake in the oven until they begin to toast around the edges, 2 to 4 minutes .

Spread ricotta cheese onto each bread slice. Spread about 1 teaspoon of pesto over the cheese and top with a few pieces of roasted asparagus.