How to make the best homemade pesto with basil, nuts, garlic, and olive oil.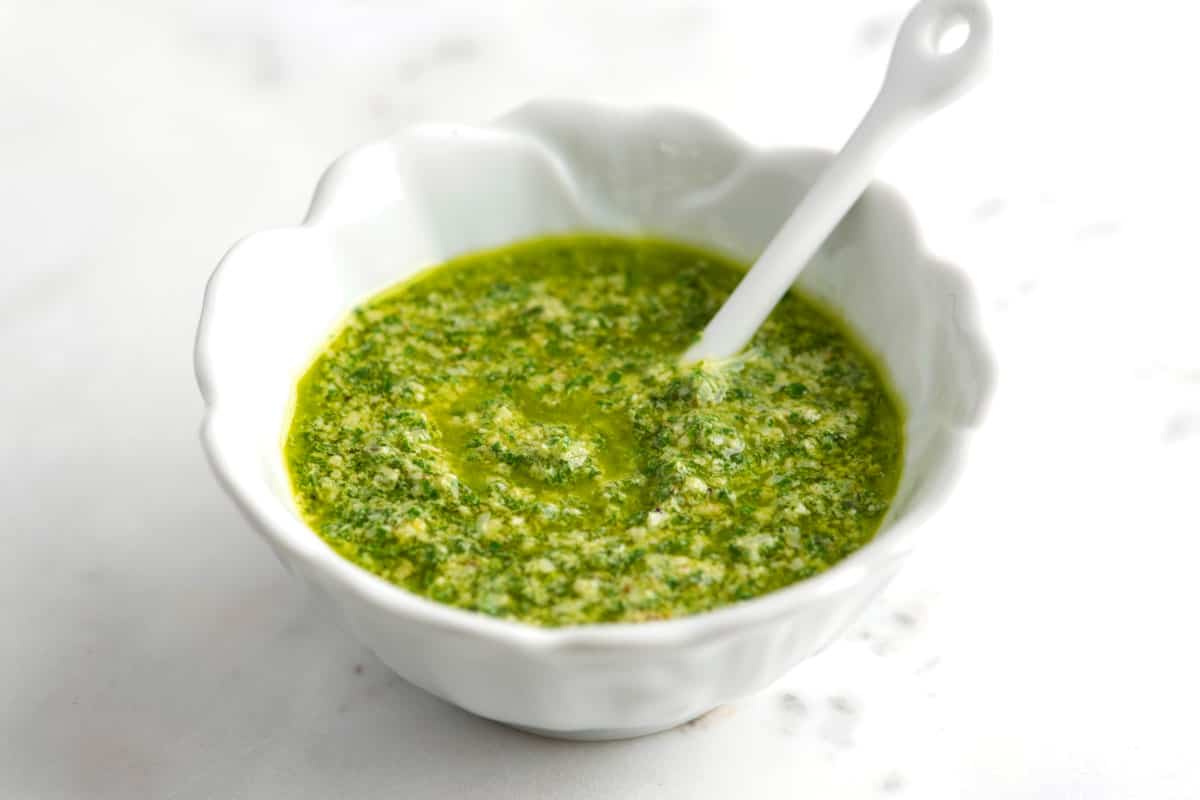 Related: We love this easy homemade chimichurri sauce.
Pesto is simple to make and a versatile sauce for pasta, meats, or vegetables. We use our food processor, which makes it quick. You can also make it by hand using a mortar and pestle.
We love this recipe and make it often (especially in the summer). It's quick and easy to make. Let me show you how to make it plus our tips for making it best.
How to Make Our Easy Basil Pesto
Pesto is easy to make. Throw garlic, nuts, and fresh basil into a food processor then drizzle in olive oil until you have a sauce.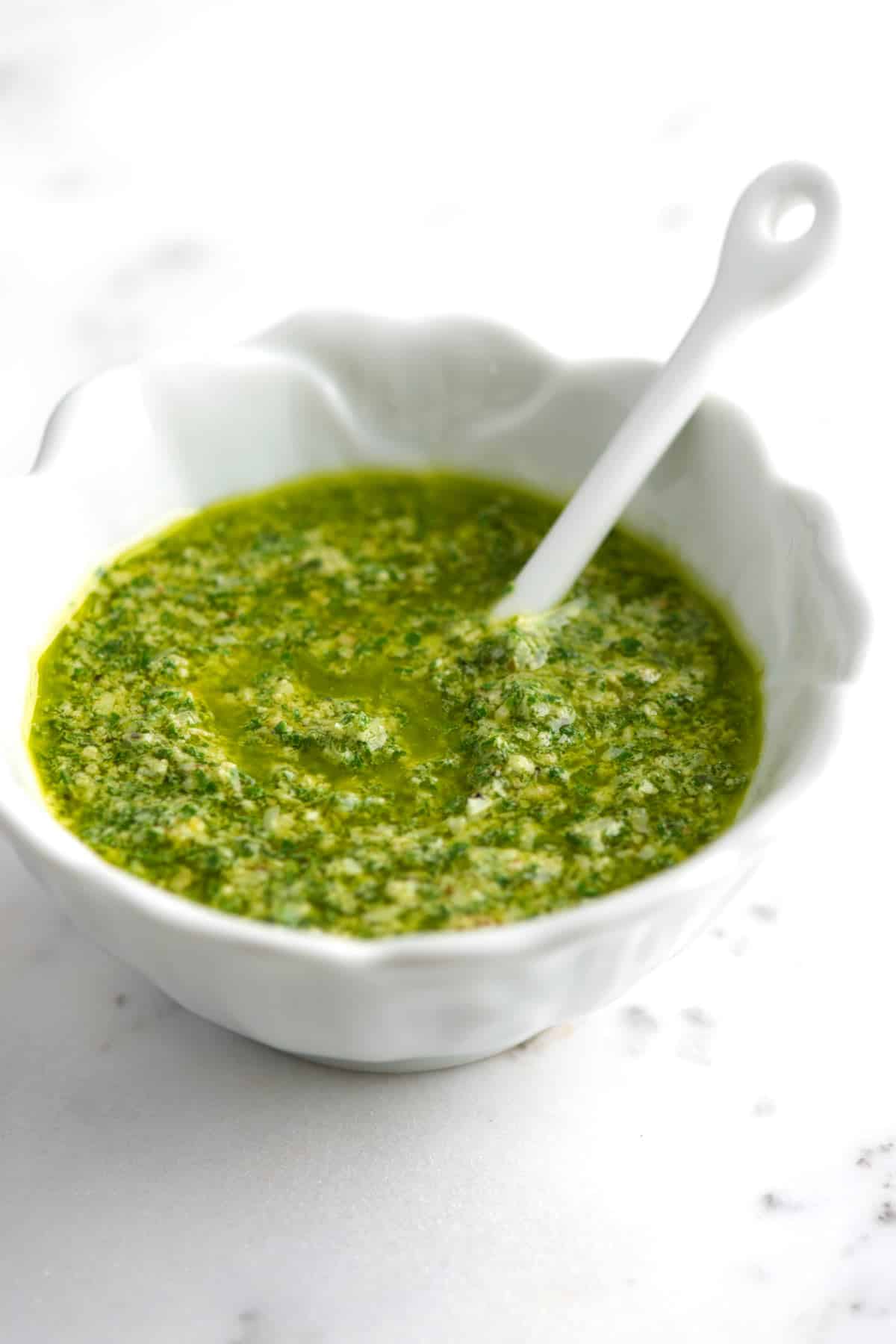 To make it best, we're sharing a few tips learned over the years:
Tip 1: Blanch the basil. I know this sounds a little crazy, but trust me. Blanching basil makes the greenest pesto possible. Have you ever noticed that pesto browns overtime in the fridge? Or even when you add it to hot pasta? Blanching the pesto prevents this. It locks in the bright green color of the leaves. We blanch basil in our recipe below. If you are not convinced, you can still use our recipe without blanching. It still works.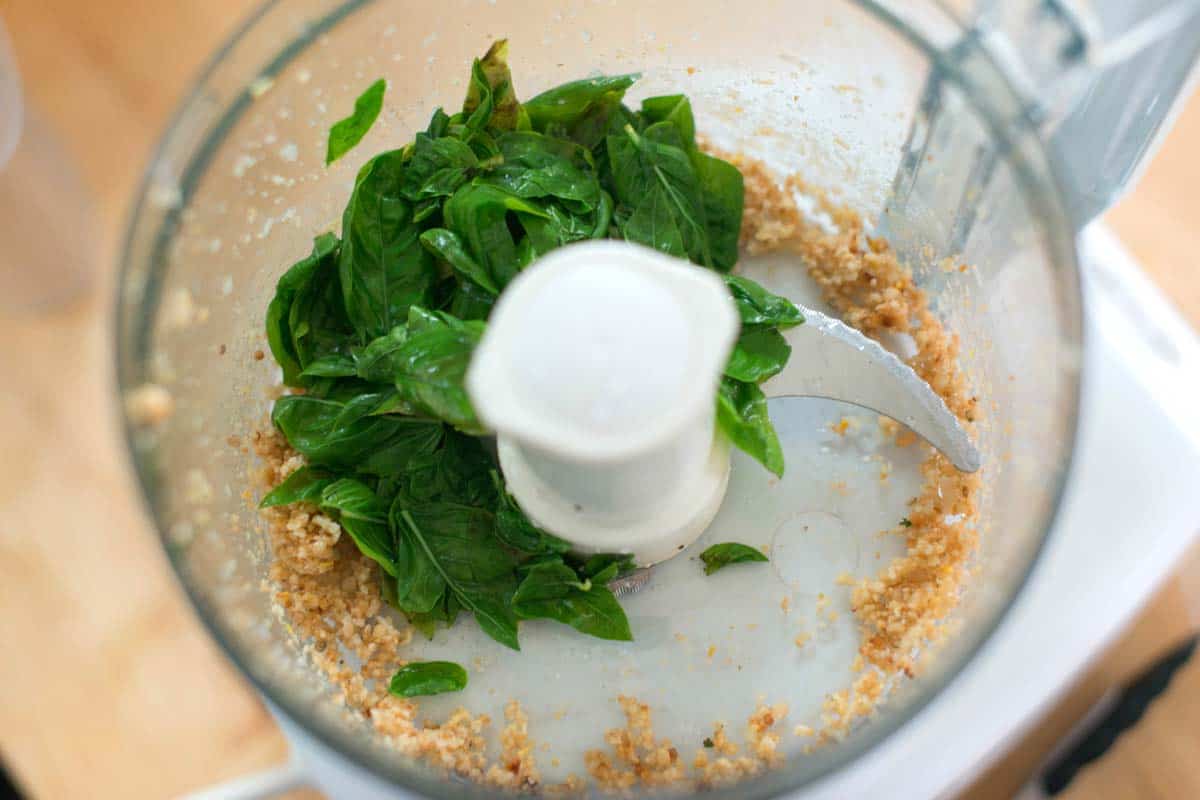 If you are up for it, blanching is easy. Dunk the basil leaves into boiling water for 5 to 10 seconds then submerge in ice water. Pat the leaves dry and move on to making the pesto.
Tip 2. Turn the garlic into a paste. We love garlic but are not big fans of biting into a big chunk of it (especially if it's raw). That's why we turn the garlic into a paste before adding it to our pesto. To do this, mince the garlic then use the flat side of a knife to scrape the garlic across a cutting board.
Tip 3: Stir cheese in at the end. A little texture in the sauce is a good thing. We don't add cheese to the food processor, we make the pesto and then stir in grated parmesan cheese by hand, which adds some texture.
Recipe Substitutions
If you cannot find pine nuts, try walnuts instead. They are buttery and work well in pesto. You can also make pesto without nuts. The texture will be different, but the sauce stills taste fresh and delicious.
Add more herbs. Add a handful of parsley or mint leaves to our recipe below.
Make vegan pesto. Substitute the cheese with a non-dairy cheese or add 2 to 3 tablespoons of nutritional yeast. Nutritional yeast is nutty and cheesy.
Add greens. Replacing some, if not all, of the basil with spinach, chard, or beet greens is an excellent option. We've even done this with kale before.
What to do with pesto?
If you're looking for uses for pesto, you've come to the right place. Here are our favorite things to do with it:
Easy Basil Pesto with Lots of Tips
This basil pesto recipe won't turn brown the moment you make it or toss with hot pasta. By quickly blanching the basil, which takes under 10 seconds, we set the basil's green color and help prevent it from oxidizing over time. It's an extra step in making pesto, but it doesn't take long to do. If you prefer to not blanch the basil, you can skip it. Our recipe can be made with fresh or blanched basil.
Makes approximately 1 cup
You Will Need
2 cups fresh basil leaves
1 clove garlic
1/4 cup pine nuts or walnuts, lightly toasted
1/2 cup olive oil, plus more for storing
1/2 cup finely grated pecorino or parmesan cheese
Kosher salt and freshly ground black pepper, to taste
Directions
1Prepare a small bowl of ice water. Bring a small saucepan, filled halfway with salted water, to a boil. Submerge basil leaves in boiling water for 5 to 10 seconds, or until wilted. Then, immediately plunge into ice water to stop cooking. Drain, squeeze to remove excess water then pat dry with a clean dish towel.

2Smash and peel the garlic clove then mince. Holding a chef's knife at an angle, scrape the blade of the knife across the minced garlic. Gather it all together then scrape it against the board again until it becomes a fine paste.

3Combine the garlic paste and the pine nuts in the bowl of a food processor. Pulse 2 to 3 times until everything is chopped small. Add basil.

4With the processor running, slowly pour the olive oil into the bowl. After adding all of the oil, check the consistency of the pesto — we like it to have some texture. For smoother pesto, pulse a few more times.

5Transfer pesto to a bowl then mix in the cheese. Season to taste with salt and pepper. Use immediately or store for later.
Adam and Joanne's Tips
How to Store Pesto in the Refrigerator: Add a thin layer of extra olive oil to the top (to prevent any air from getting to it), cover with a lid or plastic wrap and refrigerate up to 2 weeks.
How to Freeze Pesto: If freezing, leave out the cheese. Fill ice cube trays with pesto, freeze until hard. Then store frozen cubes in freezer-safe plastic bags. Freeze up to 1 month.
Nutrition facts: The nutrition facts provided below are estimates. We have used the USDA database to calculate approximate values.
If you make this recipe, snap a photo and hashtag it #inspiredtaste — We love to see your creations on Instagram and Facebook! Find us: @inspiredtaste
Nutrition Per Serving
Serving Size
2 tablespoons
/
Calories
143
/
Total Fat
15.4g
/
Saturated Fat
2.9g
/
Cholesterol
3.6mg
/
Sodium
90mg
/
Carbohydrate
0.5g
/
Dietary Fiber
0.1g
/
Total Sugars
0.1g
/
Protein
2.1g
Recipe updated, originally posted August 2013. Since posting this in 2013, we have tweaked the recipe to be more clear. – Adam and Joanne