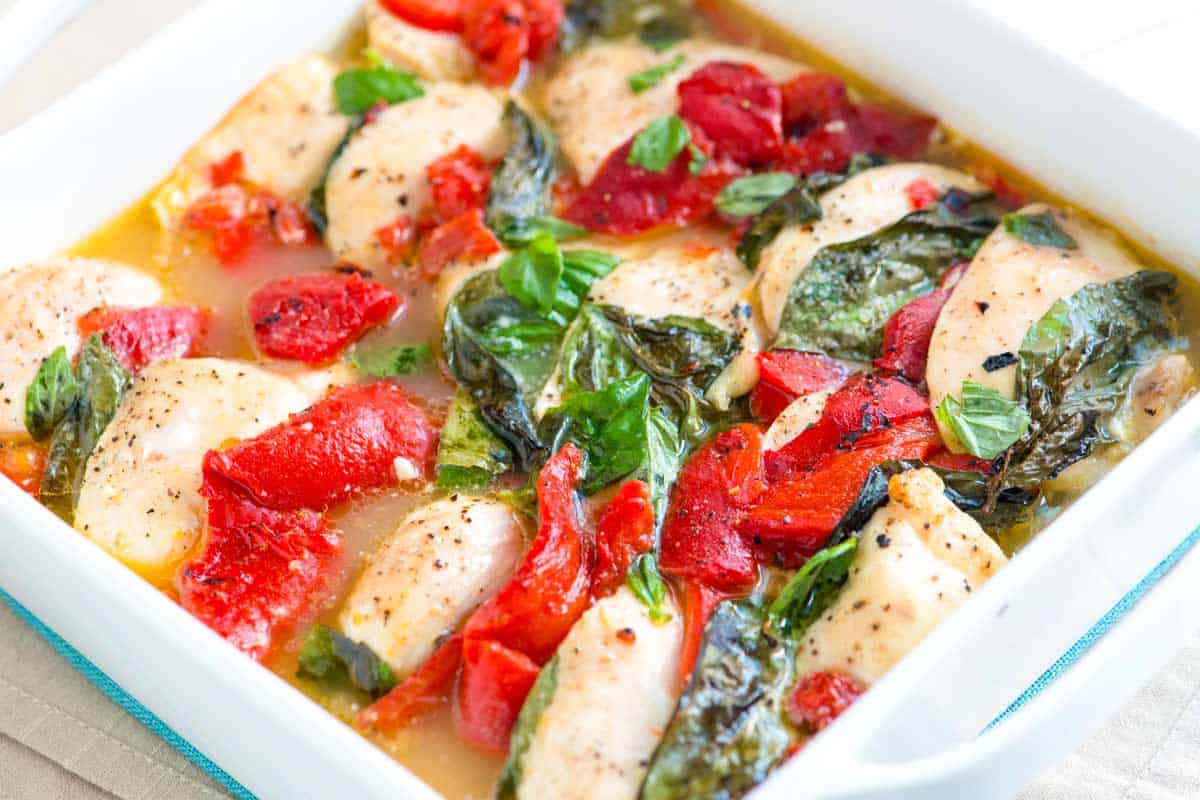 Baked Chicken Casserole with Basil and Roasted Peppers
PREP

15min

COOK

30min

TOTAL

45min
This simple baked chicken recipe is perfect for busy nights. When you serve it think about serving with rice or mashed potatoes (vegetables work, too). The chicken is cooked in lots of cooking liquid made from orange juice, lemon juice and garlic, so when you serve the chicken you can spoon lots of that same cooking liquid over the chicken and any side dish. It's delicious.
You Will Need
1 1/2-pounds boneless, skinless chicken breasts

Salt and fresh ground black pepper

1 (12-ounce) jar roasted red peppers

1/2 cup (120 ml) orange juice

1/4 cup (60 ml) fresh lemon juice

1 garlic clove, minced

1 bunch fresh basil

2 tablespoons butter
Directions
Prepare Casserole

Heat oven to 350 degrees F.

Slice each chicken breast on an angle into 1-inch slices and season with salt and pepper.

Open jar of roasted red peppers, drain, and then cut the peppers into smaller chunks. (Try to make them the same size as the basil leaves).

Scatter garlic in the bottom of a 2-quart baking dish. Pour half of the orange juice and half of the lemon juice mixture over garlic. Starting in one corner of the baking dish, alternate chicken slices with pieces of roasted red pepper and basil leaves then pour the remaining orange and lemon juice over chicken. Cut butter into small squares then scatter over chicken.
To Finish

Bake the chicken until the chicken is thoroughly cooked (if you have a thermometer, when inserted into the chicken, it should read 165 degrees F); 20 to 30 minutes. Serve chicken over mashed potatoes, rice or vegetables. There will be lots of extra cooking liquid to spoon over the chicken.
One 12-ounce jar of roasted red peppers usually contain 1 very large or 2 medium peppers.
Recipe updated, originally posted June 2016. Since posting this in 2016, we have tweaked the recipe to be more clear. – Adam and Joanne
The full recipe post can be found on Inspired Taste here: https://www.inspiredtaste.net/15959/baked-roasted-red-pepper-and-chicken-casserole-recipe/