How to make delicious and flavorful cilantro lime rice that tastes even better than your favorite restaurants! Our version isn't exactly the same as Chipotle's. I actually think it's better with much more flavor.
Watch the Video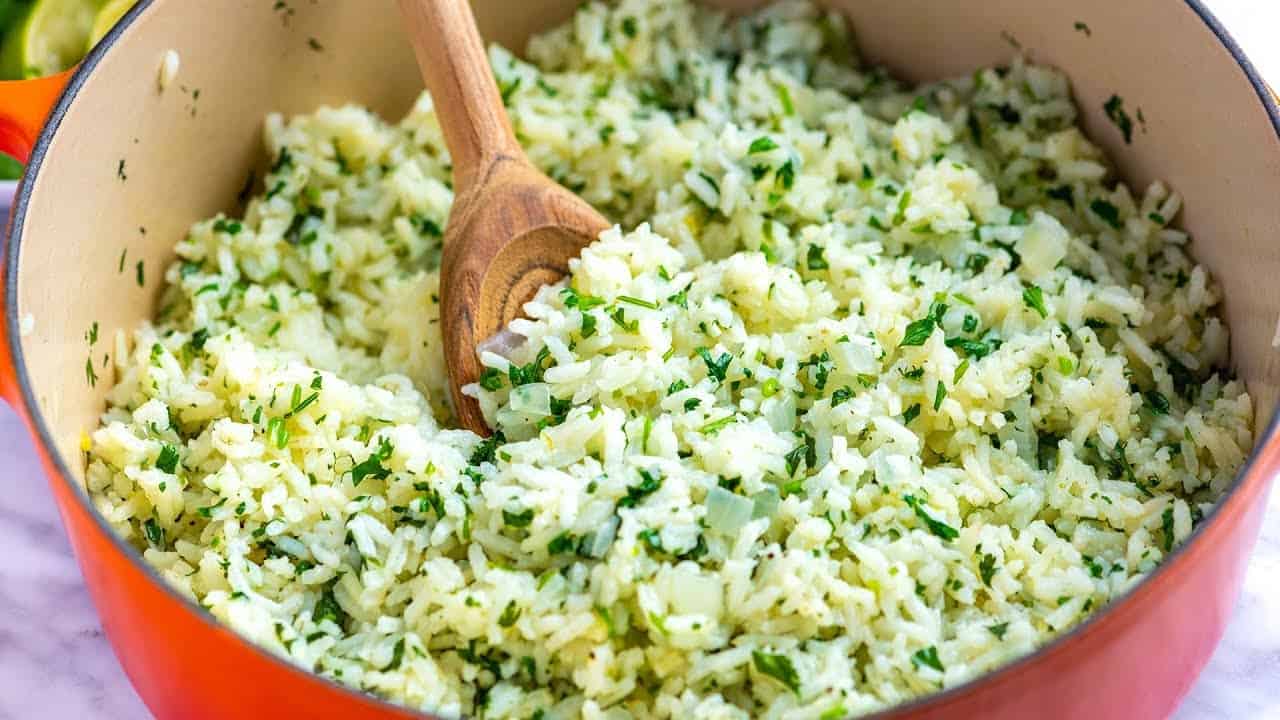 How to Make Cilantro Lime Rice
The first time we ever had cilantro lime rice was at Chipotle and no surprise here, we loved it. Since then, we've been whipping up this homemade version and serving it inside burritos (see our spicy roasted cauliflower burritos), next to fish, and in our favorite rice bowls.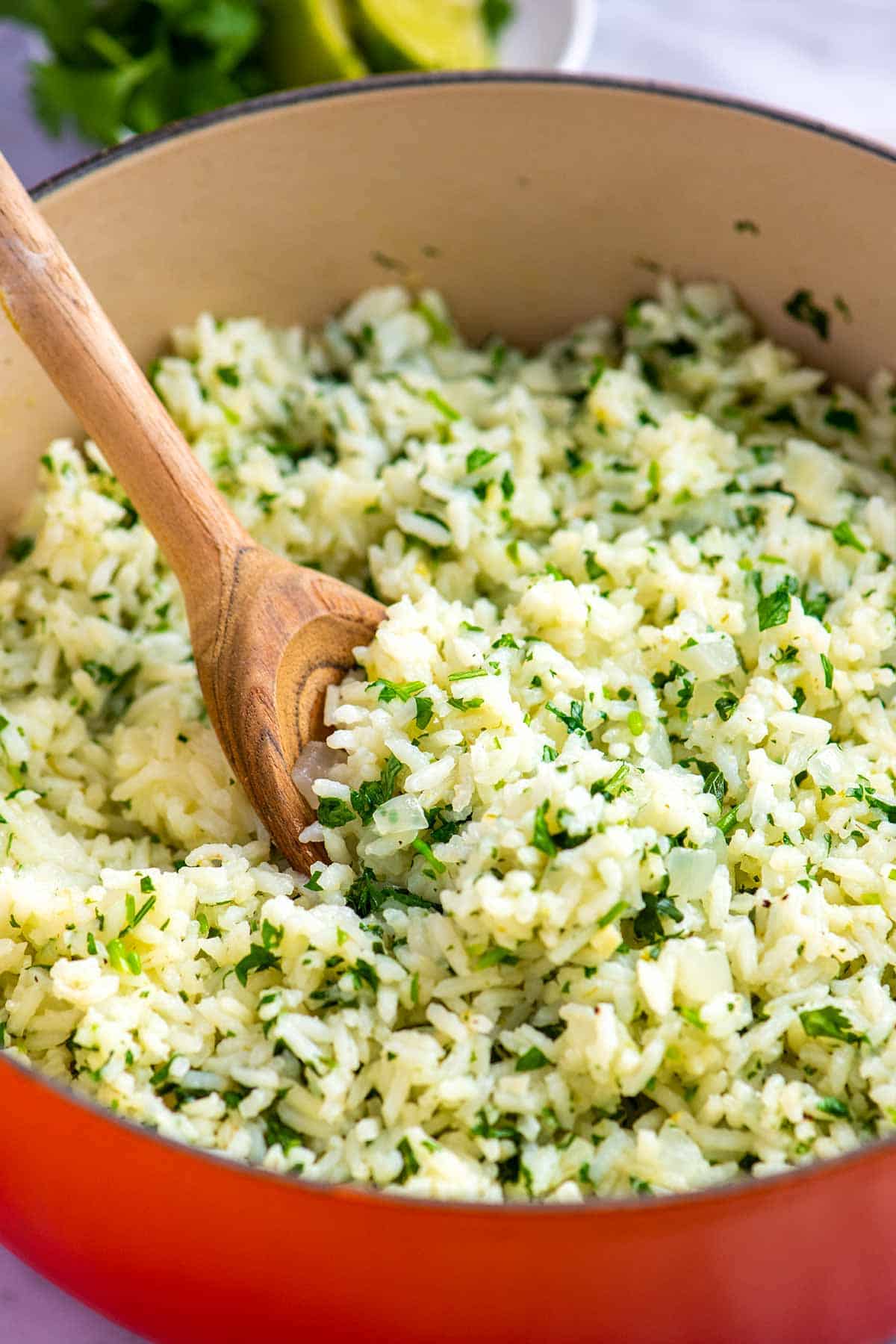 Our version isn't exactly the same as Chipotle's rice. I actually think it's better with much more flavor. The rice is quick and simple to make. Let me show you how we do it.
Step 1, Rinse your rice. This is probably the most important tip we can share when it comes to cooking perfect rice. By rinsing rice with cool water until it runs clear, we remove excess starch, which if left makes cooked rice gummy. I'm such a stickler on this step that when I come across a bag of rice that says I don't need to rinse the rice, I do it anyway ?
Step 2, Sauté the rice with chopped onion and garlic in a little fat before adding the water. We're all about flavor around here and so whenever there is an easy opportunity to add extra flavor, we do it. This step is all about adding flavor and aroma to the rice. Choose a flavorful fat like olive oil, coconut oil or butter.
Step 3, Add water or stock and cook until done. Water will work just fine in this recipe, but if you have it in the kitchen, stock or broth takes rice up a few notches in the flavor department. We cook the rice in the water/stock with a lid over low heat for about 15 minutes (full recipe instructions are in the recipe below).
Step 4, Remove the pan from the heat and leave it alone for 10 minutes. By sliding the pan off of the heat and leaving it covered for another 10 minutes, the rice has a chance to steam. In this time, the rice will become fluffy.
Step 5, Uncover and add fresh lime juice and chopped fresh cilantro. We use a fork to fluff up the rice and fold in the lime juice and cilantro. If you don't like cilantro or want to change the flavors up a little, try other herbs like parsley, basil, mint or dill. Lime can also be swapped for lemon.
Since rice can vary, you may need to make some adjustments to the timing we recommend in our recipe. Don't worry, we've shared what to do if your rice isn't cooked in our recipe below.
More: You may also like our Extra Easy Coconut Rice
How to Store and Reheat Rice
Having cooked rice in the fridge or freezer makes meals so much easier. Here are a few tips for storing leftover rice:
Cool leftover rice quickly by placing it into a refrigerator or spread it out onto a baking sheet. Rice left out at room temperature for more than two hours is risking bacteria growth.
Leftover rice lasts three to four days in the refrigerator. Keep it in an airtight container or resealable freezer bag.
You can freeze cooked rice up to three months. Keep it in an airtight container or resealable freezer bag.
Reheat rice with a teaspoon or so of water in a pot over medium heat. Stir the rice while it reheats so it does not stick to the bottom of the pot. Or microwave the rice until hot.
Frozen rice can be directly added to hot dishes like soups, stews and stir-fries. You can also thaw the rice overnight in the fridge and then reheat using the method shared in tip number 4.
What to Serve With Cilantro Lime Rice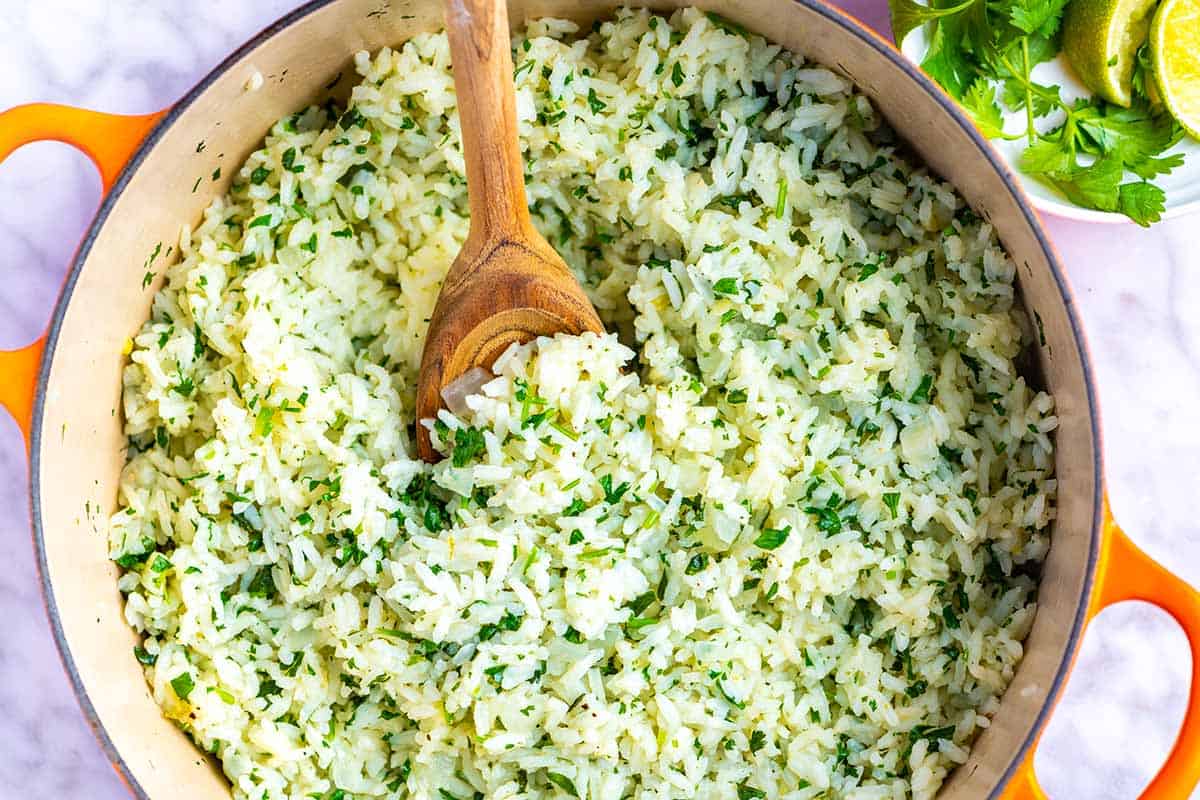 Perfect Cilantro Lime Rice
How to make delicious and flavorful cilantro lime rice that tastes even better than your favorite restaurants! Stock or broth substituted for the water adds additional flavor. We love using chicken or vegetable stock. If you do use stock, take care to add salt to taste since the stock may already have some salt added.
Makes about 5 1/4 cups rice
Watch Us Make the Recipe
You Will Need
1 ½ cups (280 grams) long grain white rice
1 tablespoon olive oil or butter, plus more for serving
1/2 cup (70 grams) finely minced onion (1 small)
2 teaspoons minced garlic (2 medium cloves)
2 ¼ cups (530 ml) water, vegetable stock or chicken stock
1/4 teaspoon fine sea salt or to taste, see notes
3 tablespoons fresh squeezed lime juice
1 cup (30 grams) roughly chopped fresh cilantro leaves and tender stems
Directions
1Rinse the rice with cold water until the water runs clear. Drain well in a fine-mesh sieve and set aside. This removes excess starch and helps the rice cook up fluffy and light.

2Heat a medium saucepan with a tight-fitting lid, over medium heat. Add the oil or butter. When hot, add the rinsed rice and onion. Cook, stirring often, until the rice turns from translucent to a brighter white and the onion is soft, 3 to 4 minutes. Add the garlic and cook, stirring it around the pan until fragrant, but not browned, about 30 seconds.

3Pour in the warm water or stock and stir, knocking any grains of rice that are stuck to the sides of the pan. Season with salt, reduce the heat to the lowest setting and cover with a lid. Cook, covered for 15 minutes.

4Remove the pan from the heat and leave alone (still covered) for 10 minutes. Uncover and test a grain of rice. If the rice is still a little hard, place the lid back onto the rice and place over low heat for another 5 minutes. If the rice looks too dry, scatter a tablespoon or two of extra water over the rice before placing back onto the heat.

5When the rice is done, scatter the lime juice and cilantro on top. Use a fork to gently fluff the rice and incorporate the lime juice and cilantro into the rice. Serve.
Adam and Joanne's Tips
Salt — If you plan to use stock, you may not need to add salt. Taste the stock before adding to the rice to determine if you need to add a pinch or two of additional salt.
Cilantro substitute — If you are not a fan of cilantro, substitute with chopped fresh parsley or use a combination of herbs like chives, dill, mint, and basil.
Recipe inspired by Rick Bayless's Classic Mexican White Rice
Nutrition Facts: The nutrition facts provided below are estimates. We have used the USDA database to calculate approximate values.
If you make this recipe, snap a photo and hashtag it #inspiredtaste — We love to see your creations on Instagram and Facebook! Find us: @inspiredtaste
Nutrition Per Serving
Serving Size
About 1/2 cup
/
Calories
119
/
Total Fat
1.6g
/
Saturated Fat
0.3g
/
Cholesterol
0mg
/
Sodium
60.8mg
/
Carbohydrate
23.6mg
/
Dietary Fiber
0.6g
/
Total Sugars
0.5g
/
Protein
2.2g