Add 3/4 cups of the flour, salt, and the sugar to the bowl of a food processor fitted with the steal blade. (See note below for making crust by hand). Pulse 2 to 3 times until combined.
Scatter butter cubes over flour mixture and process until a dough or paste begins to form, 15 to 20 seconds. (There should be no uncoated flour).
Scrape bowl, redistribute the flour-butter mixture then add the remaining 1/2 cup of flour. Pulse 4 to 5 times until the flour is evenly distributed. (Dough should look broken up and crumbly).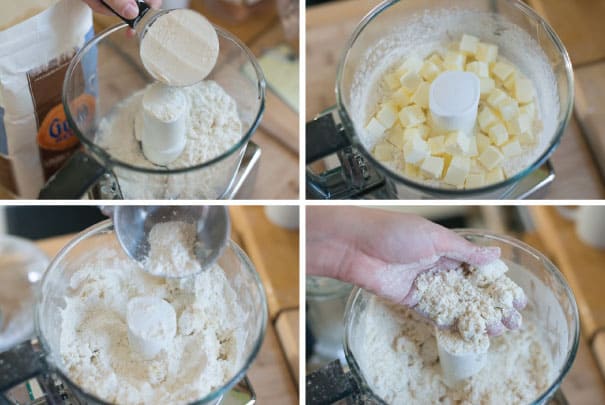 Transfer the dough to a bowl and scatter with 3 tablespoons of the water. Using a rubber spatula, press the dough into itself. The crumbs should begin to form larger clusters. If you pinch some of the dough and it holds together, it's ready. If the dough falls apart, add 1 to 2 tablespoons of extra water and continue to press until the dough holds together.
Transfer to a clean surface. Work the dough just enough that it comes together into a ball. Shape into a flat rectangle then wrap with plastic wrap. Refrigerate at least 30 minutes and up to 2 days.