How to make rich chocolate cookies with toffee bits. Jump to the Chocolate Toffee Cookies Recipe or read on to see our tips for making them.
We show love with food. Hugs work, but in our home you get a hug right before you are offered something delicious — usually made with sugar and butter. That's just the way we roll! A few months ago, we wanted show some sugar/butter love to Nina, our perfectly adorable, teacher-turned web designer and dream maker. She's always helping us tweak Inspired Taste to make it best for you. Since she always does such a great job, we sent her a big batch of these cookies.
YOU MAY ALSO LIKE: How to make the best homemade chocolate chip cookies. This easy recipe makes cookies with crisp edges and chewy middles. Jump to the Chocolate Chip Cookie Recipe.
How to Make Chocolate Cookies with Toffee Bits
These cookies are seriously easy to make and packed with lots of toffee bits.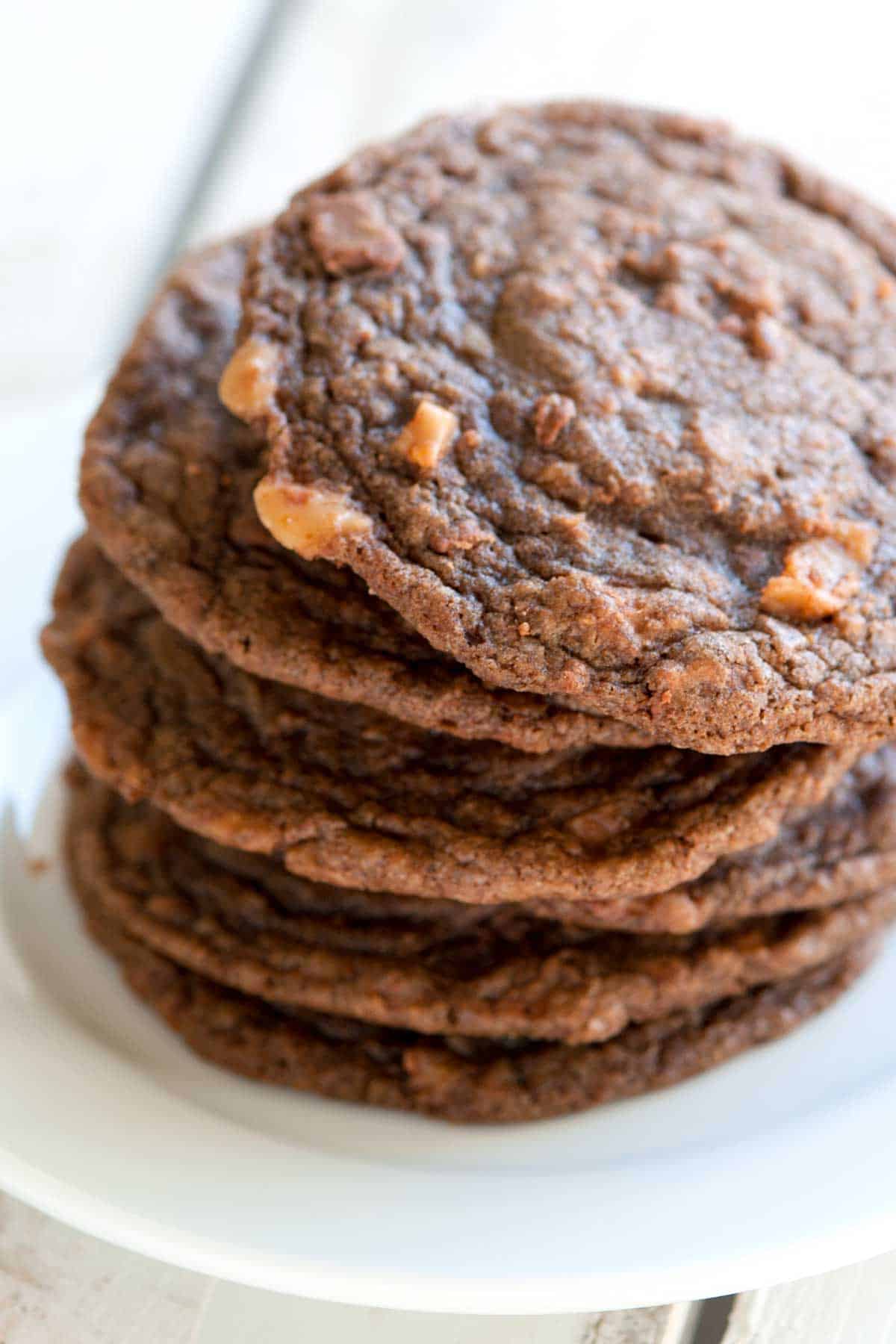 Start by creaming together brown sugar, granulated sugar and softened butter. Then add an egg and some vanilla extract. Sift in some flour, cocoa powder, baking soda, and salt then mix until blended.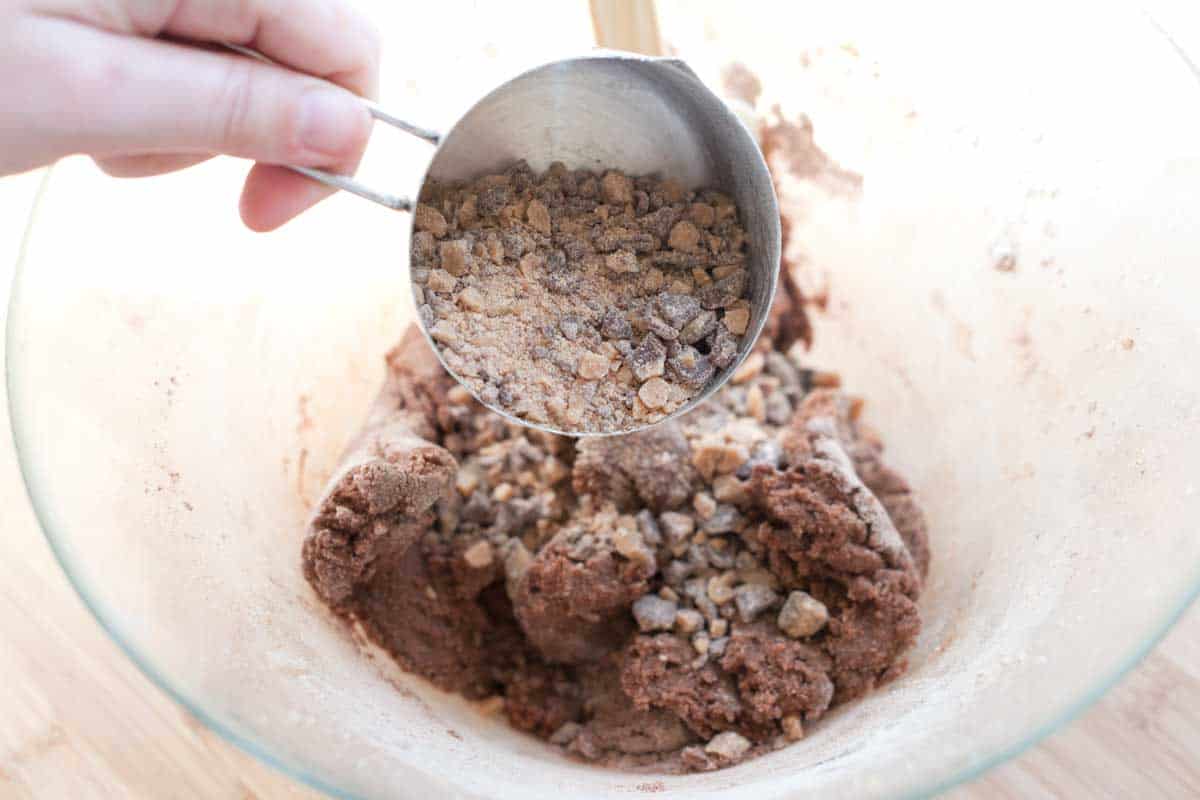 Finally, add a whole cup of Heath toffee bits and bake! Easy. The cookies spread out and become chewy around the edges and soft in the middle.
Recipe updated, originally posted March 2012. Since posting this in 2012, we have tweaked the recipe to be more clear. – Adam and Joanne
Easy Chocolate Toffee Cookies Recipe
Making these chocolate toffee cookies could not be easier. All you need is one big mixing bowl and a hand blender. We use Heath Toffee bits instead of chocolate chips for this, making these soft, chewy with just a touch of crunch. The cookies will spread out quite a bit during baking and will be thin when fully baked.
Makes approximately 18 cookies
You Will Need
8 tablespoons unsalted butter, softened (1 stick)
1/2 cup brown sugar
1/2 cup granulated sugar
1 teaspoon vanilla extract
1 large egg
1 cup all purpose flour
1/4 cup unsweetened cocoa powder
1/2 teaspoon baking soda
1/4 teaspoon salt
1 cup toffee bits
Directions
1Heat oven to 350 degrees F. Line a cookie sheet with parchment paper or a silicon baking mat.

2In a large bowl, use a hand blender to beat together the butter and sugars until light and fluffy, 2 to 3 minutes. Add the egg and vanilla then beat on medium speed until incorporated, 10 to 20 seconds.

3Place a fine mesh sieve over the mixing bowl and sift in the flour, cocoa powder, baking soda, and salt. Then use a spatula to stir everything together. Stir in toffee bits.

4Drop dough, a heaping tablespoon at a time onto baking sheets, placing them 2 inches apart so the cookies have room to spread in the oven. Bake until the tops look mostly dry, about 9 minutes.

5Let cookies cool on cookie sheets for 10 minutes then transfer cookies to a cooling rack and cool completely. (The cookies will be soft, but will firm up as they cool.)